New Car/Review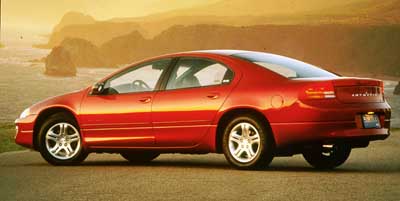 1999 Dodge Intrepid ES
by John Heilig
SPECIFICATIONS

MODEL:                   Dodge Intrepid ES
ENGINE:                  3.2-liter SOHC V-6
HORSEPOWER/TORQUE:       225 hp @6300 rpm/225 lb-ft @3800 rpm
TRANSMISSION:            Four-speed automatic with AutoStick
FUEL ECONOMY:            19 mpg city, 29 mpg highway, 22.1 mpg test
WHEELBASE:               113.0 in.
LENGTH x WIDTH x HEIGHT: 203.7 x 74.7 x 55.9 in.
CURB WEIGHT:             3519 lbs.
FUEL CAPACITY:           17.0 gal.
LUGGAGE CAPACITY:        18.4 cu. ft.
TIRES:                   P225/60R16
INSTRUMENTS:             Speedometer, tachometer, fuel gauge,
                            water temperature, digital clock.
EQUIPMENT:               Power windows, power door locks,
                            power mirrors, power seats, heated seats,
                            cruise control, air conditioner,
                            AM-FM stereo radio with in-dash cassette
                            player and in-dash CD player,
                            anti-lock four-wheel disc brakes,
                            dual front air bags.
STICKER PRICE: $23,500 (est.)

The vehicle we were supposed to have for our vacation trip was a Chrysler 300M. So I was slightly disappointed when we pulled into the garage in Denver to discover a Dodge Intrepid ES waiting for us. As it turned out, the scheduling shifted slightly, and the Intrepid we were supposed to drive at home was replaced with the 300M and vice versa out west.
Our trip took us from Denver to the top of Rocky Mountain National Park, an altitude of more than 11,700 feet. But before we challenged the snow-covered roads of Colorado, we headed north into South Dakota where another mountain waited for us.
We had visited the Black Hills area 20 years ago. As most tourists do, we "oohed" and "aahed" at Mount Rushmore. We also traveled 17 miles south to look at the beginnings of a new mountain carving. This was Crazy Horse, although it required an enormous imagination in 1979 to see the face or horse's head, even though work had been progressing for 30 years. Now the face is completed, and on one weekend a year people are allowed to climb to view the carving close up.
One feature of southwestern Wyoming roads, through which we traveled on our way to and from the Black Hills, is their straightness and lack of traffic. There were times when I was on an Interstate and did not see another car or sign of life. The Intrepid loved it. We exceeded the posted speed limits (75 mph in spots) and set the cruise control at 90 mph. The Intrepid was silent and solid at this pace, which was impressive. There was no wind noise and no road noise. The 3.2-liter V-6 was essentially silent. It would fuss a bit when we accelerated, but in normal driving this was an excellent car.
There aren't a lot of radio stations in that area either. The Intrepid's Infinity sound system pulled in distant stations to keep us happily humming along with some of our favorite classic country hits.
After our climb and a visit to Jewel Cave, we headed back to Rocky Mountain National Park. This, too, was a return of a visit we made a score of years ago. We have visited many National Parks in the United States and this visit revealed more natural wildlife than any other. We saw a black bear, elk, antelope, big horned sheep, prairie dogs, buffalo, wild burros and a few hawks and eagles.
The Intrepid proved itself again for us. We climbed up to the Continental Divide, more than 11,700 feet above sea level. While the engine's power was somewhat starved in reduced oxygen, we still had more than enough to do the job.
Coming down the mountain, we didn't want to ride the brakes for fear of burning them out, so we slipped the AutoStick transmission into manual mode and shifted between third and second to keep the Intrepid at a safe speed and save the brakes. We still had to brake at one time when a pair of elk decided it was easier to stroll down the road than it was to walk in the snowy woods, so we shared the road.
One of our more interesting stops was to visit a snow field. While drifts on the road were as high as ten feet and the road was only opened for one day when we arrived, there was no snow in the snow field. There were three Intrepids in the parking lot, though, showing that we weren't the only ones who felt that it was a great vehicle for mountain climbing.
The Intrepid was practical for other reasons as well. It had a huge trunk to carry luggage and souvenirs and comfortable seats to make all that driving comfortable. I never did miss not having the Chrysler.