New Car/Review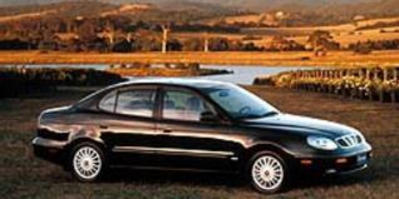 Daewoo Leganza SX
by John Heilig
Daewoo Leganza SX
SPECIFICATIONS
MODEL: Daewoo Leganza SX
ENGINE: 2.2-liter inline four
HORSEPOWER/TORQUE: 131 hp @5200 rpm/148 lb-ft @2800 rpm
TRANSMISSION: Four-speed automatic
FUEL ECONOMY: 20 mpg city, 28 mpg highway, mpg test
WHEELBASE: 105.1 in.
LENGTH x WIDTH x HEIGHT: 183.9 x 70.0 x 56.6 in.
CURB WEIGHT: 3102 lbs.
FUEL CAPACITY: 17.2 gal.
LUGGAGE CAPACITY: 14.1 cu. ft.
TIRES: 205/60R15
INSTRUMENTS: Speedometer, tachometer, fuel gauge, water temperature, digital clock.
EQUIPMENT: Power windows, power door locks, power mirrors, cruise control, air conditioner, AM-FM stereo radio with in-dash cassette player, dual front air bags.
STICKER PRICE: $19,000 (est.)

I have to admit I'm generally impressed with the cars that are coming out of Daewoo in Korea. The initial Japanese cars and the initial Korean cars were pretty tinny vehicles. They lacked substantiality and they weren't the type of vehicles you'd want your children driving.
Granted, things have changed over the 30 or 40 years the Japanese have been exporting cars to the United States, and even the Korean cars have improved by orders of magnitude in the 10 or so years they have been available in North America.
The Leganza is Daewoo's biggest car. At that, it probably doesn't rank much larger than a compact or mid-size. But it has seating for five, four in relative comfort. It has a good trunk and it gives you a feeling of security that you're not going to get either from the smaller Daewoos or some of those other early cars coming out of the Far East.
Leganza's only problem is in the engine compartment. It is powered by a 2.2-liter inline four cylinder engine that is rated at 131 horsepower. This is an extremely buzzy engine. At highway speeds, there's a little roar coming from the engine compartment that is louder than the tire noise coming up through the body You ask the engine to work and it buzzes and whines so much that you're almost afraid to step on the gas.
The engine is connected to a four-speed automatic transmission. At the speeds I was traveling or wanted to travel, I found that it was constantly downshifting. Any time I wanted to accelerate even a little bit, it would downshift and we'd get all that noise coming from the engine compartment.
The engine gives you the feeling it can do its job up tot he limit of its capabilities. But for a car this size, it definitely needs a V-6 or a quieter four.
Other than that I was comfortable with the Leganza. We took it on a couple of long trips and spent a good bit of time on winding roads. I was impressed with the handling. I had a chance to take the Leganza on my "old favorite" winding hill climb. Maybe it was caused by the relative lack of power, but you can drive the Leganza almost like a race car, hitting the corners properly, so that it doesn't have to downshift.
We also took it on a more winding road and I was equally impressed here. We traveled as well on these roads as I would have in any compact sedan. There was a minimum of body lean. When you're having fun driving a car on a good road you don't car about engine noise.
The front bucket seats offered decent side support, far more, for example, than the Buick LeSabre I drove the week before. The rear bench can handle two to three people, and there is a decent trunk behind the rear seat.
There's some tasteful wood trim around the interior of the Leganza. There's no so much that the car looks foolish, but enough so that it looks stylish.
One other complaint I had with the Leganza was with the air conditioning system. This is not a major complaint. We drove the Leganza in some very hot weather where the outside temperature approached 100 degrees several times. The air conditioner was too good. There were times when we tried to put more heat back into the car to get a more comfortable temperature. All too frequently, we felt there was ice forming on our noses. I'm sure there was a level of control that we just didn't discover in a week.
All in all, I felt the Leganza was a decent automobile with a good price point. As a commuter, it's a car I wouldn't be afraid to put my children in.