New Car/Review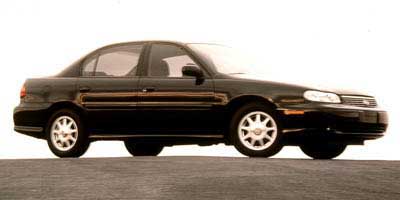 SEE ALSO: Chevrolet Buyer's Guide
1999 Chevrolet Malibu LS
by John Heilig

Chevrolet Full Line Video Footage (22:43) 28.8, 56k or 200k


SPECIFICATIONS

MODEL:                   Chevrolet Malibu LS
ENGINE:                  3.1-liter V-6
HORSEPOWER/TORQUE:       150 hp @4800 rpm/180 lb-ft @3200 rpm
TRANSMISSION:            Four-speed automatic
FUEL ECONOMY:            20 mpg city, 29 mpg highway, 24.7 mpg test
WHEELBASE:               107.0 in.
LENGTH x WIDTH x HEIGHT: 190.4 x 69.4 x 56.7 in.
CURB WEIGHT:             3077 lbs.
FUEL CAPACITY:           15.0 gal.
LUGGAGE CAPACITY:        17.1 cu. ft.
TIRES:                   P215/60R15
INSTRUMENTS:             Speedometer, tachometer, fuel gauge,
                             water temperature, digital clock.
EQUIPMENT:               Power windows, power door locks, power mirrors,
                             power seats, power sunroof, cruise control,
                             air conditioner, AM-FM stereo radio with
                             in-dash cassette and CD player,
                             anti-lock brakes, dual front air bags.
STICKER PRICE: $20,405

Chevrolet introduced the Malibu as an upscale Cavalier. The Cavalier is a vehicle that has not impressed me too much. I have always found it to be cheap and not becoming of a solid American manufacturer.
Malibu, on the other hand, is a solid vehicle that reminded me a lot of the Saturn solidity. There are a few other "Saturn" features in this car that I felt added to the charm of the car. GM allegedly created the Saturn division to learn new manufacturing techniques. It appears that some of this knowledge has finally filtered into the other divisions.
In any case, Malibu is built on the old Corsica platform. It is a compact four-door sedan. Power comes from a 3.1-liter V-6 that drives the front wheels through a four-speed automatic transmission. This engine had a good solid feel to it. But it also tended to growl a bit when you asked it to work. This was very much like the Saturn and also like the four-cylinder twin cam engines used in other GM divisions. In fact, I thought it was the twin cam until I checked the specs.
Under normal operation this engine is not obtrusive. In fact, I was quite impressed with the amount of power delivered to the wheels. It gave the Malibu driver the comfortable feeling that he was able to get out of trouble if that happened. We were also able to maintain speed at any speed and thoroughly enjoy yourself behind the wheel without getting carried away.
Acceleration was good and top speed was up there with the rest of the traffic. I can't comment too much about the top speed because I don't believe I exceeded 65 mph in the Malibu. This is a very comfortable car at the speed limit, but you always know you have the ability to make a fool of yourself if you want to. This is one of the few cars I've had the privilege of driving where I didn't feel I had to speed to get the most out of it. It's a comfortable family sedan, albeit small.
Front seats are individual buckets that don't offer a lot of side support. Some observers have complained about the lack of comfort in the seats. They are relatively flat. I personally didn't have any problem with the cloth covered chair. The cloth upholstery was ideal for the hot summer weather in which we drove the Malibu.
We had all the accessories in this car, including power windows, power door locks, a power sunroof, AM/FM stereo with an in-dash CD and cassette player, power seats. I guess the only real luxury that was missing was leather seats.
We were able to crack open the sunroof during hot days to keep the cabin slightly cooler than it might have been normally.
Rear seat legroom was good. It's not enough to carry your boss back there but it's fine for your children. This is a car for young families, and this is the market that Chevrolet is looking for.
Similarly, the trunk is a good size. Chevy lists it at 17.1 cubic feet which is enormous for a car of this size. There's plenty of room for a pair of golf bags, which is a major requirement for a luxury car but not one in this class.
Braking in the Malibu was excellent with front discs and rear drums. My daily commute carries me through a construction zone where people act dumb and there are frequent opportunities to test brakes. The Malibu always stopped in time.
Several people said they didn't realize the Malibu was a Chevy because it didn't wear the standard bow tie ornament. It is a bow tie, but with a "Malibu" wave over it.
Is the Malibu a Chevy? Most certainly. It is a solid entry-level car that runs rings around the joint venture cars Chevrolet markets. My only complaint was with the sticker. At $20,405, it's not an entry-level price. But there were some options that I didn't feel were necessary, including the sunroof ($650) and mud guards ($60). The $200 sound system I felt was worth the money.