New Car/Review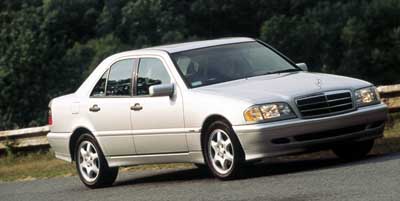 1999 Mercedes Benz C230K
By Tom Hagin
SPECIFICATIONS

     Manufacturer's Suggested Retail Price              $ 31,200
     Price As Tested                                    $ 36,280
     Engine Type       DOHC 16-valve 2.3 Liter I4 w/SMFI* w/SC**
     Engine Size                                 140 cid/2295 cc
     Horsepower                                   185 @ 5300 RPM
     Torque (lb-ft)                               200 @ 4800 RPM
     Wheelbase/Width/Length                  105.9"/67.7"/177.4"
     Transmission                           Five-speed automatic
     Curb Weight                                     3272 pounds
     Fuel Capacity                                  16.4 gallons
     Tires  (F/R)                    205/55R16 Performance tires
     Brakes (F/R)                          Disc (ABS)/disc (ABS)
     Drive Train                   Front-engine/rear-wheel-drive
     Vehicle Type                       Five-passenger/four-door
     Domestic Content                                        N/A
     Coefficient of Drag (Cd.)                              0.32

PERFORMANCE

     EPA Economy, miles per gallon
        city/highway/average                            21/29/25          
     0-60 MPH                                        8.0 seconds
     1/4 (E.T.)                          16.0 seconds @ 87.5 mph
     Top speed                  (electronically limited) 130 mph
     * Sequential multi-port fuel injection
     ** Supercharged

(Bob Hagin says that when he worked on Mercedes cars in the '60s, there were only a few high-priced models here and even those were rare. Son Matt says that the company wants to put at least one Mercedes in every American two-car garage.)
BOB - In the '50s, the only Mercedes models that were in the U.S. in any great numbers were the 300 SL and the smaller 190 SL. Those two models were sports cars and while Mercedes made sedans and imported them here, they were too antiquated in design for American tastes.
MATT - Things have changed in 40 years, Dad. Now Mercedes-Benz of North America has a line-up of vehicles that stretches out the door and around the corner. It's putting out television ads that are really classic and the company's radio commercials stress the point that there's a model in every price range. This isn't exactly a fact, of course, since M-B doesn't have cars or SUVs for the low-end price market, but during this affluent economy, if a person really wants a Mercedes three-pointed star in the driveway, it's a possibility. And they come in a bewildering array of types and models.
BOB - This C-Class sedan were testing this week, the C230K, is a good example of that variety. It's powered by a smallish four-cylinder engine that features twin-overhead cams and four valves per cylinder. It displaces 2.3-liters and surprisingly, both the cylinder block and the head are made of cast iron. In this period of all-aluminum engines on most cars in this sport-sedan class, it's unusual until we reflect on the fact that the "K" in its name stands for Kompressor, the German word for supercharger. Mercedes considers it an "entry-level" model which could be the first time a positive-displacement blower is standard equipment on any brand of automobile. It puts out 185 horses with 200 pound-feet of torque at 4000 revs. At that high RPM, it's obvious that the C230K isn't designed to pull a house trailer or a ski boat.
MATT - Those chores are better left to the big V8-powered Mercedes ML430 sport/utility vehicle that the company hopes is also parked in the average upscale American's garage. But the C230K isn't exactly a slouch when it comes to carrying the family around town and to Grandma's house. It can hit 130 MPH and goes from 0 to 60 in 8 seconds flat. A five-speed stick shift would be neat but with the C230K. a five-speed automatic is the only gearbox available. The leather-lined upholstery in the car is typically Teutonic, which means it's on the stiff side but after a couple of hours in the bucket seats rolling over highways and back roads, we soon learned to appreciate its firmness. I know you like to joke about genuine wood trim on the interior of a car being little more than termite-fodder, Dad, but in this Mercedes it gives everyone inside a warm-fuzzy feeling.
BOB - You're right, Matt, but since I'll never be able to afford a car that cost as much as we paid for our first house, I like to concentrate my perusal to the mechanical bits and pieces. Like all Mercedes cars, it is rear-wheel drive, though there are a few models that have all-wheel drive. The four-wheel independent suspension uses unequal-length "A" arms up front, while the rear end is located by a five-arm, multi-link system. All the brakes are disc, of course, and an anti-skid braking system is standard also. Mercedes calls its traction control system Anti Slip Regulation and that's also standard of the C230K. Traction control especially helps rear-drive cars like our test Benz on ice and snow. The 230 has the least power of all Mercedes Benz.
MATT - Mercedes has other C-Class sport sedans that are much more powerful and lots quicker, Dad. The C280 carries an all-aluminum V6 engine that's normally aspired and puts out 194 horses and an equal amount to torque. But for those upscale Mercedes buyers who want to show off at stop signs, the C43 uses a 5.0 liter 302-horse V8 engine and all the performance trick stuff that AMG can load on board. I had to arm-wrestle Tom to get some time behind the wheel of that one
BOB - You guys had that hot C43 and didn't tell me about it?
MATT - To tell the truth, Mom asked us to keep it quiet, Dad.