New Car/Review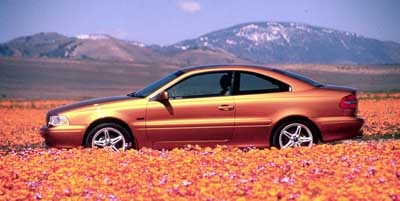 1999 VOLVO C70 2 DOOR COUPE
by Annabelle Frankl
There was a very sweet film that came out a few years ago, starring Dudley Moore, about an ad exec who finds himself in a mental institution because his advertising strategy is to tell the truth, and more often than not, this isn't quite what the client has in mind. The Volvo ad is particularly memorable from that film: "They're Boxy but they're good". Well, that may have been the case then, but things seem to have changed, and for the better. Indeed, the Volvo C70 is such a good-looking car, it's hard not to do a double-take when reading the name or looking at the badge.
Clean, chiseled lines and low profile tires gave the C70 a rather predatory look, and with it's gleaming silver exterior and plush dark-pewter interior, this Coupe gives off a good amount of classy attitude, of the kind one might be more inclined to expect from a BMW 5 Series. Indeed, I would consider this car an extremely well-equipped competitor for the ever-popular German auto.
The C70 motors along under the steam of 2.4 litre, 5 cylinder DOHC Turbocharged and Intercooled Engine, which produces a maximum of 190 horses at 5,2000 rpm, and around 199 pounds-feet of torque at 1,800 rpm, which affords the driver superior acceleration ability, particularly considering the apparent weight of the car. This weight becomes a more active factor under braking, when one can really feel the inertia of the car if a sudden depression of the brake pedal becomes necessary or if decelerating from any real speed.
The ABS, with Electronic Brake Distribution - to maximize brake performance under all conditions - did its bit to keep the whole braking action smooth, but the car did seem to lose some of its stability under these kinds of braking situations. According to all the Volvo bumpf, the boys in Sweden have in fact drastically reduced the weight of the car by hi-tech advances in the wiring of their current Volvo fleet, but I think they have a few more circuit-boards to take out before the car stops feeling like a tank under braking. That said, should any walls ever enter into the equation, I feel sure that the bricks and mortar would be the loser in any battle.
Indeed, the C70 is replete with a multitude of safety features including automatic door-unlocking with frontal air bag deployment, a steering column equipped with 3 split points which, as a result, collapses further away from the driver in the event of certain types of collisions, four air bags - 2 front and 2 side - for front-seat passengers and daytime running lights.
However, from a design point of view, there were two factors which affected my driving of the C70. Firstly, the steering wheel is very thick, so for a person with less-than-expansive hands, getting a good, firm grip on the wheel proved somewhat difficult. And given the weighty situation of the above-mentioned braking, I would consider a firm hold on the wheel to be somewhat essential.
However, worse than this was my near-strangulation from the seat-belt. I have no idea why Volvo have done away with the adjustment possibilities normally found on even the cheapest, bottom-of-the-range chugapoo - the bit that slides up and down to adjust the height at which the belt hits your shoulder/neck/ear! - but they have, and what a stupendously bad move it is too. I would seriously not purchase this car for that one reason, it was that uncomfortable. And dangerous. Surely, having a possible ligature in the vicinity of one's esophagus, rather than over one's shoulder, is not quite what this manufacturer - renowned for its safety record - could have had in mind. Stupefying.
Now I'm sure that Volvo would attest to the infinite seat-position possibilities as the reason for doing away with said slidy-thing, but unfortunately, that just doesn't do the trick. Yes, the C70 has more electronic moveable bits on its front seats than one might find on a cockpit control panel, and the assorted positions that one can attain through moving these around is quite astonishing. But it doesn't change one, small factor: my arms and legs are only so long, and given this fact, any adjustment of said electronic buttons only resulted in one thing: frustration. Moving the seat up meant that I was no longer being strangled, but since I could no longer reach the pedals, it was rather a pointless, if more comfortable, position to be in. But you get the message.
Having said all that, the seats themselves were extremely comfortable and afforded the driver a very good driving position. Cabin room in the C70 was deceptively large, and the bucket rear seats looked great and were very comfy, allowing four-up with no real squeeze, even on the leg-room front, although those pushing 6ft might not agree. They are also positioned more centrally than in most cars, affording the rear passengers a less claustrophobia-inducing view than normal. Extricating oneself from the rear-seats was easier than in some other 3 doors, since the front seats move all the way forward. However, being unaware of this fact the first time the car was 4-up, it was rather disconcerting when the seat continued to move forward and then locked. It took 4 intelligent adults at least 5 minutes to work out how to release the seat so that it returned to it's normal position - a fact which I now feel ashamed to have to admit, but it really was like some sort of logic test, a test I feel we failed miserably! Ah well, those Scandinavian designers are obviously having a little chuckle about their design in-joke!
The interior specifications do not impinge on trunk space, however, which is extremely generous and suitcase-friendly. However, the C70 is not a small car, ideally suited to touring in fact, so one would expect a fair amount of room.
All-round visibility in the C70 is excellent, with good-sized mirrors and a blind-spot which doesn't appear to be doing a Grand Canyon impression. The light sensitive rear-view mirror is always a nice touch, and the sunroof allowed a good amount of light into the cabin, although the lack of an 'auto' button, on an otherwise electronic extravaganza of a car, was somewhat surprising.
The interior layout of the dash was very clear, if somewhat staid. The presence of a 3-CD dash-mounted player was extremely welcome, as was the proliferation of an obscene amount of speakers - surround sound in one's car no less! Trying to find all the buttons in the dark proved less enjoyable however, and from a safety aspect I would have thought that well-illuminated buttons - so as to avoid looking down, and away from the road - would be a fairly logical addition to any stereo/dash.
I would definitely consider the C70 a good alternative to any of its German counterparts, although it definitely doesn't come in at the cheaper end of the market. Indeed, at $40,500 plus change for the model tested, despite the stylish, responsive, fuel-efficient and definitely not boring drive which the C70 offers, one might be tempted to check out some of its competitors very closely before signing on the dotted line. Furthermore, for those of you who, like me, are at the lower end of the height-stick, the seat-belt situation could prove a decision-making factor in your choice of this otherwise good-looking motor. But you can't say it's Boxy, anyway.
FACTS AND FIGURES - 1999 VOLVO C70 2 DOOR COUPE LT A SR

Engine	2.4 litre, 190hp, 5 cyl, Turbocharged & Intercooled Engine w/Self 
		Diagnostic Engine Management System
Torque	199 lbs-ft @ 1,800 rpm
HP		190 @ 5,200 rpm
Trans.		4 Speed Electronic Automatic 
Front Wheel Drive w/ Macpherson Strut
Delta-Link Semi Independent Steer Link Rear Suspension
16" Alloy wheels
4-wheel Power assisted disc brakes
ABS
Rack & Pinion Power Steering
MPG     20 City/ 27 HWY
Power windows
Power mirrors
In-dash 3-CD AM/FM stereo. 
240 watt Amp, 10 speakers.

Base Price          $33,925
Model Price	        $40,535
Incl:
SR Package          $ 1,895
incl: sunroof
:leather seating
Trip computer       $   250
Surround Sound      $ 1,180
Traction control    $   540
Walnut Trim	        $   575
Destination charge	$   575