New Car/Review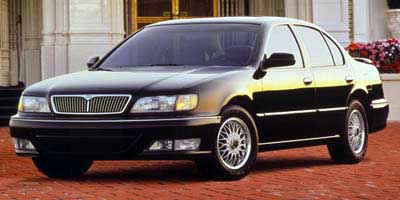 Infiniti I30 Touring Model
by Annabelle Frankl

Infiniti Full Line Video footage (4:38) 28.8, 56k, or 200k
There is always something somewhat intriguing about a car which one is not used to seeing on European streets and which is, therefore, something of an unknown quantity. Having seen quite a few Infinitis on the road out here, and deducing that they are obviously a fairly popular choice, I was interested to see what, if any, all the fuss was about.
The Q30T makes a very good impression at first sight, with elegant, bold lines and a very real, road presence. Mine came equipped with just about leather everything, and the butterscotch seats and chrome door handles gave the car a very luxuriant feel once cosseted inside the cabin. I would personally have replaced the faux-mahogany facia with chrome too, but thatís just me. This, along with black leather gear knob, steering wheel and dash rounded out the look.
Of course, a nice wrapping does not necessarily a great present make, but in this case, I can state that what was inside the box, so to speak, lived up to the exterior hoopla. This car was thoroughly enjoyable to drive, the 3 litre, V6 engine delivering a supremely smooth response. The manual gearbox was smooth and light and offered the driver superior control over the 190 horses, produced at 5,600 rpm and 205 ft-lbs of torque @ 4,000 rpm. The steering was light and exact and allowed precise handling. The I30T retained good contact with the tarmac even under more extreme cornering maneuvers, the 215/55R16, low profile, all-season tires, 16" alloy wheels and sport-tuned suspension, with firmer struts and shocks, giving a very reassuring sturdiness to the car. This was a genuinely fun car to drive. It may be relatively big in stature, but it is positively feline in itís nippiness and I found even the most mundane of journeys left me smiling.
A drive up the Pacific Coast Highway meant for great views and pretty good roads - although some of the potholes do a good impression of a black hole - with the result, an extremely enjoyable jaunt. The I30T has bags of acceleration power, even at speed, and thus passing Sunday drivers out for a look at the scenery - not necessarily including the road in front of them - was effortless. Pulling away from traffic lights lets the engine show its true form, and getting up to speed was quick (0-60 in 7 seconds), efficient, and noise-free, in what is an exceptionally quiet cabin. Braking was smooth and the fitted-as-standard ABS, along with the newly available Traction Control System - which works with the optional viscous limited-slip differential, to sense and control wheel slippage - meant for superior control in all conditions.
The I30T allows great all-round visibility, with no unsuspecting surprises cropping up over oneís left shoulder. Although the car itself is relatively low to the ground, it offers a good driving position, and the assorted positions afforded by the very comfortable, and soft, leather seats, meant that a raised position was easily attainable without affecting the foot-to-pedal ratio.
This 5-door is extremely spacious, with a cavernous cabin space, large enough for even the tallest of homo sapiens. Indeed a good friend of mine, having tried out all the alternatives on the market, found this car to be the most comfortable for his 6í5" frame. The seats also recline to a vertical angle to which most first class airline seats only aspire. Copious rear leg-room does not a small trunk make however, and the presence of a cargo net was a nice touch too.
The interior of the car was complemented by a sunroof, although I still fail to understand why it is so hard for manufacturers to use an Ďautoí button on the roof as well as the driverís-side window. As Iíve mentioned with other vehicles, itís a simple touch, yet effective. Dual airbags are fitted as standard, as are front-seat side impact air bags. The sound system was excellent and the Bose 200-watt speakers kept making their presence felt with the differing bass and treble of each successive CD.
So, I would have to say that this previously unknown quantity made a lasting impression on yours truly, with quiet, precise handling and some of the best wrapping Iíve enjoyed in ages. Indeed this 5-door is a true front-runner for a luxury touring car, which wonít leave you with empty pockets, (especially when it does 21mpg city/26 mpg hwy) but is more than likely to leave you smiling on even the shortest of journeys. Infiniti? Definitely.
FACTS AND FIGURES FOR INFINITI I30T
Engine 3 litre, DOHC, V6
HP 190 @ 5,600 rpm
Torque 205 Ft-Lb @ 4,000 rpm
Transm.n 5 speed manual
Suspension Independent Front Strut & Rear Multi-Link Beam
Viscous Limited Slip Differential
16" Performance Alloy Wheels
Brakes 4-wheel Vented Front Power Disc Brakes w/ 4-channel, 4-sensor
ABS
Dual front & side-impact air bags
21 mpg city/26 mpg hwy
Standard Model $28,900 (5-speed automatic)
Touring Model Tested $31,200 (5-speed Manual)
Touring Model Automatic $32,200
Options included on model tested:
Power Sliding/tilt sunroof $950
Leather & Convenience Pack $1,300