1999 JAGUAR XKR Review By Annabelle Frankl
By Annabelle Frankl
There are certain advantages to being part of an auto-journalist family, the main one being that I have grown up surrounded by fantastic-looking, new cars which come and go weekly, and often before most other people in the country have even seen them.
Such is the case with Jaguar. I have a well-ingrained memory of my first encounter with a Jaguar: it was the XJS, in 1975 (I think) I was 5 years old, and my father had the privilege of borrowing one of only 4 XJS's in the country at the time. We decided to drive to see some relatives near Windsor - South West of London, the Queen has a small house there (she wasn't the relative, I hasten to add) - and go and visit Windsor Great Safari Park. A happy, family day out with many heads turning in appreciation of this beautiful new car. Every head except mine, of course, which was between my knees in the back, sharing with the carpet my breakfast of 2 hours previous. So, after much illness and cleaning of car, everyone got to go to the park, except me. Thus, as you can appreciate, my judgement of these cats of the road has been somewhat clouded over the years.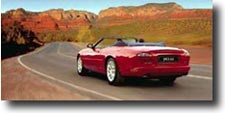 Until the advent of the XKR. Despite the late arrival of said vehicle at my door, by some 6 hours, any thoughts of remonstrating with the (very nice) man who dropped off the car, were immediately forgotten upon spying this sleek, metallic blue, sex-on-wheels car. The entire design of the car reminded me of a wind-tunnel test and I half expected to see little, aerodynamic arrows shooting over the car to reinforce the predatory nature of the design.
None too soon I was behind the wheel and headed for Central London. Unfortunately my journey coincided with a torrential rainstorm, so I have to confess to driving rather gingerly. My everyday mode of transportation is a little, red, Renault Clio 16V, thus I was extremely aware of the difference in size (about 6 feet in every direction) and value (about £50,000), of this temporary addition to the family, plus the fact that Nicholas had not even laid eyes on the car yet and should it arrive in a 'bent' fashion, it would not only be the car which would be blue, but the air too.
However, given the foul nature of the weather, the drive itself was extremely enjoyable. The car had no problem dealing with the excess amounts of water on the road - the traction control not missing a beat throughout - nor on the windscreen. Indeed, I have never encountered so many different wiper speeds in my life!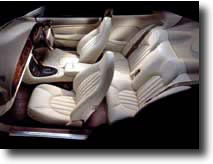 The interior of the car is luxury itself and if I could hire the designer to have a look at my house, I would do so. Every aspect exudes understated elegance and comfort, from the smooth, cream leather seats to the charcoal facia. However, there is one aspect that Jaguar seems destined not to get right. Last year I drove the XK8 from London to Monaco for the Grand Prix. It was an extremely comfortable journey bar one factor - the position of the head-rests. The same is still true of the XKR. Lumbar support - excellent. Firmness of the seats - again, excellent. Tilt possibilities - very good. But where is the head rest? I know not what position one is supposed to enter into in order to reap any benefit of having the head rest present, but I feel sure that, woe betide it needs to be used for whiplash duties, it will not meet the challenge.
Whilst I'm quibbling, another point. Visibility. I like to have it. I feel it is a relatively important aspect of being on a public road with other road users (particularly if, like me, every driver you encounter has made at least 8 attempts to pass their driving test, and they only managed it this time because the examiner felt that others should share in his desperation and contemplation of suicide.) Sorry, I digress. Um? Oh yes, visibility. I found that with both the XK8 (coupe) and the XKR (convertible) the vertical supports on either side of the windscreen were of such a design as to almost totally obscure one's vision when cornering to the right. Luckily, no articulated lorries were present on the other side of said corners, and evidently these supports play a vital role, but I have not encountered this problem, to such an extent, in other cars.
The weekend afforded me a better opportunity with which to truly enjoy driving the car. The skies cleared and golf beckoned. The boot (trunk) easily coped with 2 sets of golf clubs and various bags and, with no threat of rain, the roof came down. Effortless, silent, quick and efficient - and with not a broken nail in sight - it was time to hit the open road. The first thing I noticed about having the roof down was the difference in noise levels. That is to say that there now was noise. With the roof up, I was cosseted in a private, sound-proofed little world, a fact which only struck home when it was no longer present. Not that we were buffeted in any way. Indeed, coifed ladies need fret not about ruining their bouffant since the car sliced through the air, and the traffic, with ease.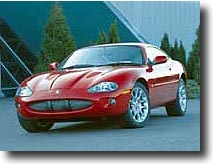 Ease does, in fact, sum up what it is like to drive the XKR. The supercharged 4.0 litre AJ-V8 engine, with 370bhp and a 0-60mph of 5.2 seconds is so light and maneuverable, that I found myself driving at speed, all too soon, and with no effort whatsoever. The power steering feels like it could be deftly handled using only dental floss tied between one's hands and the steering wheel, and the acceleration appears limitless, no matter what speed one is already doing. Being used to, and loving, driving a manual (stick-shift) car, I quickly found myself reborn as a card-carrying, member of the automatic supporter's club. Change gear? What? Why? Let the car worry about silly things like that while I soak up all the admiring glances that I'm. I mean, the car's getting. And it does too. Now, I don't know if it was aided by the presence of 2 young, 20-something girls sliding past in a £67,000 car, but this car does attract attention. And it's not even as though you can hear it coming. This car is the stealth fighter of sports cars - appears, silently, as if from nowhere and all too soon is gone. As I soon discovered once Nicholas had a drive!
This car really is a perfect, cruising machine with enough oomph under the bonnet to have some serious fun on any German autobahn. But only if there's 2 of you! We went 4-up in the XKR, but this was only possible after studying a contortionist's manual and even then the legs of those in the back (i.e. the girls - no admiring glances this time, of course!) were thrust between the 2 front seats, depositing our feet under the noses of those seated in front (which afforded us some pleasure anyway). It would be very easy to picture myself cruising around town/country/Europe in this car. Unlike some older Jaguars it has a certain, ageless quality. Whether you're 27 or 77, its stylish, elegant, understated design mixes with a 'who wants to have a good time' ability and smoothness. I wonder if they'll give me a part-exchange on the Clio? What do you reckon?
FACTS AND FIGURES

XKR 4.0 Supercharged Coupe               £60,005.00
-5 speed electronic automatic

XKR 4.0 Supercharged Convertible         £67,0005.00
- 5 speed electronic automatic

Standard equipment includes:
Airbags
Alloy wheels
Anti-lock brakes
CD 6-disc autochanger
Computer Active Technology Suspension
Cruise control

ENGINE
Cylinders/valves per cylinder           8/4
Capacity - cc                           3996
BHP                                     370
Max Torque                              387

PERFORMANCE
Acceleration    - 0-60mph               5.2 (coupe)/5.4 (conv)
Top Speed                               155 (limited)