New Car/Review
| | |
| --- | --- |
| | Road impressions : Porsche 911 Carrera Coupe |
Andrew Frankl, European Bureau Chief

Porsche 911 Carrera 4 (5:30) 28.8, 56k or 200k
The last time I drove a 911 was way back in 1973. There was a show of some kind in Budapest and I was asked to drive the car from Lausanne in Switzerland to the Hungarian capital. All I knew was that the 911 was famous for arriving tail first into corners if handled with anything but the greatest of care, consequently I was ultra cautious but at least I got there in one piece.
To say that a great deal has happened since those days is an understatement but purely in terms automobile whilst following Porsche's fortunes on the race track I have not had a chance to drive a 911 until now. I suppose it's time to confess-I agree with my good friend and former CEO of Saab-one Bob Sinclair that the two most beautiful words in the English language are "My Ferrari". Therefore Porsches have been something I've admired but not loved. Yes, I could have had one instead of my 328 GTS but when it came to the crunch it was an emotional no-contest. 56 AFJ still sits in my garage waiting for its annual outing to the Monaco Grand Prix but in the meantime those kind people at Porsche USA offered me the chance of spending some time with their latest creation , an invitation I most certainly was not going to refuse.
It so happens that my daughter-an autowriter in her own right- is living in Santa Monica therefore the trip from San Francisco offered an ideal opportunity to do the car justice. Admittedly the traffic jams round Oakland were not exactly a dream but were typical of the sort of conditions anyone living in or around big cities would encounter. I- 580 was pretty busy all the way to I-5 but by the time I was going past Merced the road was clear enough to appreciate the amazing pace and staggering torque of the six cylinder, horizontally opposed, water-cooled (for the first time in 911 history!) 296 horsepower engine. 6th gear was so flexible that apart from the one time I had to stop to refuel I did not change down once until I was just under the Getty Museum and only a mile or so from Santa Monica. There were times when I was down to 40 miles per hour and others when only common sense and the California Highway Patrol's presence stopped me from going into triple digits, all in 6th. Of course the best bit was after Wheeler Ridge near Frazier Park where the road starts climbing to around 3000 feet. I had a number of "followers" up to that point, mostly red-necks in beat-up old trucks or students on Spring break in rusty old Toyotas and Hondas. Oh dear! Did they all disappear from my mirror or what?! .. And I was still in 6th! Loved it. Up hill, down hill, just cruised in peace and quiet. Partly I suppose because whilst the car is excellent the audio system clearly isn't, so silence was a lot more golden than all the crackle emanating from the radio. The same goes for the speakers but I think it could be safely said that people do not buy Porsches and Ferraris to listen to piano concertos or if they do they know they are not really doing Liszt or Mozart justice whilst on the road. The B&O sound system will take care of that at home.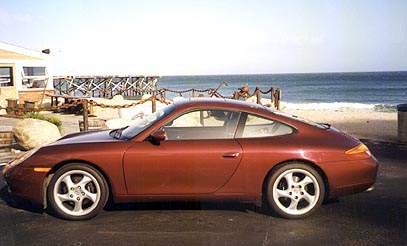 I-405 is of course legendary for its traffic jams and it did not disappoint this time either. After a bit of a slog in 1st and 2nd gears it was time to take the Sunset Boulvard exit and within minutes it was hello Santa Monica. First I could not figure out why the street was full of half naked men and women running around but was told later that it was very L.A. and it was called keeping fit. Could have fooled me.. Although after some daughterly persuasion I did rent a bike and cycled all the way to Venice Beach with all the parents letting their kids run riot all over the place it was a lot more dangerous than driving from San Francisco.
Incidentally the car never missed a beat and the fuel consumption was nothing short of outstanding as I was getting the best part of 30 miles per gallon and no, I was NOT doing 55 miles per hour. Driving out to Malibu was probably the highlight of the trip, no wonder filmstars who can afford it live out there, it really is very beautiful indeed in a relatively low-key, subdued way, a far cry from the gin palaces and guard dogs of Beverly Hills. We loved it. Of course Southern California is THE sportscar capital of the World so just about every person we bumped into either owned a Porsche or knew someone who had one at some time or another. The conversation did tend to revolve around cars I must admit. Everybody wanted to find out about all the changes, some of them expressing concern that maybe the Carrera had gone soft. They obviously have not been driving it! More comfortable for sure. There is, for instance room for two sets of golf clubs once the rear seats are folded down and there is still masses of room left up front in the boot/truck for several soft bags or a proper suitcase. I don't consider that going soft, I would call it sensible. After all Silicon Valley and popstars apart there aren't that many young people ready to fork out 65 thousand dollars for a new car so the chances are that those who end up writing out a cheque for over sixty big ones will be somewhat older who will probably appreciate that they can still drive a great sportscar and have their clubs in the car.
As luck would have it I was able to keep the cars for a few more days which enabled me to use it as everyday transport in and out of San Francisco. Whilst it may not matter in many other cities in this great town a lot of people have got seriously rich by repairing clutches. I cannot imagine that there can be anybody reading this who had not seen Bullit or The Streets of San Francisco consequently saying that it is very hilly might seem superfluous but for those who have no idea-trust me- you need very good brakes going down Filmore and a very good handbrake going up Gough where there are 4 way stop signs every few yards. Without a good handbrake you would be in the repair shops every 5 thousand miles. To the Carrera's eternal credit the handbrake worked like a dream even on the steepest hills. As did the huge discbrakes downhill by the way..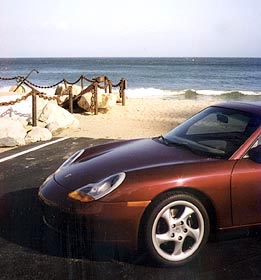 So, after over 1000 miles of driving what are the lasting impressions? Well, its like saying good-bye to a new friend, a friend I will miss very much indeed. It was quick, it was quiet, it carried a lot of luggage. By the way my 88 year old Mother in Law loved it and had no problems getting in or out. The car left me with a feeling that it would be just as quick and as reliable in years to come. A feeling reinforced by the number of 356s running around Marin in near perfect condition. (I am referring to cars that were built between 1950 and 55 by the way..)
Faults? Well, it was relatively easy to select 1st instead of reverse and vice-versa and the instrumentation took a bit of getting used to. I hated the concept of the cruise control, anyone who needs that sort of thing should be driving a Toyota Camry and not a 911. As for the cup holder..well, I did discuss it with a number of people and the jury is out. Purists thought it would have been an outrage, realists thought that with a manual gearbox and the ability to cruise for hours on end it would have been quite nice to have one.
When the Porsche arrived I was full of prejudices of the kind Ferrari owners tend to have. Now, two weeks later I have none left. The Carrera is a truly great automobile. No ifs, no buts just a thank you.