New Car/Review
9th California Mille and
Jaguar S-type (1999) Review
SEE ALSO: Jaguar Buyer's Guide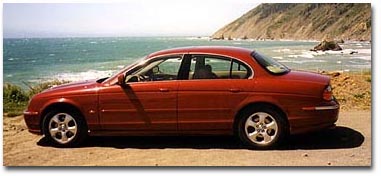 Andrew Frankl, European Bureau Chief
The dials were wobbly, the steering wheel was huge with my chest just about resting on it, the tires were cross ply, the roof was down, it was 7 o'clock in the morning, it was cold and there was lots of traffic including trams, trolleys and buses to contend with.. Where was I? In 7th Heaven driving a 1954 Jaguar XK120 belonging to Bruce Carnachan of Glendale, California,. a 76 year old World War 2 rear gunner who was flying B24s at the time.
But I digress. Lets get back to the beginning, to a phone call from Jaguar Cars in Mahwah, New Jersey. Would I like to participate in the 9th California Mille as one of their guests. I've heard some silly questions in my time but this one really took the biscuit. Would I !? Just tell me where the start is! The whole concept is based on the original, Italian Mille Miglia which was a very famous road race until somebody went off the road killing several spectators. After that it became a rally with speed limits of the Italian kind..still pretty crazy but slower all the same. Mille Miglia stands for one thousand miles which is precisely what we were going to do in California. How could I refuse?
To cut a long story short one afternoon we drove to San Francisco's famous Fairmont Hotel to be confronted by the most amazing collection of automobiles- Jaguars, Ferraris, Maseratis, lots of beautiful Alfas, over 60 mind blowing cars, all built pre-1957 apart from the brand new S type Jaguars belonging to the sponsor of course. The plot seemed pretty simple and inviting. Four days of driving great cars-old and new in sunny California and meeting lots of interesting people from the 4 corners of the World. Day One was a dream. Bruce and I were driving across the Golden Gate Bridge in his pride and joy, an immaculate Jaguar XK120. After stopping for breakfast at my regular haunt, Il Fornaio in Corte Madera we proceeded towards Sonoma. It was at point when I realised the tremendous changes in cars over the last thirty years. Cross ply tires, drum brakes, no proper safety belts and where these days the airbag is positioned- the horn! The pedals would have been perfect for someone under 5ft 8 but at 6 feet I had a problem. To reach the break pedal I had to hit my chin with my knee and then try to press down all the way before anything happened. It was way up as was the clutch pedal with which I had similar difficulties. Not wishing to destroy Bruce's beautiful machine I moved back into the passenger seat and listened to his tales from the War. A lovely man with some great stories. Day 2 was one I will never forget. We started off in a beautiful 1936 Jaguar owned by Bob, a delightful neurologist from a little town just South of Los Angeles. As the previous day was baking hot I just took my short sleeved shirt and a jacket with me in his convertible. It had no side windows presumably because Jaguar's founder, Sir William Lyons enjoyed the fresh air. Quite how often he had an opportunity to drive his creation in England which is not renowned for its climate I know not but there we were and within seconds I was FREEZING! Big time. Luckily we met a charming couple in a Mercedes coupe who very kindly agreed to lend me a jumper and a pair of leather gloves. This improved the situation somewhat but neither Bob nor I expected snow at 3000 feet. Help arrived in the shape of the coffee stop at a charming little place called Trinity Center. At the local store- the one and only for miles around I hasten to add- some wonderful folks managed to find me a red ski -mask (balaclava)-in matching red to go with the Jaguar, a scarf and some industrial mittens. This made things a little bit more habitable but worse was to come.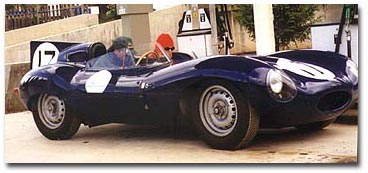 During the lunchbreak I was transferred into a D type Jaguar which was made in 1954 and actually came third at Le Mans in 1957. Terrific. Just the sort of ride I was dreaming of 4000 feet up in what turned into a genuine snow storm. Get down as far as you can was the helpful suggestion from Terry, the owner of this beast and had I been able to do so-trust me- I would have done. I was sticking out over the miniature windscreen and was taking the elements head on. Having skied for over 50 years I have been in snow storms before but nothing could have prepared me for the white stuff coming at me at 60 miles per hour. Oh, by the way we were on racing tyres…just to make things just a little bit more interesting.
Ultimately rescue came in the shape of a pretty lady by the name of Sue, one of Fortune magazine's star reporters. (Senior Editor is her official designation!) She was just refuelling her 4 litre "S" type Jaguar saloon car when we found her. Lucky-said I dreaming of warmth, comfort and silence (Terry drives with earplugs by the way to give you some idea of the noise level). Oh, she said I would love to swap places with you! To be fair it was sunny at that very moment, poor girl could not have known what was in store for her. Without a moment's hesitation I was out of the D-type, gave her the ski-mask and the gloves. Fiancee Pierre who was about to get into an open XK 120 got my scarf. They were off and so was I in the new S type, not quite believing my luck. With the heater turned up to maximum I started to thaw out just as we ran into yet another, this time very serious snow storm. I felt so bad about poor Sue that I drove alongside asking whether she wanted to get back into the warmth of the Jaguar but being the trooper that she is decided to rough it out. Meanwhile half-frozen fiancee Pierre spent most of his time looking back from the other open car to make sure that she was all right, poor chap clearly terrified of losing the love of his life days before the wedding! Well, we all made it in the end but it took several bottles of fine California red to make us feel human again.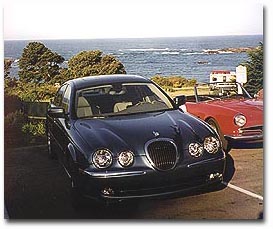 Wednesday was an absolute doddle after the trials and tribulations of the previous day. I was given the keys to the 3 litre car S type, the one I have not driven before except during the launch in Biarritz, France several weeks earlier. Whilst obviously missing the extra oomph of the V8 we had no trouble keeping up with the Ferraris, Maseratis and Alfas although to be fair they did take it easy after a couple of speeding tickets on Day One. What made the trip particularly interesting was the conversation with Jaguar's Catherine Kovach whose Father's family came from Slovakia , once part of the Austro-Hungarian empire. Daddy Kovach spent 40 years grafting as a bricklayer bringing up 6 children all of whom have done well with jobs at CNN and other, highly prestigious organisations. With all the recent sadness from Colorado and the continuing horrors of Kosovo it was really nice to come across the quintessential American dream. The only minor problem for Catherine was that she recently had to spend her honeymoon with 200 journalists eager to try out the car whilst husband Bill was tearing around Central Park getting ready for the Marathon! I was reassured that they would meet up in the foreseeable future..We agreed that unfortunately whoever was in charge of polishing the wood in the car succeeded in making it look like Formica! More the pity because a Jaguar is not a Jaguar unless it feels like a British club with plenty of leather and wood. We discussed the question of the manual gearbox which is readily available in Europe but both she and PR VP Mark Miller felt that the demand would be so tiny that they could not justify it. Interestingly enough "distant" cousin LS does come with a manual gearbox and very nice it is too. Time will tell. Mercedes were also reluctant to introduce a manual version of the SLK in the States but there was such an outcry that they did make it available in the end.
Staying with Central Europe for a moment I should really mention one of the stars of the Mille, a 1958 Ferrari TR , the pride and joy of eye surgeon Lou Sellyei of Reno Nevada. This Scaglietti spyder which was designed by Columbo is an absolute stunner. I am sure it never occurred to Hungarian born Sellyei Senior that one day his son would be driving this dream machine.
To illustrate the diversity of nations let me just mention the Japanese, the Brits, even a few brave souls from South America. Motoring scribes were headed by doyen David E.Davis and his charming wife Jeanie. Their 1939 Chrysler was given to them by the directors of the Juan Manuel Fangio Museum in Argentina. Whilst purists will be horrified that I even bother to mention this for the benefit of those who have spent the last 50 years on the Moon Fangio was arguably the finest racing driver in the history of motor racing , only person to have won 5 World Championships.
Day four was spent in the very pleasant company of Chris, the company's resident engineer. As an ex-Mercedes person he certainly knew a thing or two about quality and quality control. It was gratifying to hear him say that there are some improvements in the pipeline emphasizing that the cars were pre Job 1, namely pre-production. Bearing that in mind there were remarkably few rattles and squeeks. In fact the car really came into its own on the rough hill-climbs around Napa Valley. That is where the original Jaguar virtues came into play- silence, comfort and a truly amazing ride. The road was so bad - it was breaking up in some parts- that several of the competitors decided against risking it. Can't blame them really, the only people they would have pleased would have been the repair shops.
And so, after 1000 miles of fun, sun and snow ended the great adventure for another year. The crews met for a final slap-up dinner at Chateau Chandon where even seasoned veterans were surprised by the quality of the food and the excellence of the various wines.
For me it proved a number of things. The new Jaguars have a very good chance of taking sales from Audi,Mercedes and BMW especially if they tidy up the silly little things such as the half wood/half leather steeering wheel. In terms of handling, ride and performance-things that really matter they are there with the best of them. Just like with the LS the jury is out on the styling. As a colleague from my old magazine CAR said in a recent issue-give me six month on that. And so say all of us.