New Car/Review
Road impressions:
2000 Mercedes-Benz S Class
Andrew Frankl European Bureau Chief
The week before I left for Phoenix, Arizona to test-drive the new Mercedes flagship I received a package from the company via Fedex. Inside I found a video, a CD and 2 booklets containing quick tips. In 30 years of writing about cars this was a whole new experience. I have been to briefings before driving cars but booklets and a video-never! I watched the video and by the end of it had a feeling that without a degree in mechanical/ electrical engineering I should not even try to drive the car. Take quick tip 24 for instance: "displays various information as described under systems, also see S-class Quick Tips Sequence in odometer, audio, telephone, navigation, trip computer, fault message memory and settings." Phew! That was just No. 24! Or if you prefer and I quote: 7.Disp(?) Off. "Press to turn display screen on/off, enabled systems remain operable". Pardon?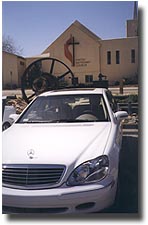 In other words this is one very special automobile, clearly aimed at highly literate, well-educated baby boomers. Fine. The company is hoping to sell 33% of the world wide annual production of 75,000 cars in the United States and I am sure they will succeed in their goal. It is a very fine automobile, about that there can be no doubt. At the same time they will have to use an exceptional amount of tender loving care, especially as far as their existing , often elderly customers are concerned. I am sure some of them will get very flustered, very frustrated at the 91 buttons we've counted and that excludes any additional ones in the back. For computer whizzes on the other hand the S class will be a sheer delight because for them the myriad instructions will be no different from their Windows 98s and Macintoshes they use every day. As for ladies with thick glasses and blue hair? Well, hopefully they will have children or more likely grand-children who will tap in all the relevant radio stations as well all the other parameters Granny might need.
Anyway, apart from the 91 buttons what is the car Mercedes call the definitive automobile experience really like? I don't know about definitive, after all BMW 750s and Jaguars are not exactly dogs but there can be no doubt that this car is very special in several respects. I was particularly impressed by the safety features, for long a Mercedes forte. It has no fewer than 8 air-bags, some of which will deploy with partial force in a low-speed collision. In addition to the frontal airbags the car has head-protection curtain airbags as well as door-mounted side airbags in each of its four doors. Very impressive indeed, especially in view of that spreading big-City disease-the running of red lights.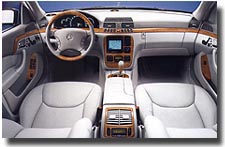 Assuming drivers can figure out the GPS navigational system it is a huge plus. The voice is no longer synthetic but human and the advice is excellent. Not only can you dial in the destination and whether you wish to go the fastest way or the scenic route but the car also has an emergency button. The minute it is hit the Mercedes command center will immediately know where the car is. If there is no voice contact the center will assume the worst and notify the police. Under normal circumstances the driver will explain the problem and the command center will do the rest.
With an amazing bit of technological wizardry if there is a collision deploying any airbag, the system automatically establishes contact with Protection One, a provider employed by Mercedes-Benz. Quite staggering if you stop and think about it for a minute.
Nobody can say that Mercedes have been slow to take advantage of the latest in technology. They have had a web site up for several months and have had over 500 firm orders through it. At a guess I would say that 499 came from Palo Alto or Santa Clara. In any case- well done!
Now for the 64 thousand- or in the case of the 5 liter 302 horsepower V8 the $77,850 question is: what is this car really like? How does it go, how does it handle, is it worth the money? Well, my co-driver and I spent a full day in and around Phoenix, Arizona to judge for ourselves. Thanks to some hard work by San Francisco based Page One Auto-specialists in car launches the route was everything we could have asked for. Highways, back roads, twisty sections, we had the lot. The car was remarkably quiet at normal speeds and it gave us a chance to figure out the navigational system or at least the bit that was designed to get us home. I will not pretend that we did not exceed the limits momentarily on the deserted back roads and one thing became clear-for serious motoring as opposed to sticking to the limit at all times driving (is there such a person?) the car was under tyred. The Continentals and Goodyears were sort of all right as opposed to reassuring. This was echoed by every single colleague we compared notes with after the event.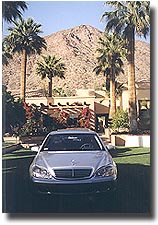 I am quite sure that the V12s which are due next year will have tyres more in tune with the excellent suspension of the car. Goodrich and Michelin are just two brands that come to mind although Ferrari fit an awful lot of Bridgestones to their high-performance cars. Talking of which the cars that are sold in the United States have their top speeds restricted to 130 miles per hour which would seem quite sufficient for 99% of the buyers..
Faults? Well, neither of us cared for the way the gearbox selector is designed. Sure, you can just plop it into drive and forget all about it but as the lever moves from right to left you can move down to 4th or 3rd and if you are not an accomplished driver you may not even notice it as the car would go on for ever at 55 miles per hour in either of those gears. My co-driver managed to nudge the shifter into 1st (!) which neither of us noticed until the car was on the rev limiter which did give us some anxious moments until we figured out what was going on. In principle the system is very easy and simple: to move up a gear to give the lever a little shove to the right, if you want to change down you nudge it to the left. We would have preferred the shift to be up for changing up and down for changing down, somehow it seemed more logical to us. Only time will tell if Mercedes will agree with us by modifying it. Should they consider it may I respectfully suggest a small metal flap which could be flipped over. In the down position the flap( not dissimilar to the ones which were used on certain sportscars preventing accidental engagement of reverse) it would restrict movement to stop people accidentally nudging the shifter into any gear other than the one the automatic box selects by itself with the lever in "D". For those who would like to explore the box and the shifter to the full lifting the blocking flap would take all of two seconds.
The car itself was amazingly silent and comfortable, so much so that as soon my partner took over I immediately went to sleep, a tribute to his driving and to the design of car. The air-conditioning worked well as did Bose' Beta II sound system.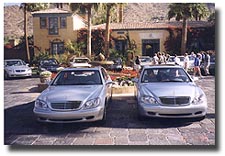 Maybe we should have driven the 4.3 liter first because after the 5 liter it did feel somewhat gutless. I am sure it isn't in "real life" but those 700cc-s were very obvious by their absence. Interestingly enough even though both cars have V8 engines big brother sounded better, more purposeful, more robust.
So, at the end of the day what do we have? An exceptional automobile with some quirks. For computer literate baby boomers whose Yahoo! and Amazon shares have sky-rocketed it will be a highly desirable proposition-great styling, great comfort, great acceleration and stunning safety features in a car clearly designed for the next century. For those who are busy taking their daily Centrum silver multivitamins ( for adults 50+ it says on the bottle) there are two possibilities-either decide to stick with it and learn all the various and sometimes complicated functions or remain with the existing "S" class. It may not be leading edge, it may have been Bruno Sacco's least successful design from a styling point of view but it is still a very fine automobile which can certainly be driven without a degree in computer studies. May this be the biggest problem you'll ever have!