New Car/Review
Road impressions:
1999 Mercedes Benz ML430
Andrew Frankl European Bureau Chief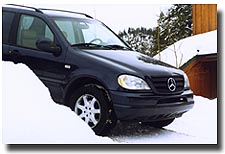 What a difference a year makes! In December 1998 we were packing our ski gear getting ready for our annual haul into the Sierras. The -then- new ML320 was ready and ..quite willing. Quite willing because the 3.2 litre engine showed a certain amount of reluctance when it came to going past slower traffic on Route 80 on the way to Truckee and beyond. Whilst overall impressions were favorable there were a number of rather plasticky bits reminiscent of East German Trabants. When I tackled recently retired MB USA head honcho Michael Basserman on the subject he was quite candid. Look-he said- we had a new plant, new people, new country, new car-it was inevitable that certain little things just had to go wrong. Wait till you drive the new one, he added with a smile.
He was right. Even with four people and tons of luggage the new 268 bhp V8 engine made mincemeat of all the hills and obstacles that came in its way. There was a lot of snow which proved to be no problem. The temperature gauge dropped to O Fahrenheit- bloody cold in any language. Whilst last year it took for ever to get some heat inside the car and to demist the screen, this time it was more a matter of seconds. As for the plasticky bits- there weren't any. No rattles, no bits falling off, zero, zilch!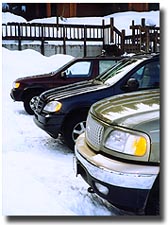 There were of course certain things I could not quite understand. One- the fitted carpets. Assuming that these very capable SUVs were going to be used properly and not just for cruising up and down Rodeo (I"ve just been informed that the word Drive is only used by ignorant tourists as apparently my dear everybody who is anybody knows that there is only one Rodeo in the whole wide world... no comment) then something more practical than beige carpets are called for.
Other dislikes include the truly farcical information panel/ trip computer which is all of 2 inches wide and is completely unreadable. Surely it will be moved to a more sensible place in the near future. I mentioned a year ago how much I hated the various switches between the two front seats which might after a while become second nature but first time round we ended up with the wrong windows going up and down several times. As these are highly desirable rental cars at destinations such as Geneva or Aspen I don't think anyone should have to experiment before getting it right. Maybe this is one of my hang-ups but I always come back to people arriving to their destinations late at night, picking up a rental car/SUV only to spend hours finding out how windows, door locks and other fairly important bits work.
Of course the things that really mattered worked and worked very well indeed. First of all the engine started immediately regardless of the freezing temperatures we encountered. Secondly the fuel consumption was a perfectly reasonable 17 miles per gallon. Rapid acceleration, when needed, was there at the touch of the loud pedal and the ride was perfectly satisfactory by all my passengers who emerged after a 3 hour dash back to a freezing, foggy San Francisco without any aches and pains. The soft bags and the various boots were swallowed by the deceptively large area behind the back seats and the rather useful sidepockets built into the doors swallowed a hard-cover edition of Richard Branson's autobiography whilst the man himself was busy trying to stay in the air over the Pacific Ocean..
There is something else to consider- call it a combination of practicality and snobbish if you like. The ML series, whether it is the 320 or the 430 is just as much at home outside Valentino as it is in Vail. It is the only SUV I can think of which would be perfectly acceptable outside the Symphony Hall and from which well dressed ladies can emerge with their dignities intact. Try that in a Ford Expedition and you'll soon discover what I mean.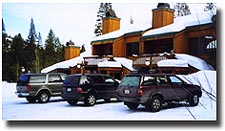 As you'll see from the pictures we did have a Nissan Pathfinder and a Ford Explorer at Squaw Valley as well. I am writing about Nissan in my forthcoming End of Year Letter from Europe but suffice to say that it did everything that was expected from a trusted veteran. As for the Ford, well, personally I find it one size too big for almost everything , a huge waste of the World's diminishing resources, especially as most of them are driven by school Mums on their own to collect two or maybe three children. My wife certainly hated it and I cannot disagree too much with her sentiments. Financially Ford are on to a good thing- you do not have 22 billion dollars in the bank if you are doing things wrong- but I wish they did it by building nice cars and not gas guzzling monsters.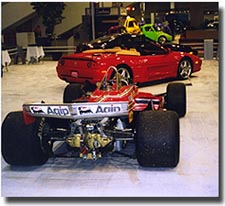 As for the Merc, well, to use an old American phrase- they are all set. At one end of the scale they have the tiny Smart car just in case there is another oil crisis and to some extent the same goes for their A class car which could be made to run on gas/petrol, diesel, or as a hybrid. One up the scale they have their bread and butter C class, the middle class icon E class and every tycoon's obligatory S class. For yuppies there is the SLK, for shareholders in Amazon.com the CLK and for those with shares in just about all the Internet stocks there will be a street version of the SLR design study which will sell-in a few years time- for sums in excess of 200 thousand dollars. Mind you, the Ferrari 550 Maranello is already in that league. Talking of which a friend phoned from Santa Monica to say that he damaged one recently. What was the other car said I. The guardrail- was the answer.. The new bonnet/hood alone will set him back 13 thousand dollars. Don't say you haven't been warned!