New Car/Review
Road impressions:
1999 Mercedes Benz CLK 320 Cabriolet
Andrew Frankl European Bureau Chief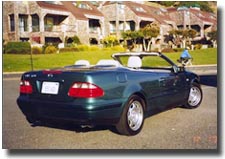 At first sight it seemed a bit strange- a cabriolet/convertible in January! Then I realized just how much sense it made. Any fool can drive an open car in July and drool about the rush of fresh air and all that but in January?! Yes. It made a lot of sense. Would it leak, would it let in freezing cold air -NO! Would it be habitable, could the heater cope? The answer is a most definite YES! At times I did not even realize that it was not a hardtop, the three layer insulated power top did a magnificent job. There were no problems listening to the radio or having a conversation. How do I know? Well, in the dim and distant past I owned a beautiful white soft-top MGB, registration No DMW 130C-if my memory serves me right. Admittedly this was way back in the 60s but I still recall having to shout over to the passenger and also having to turn the volume on the radio to absolute maximum. Not that it distracted from the tremendous amount of fun I had in that car cruising down London's King's Road on a sunny Saturday afternoon I met one of the most beautiful girls I've ever had the pleasure to share a cappuccino with.
Anyway, enough of that nostalgia, let's get back to the Merc. Is it a great car? Yes. Does it go like the proverbial rocket-yes. Are the front seats comfortable-yes. Is there room in the back? NO! I could not believe it. My wife and I went to play a round of golf-hearty souls that we are- in the middle of January but when I opened the trunk/boot I could not believe my eyes. As the photographs show there was room for one set of clubs, full stop. The other had to go across the back seats. And that was that.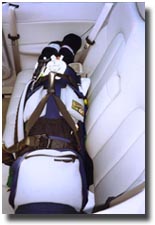 Much as I admire the Stuttgart firm this car is not really a four-seater unless all four occupants are 5 feet 2 inches tall and carry nothing beyond bare essentials. Four small soft bags with maybe a pair of jeans, toiletries, a jumper and that's about all. Even for two people it is a tall order. Assuming that they like to have fresh air-after all it is a convertible, like to have their golf clubs and would also like to take a suitcase the car would end up a bit like Rowan Atkinson's Mini in Mr. Bean.
It is of course perfect for drifting around the South of France in a pair of shorts and a credit card or three but for carrying four people and luggage it is most definitely a no-no. As an automobile leaving little details such as space aside for a moment it is of course everything it should be.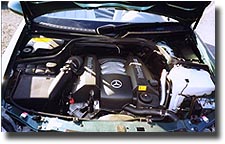 The 215 horsepower 3.2 litre V6 sounds and goes like a dream and because of the reinforced body structure the car feels as solid as the coupe, a remarkable feat of engineering. As for the rather complicated, well built soft-top I am not sure what I would do. Maybe settle for a simpler version with a bit more noise, a bit less sophistication and settle for a decent sized trunk/boot.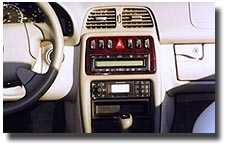 The other thing I -personally- don't care for are the myriads of switches. Unless you have spent a great deal of time in the car it is rather difficult to get used to them all, especially as there is no logic involved. Unlike in many other cars there are no buttons on the steering wheel for things such as the radio volume control or change of channels. I am a great believer in having two hands on the steering wheel at all times and consequently I hate searching for and fiddling with knobs on the dashboard.
Curiously enough the little "nail-breaker" which adjusts the mirrors has been replaced by a perfectly sensible device which works well, unfortunately the MB jungle drum between Stuttgart and Alabama seems to have broken down as they still fit the silly old device to the ML series. Not much longer I hope.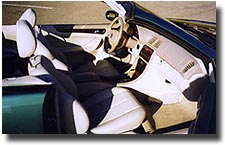 Coming back to the front seats which I've mentioned earlier on these really are outstanding and I have that on the ultimate authority, that of my Mother in Law! The secret- the steel shell features a composite leaf spring in the rear part of the seat cushion. The seats provide excellent lateral support and are also electrically adjustable with memory for three different people. There is another neat touch- as the driver's seat goes back to accommodate taller people so the headrest rises to be in line with his or her head offering maximum protection in an accident. Fuel consumption worked out at a very reasonable 24 miles per gallon but in view of the HCP's interest in anything quick we decided against testing the 130 miles per hour top speed on Highway 101. Coming back to lack of space for a moment. I know that there are people who don't play golf but 27 million Americans do and having recently seen new MB US head honcho Mike Jackson present prizes in Hawaii to the winners of the MB PGA Open, it would be fair to assume that MB targets golfers as their potential customers which I can understand. Just don't ask four of them to turn up for a tournament with their clubs in a CLK Cabriolet because whilst the car would get there with ease, someone, somewhere would have to be left behind!
The solution- buy the coupe for 7000 dollars less! It most definitely has room for four adults and their clubs. With a sunroof you would get lots of fresh air, save money and room for everyone. I am told that when Bob Eaton was negotiating the Chrysler/Mercedes deal with Jurgen Schrempp the first thing he asked for- once the ink was dry- yes, you've guessed it, a CLK with the 4.3 litre engine. Wonder how he managed to jump the waiting list.