New Car/Review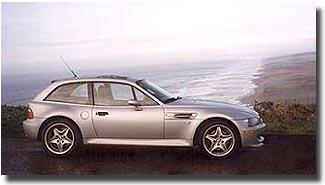 SEE ALSO: BMW Buyer's Guide
BMW M Coupe - An Instant Classic!
Andrew Frankl European Bureau Chief

BMW Full Line factory footage (23:35) 28.8, 56k, or 200k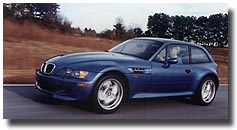 Once upon a time, well actually not that many years ago my partner Ian Fraser and I published a rather upmarket magazine- Supercar Classics. There was no place in this magazine for anything that wasn't very special and new cars rarely made an appearance. Ferrari GTOs, Lambo Miuras, Lancia Delta Integrales, it was that kind of a magazine. Alas, Ian and I are no longer partners-FF Publishing is just something rather nice and nostalgic to look back upon-but one thing is certain- the BMW M Coupe would have walked straight into the pages of the magazine as a great automobile. Not maybe, not one day, no. On day one. It is that kind of a very special car-designed by true enthusiasts for true enthusiasts.
It was also the only car- apart from the new VW Beetle that stopped the traffic and made shopping trips in Northern California rather longer than expected- everybody wanted to look at it, sit in it, talk about it. Yes, there were people who did not like the styling but they were in a minority. They also did not understand that for the sort of handling the boys in Munich had in mind huge overhangs were out of the question. They designed the nearest thing to a go-kart that would take two people and their golf clubs (!) from one end of Europe or California for that matter to the other indecently quickly and in total comfort. There are no compromises, no mini-seats for one year olds. No, this car is for two people who appreciate the journey in an outstanding automobile rather then travel from A to B. There is, believe me, a huge difference.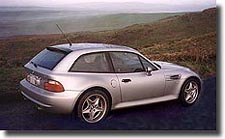 Whilst the US version of the 3.2 litre DOHC 24-valve engine only pushes out 240 ponies as opposed to the European version which has over 300, I think for most of us that is quite sufficient. You would have to be an exceptional driver- a Derek Bell or an Alex Zanardi to miss the 60 odd horses under US driving circumstances. Even in Montana they issue tickets over a certain speed I am told and as for California you will be very lucky if the CHP don't catch you anywhere near 100 miles per hour. Of course it would be fun to try the European version on a race track but trust me, even on winding roads full of hairpins-such as Sausalito to Stinson Beach-there is plenty of power get you into trouble if you are not careful.
A former CAR Magazine colleague currently working for old friend David E Davis at Automobile magazine reckons he prefers the M Coupe to the latest Porsche. As I am just waiting to test one I have reserve judgement but as he is an excellent driver and racer I have a feeling he might be right. Normally hand-built specials -there will only be 1000 of these cars built- tend to lack feature comforts. Not this one! Air bags, side air bags, an impact sensor that in the event of an accident unlocks doors and activates interior and hazard lights, electrically adjustable two-tone leather seats, power windows, heater door locks, a beautiful leather steering wheel, Harman-Kardon sound system-the list is just about endless.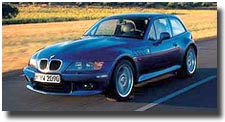 On the road the car rides the way true sportscars should- don't expect anything soft, something your Mother in Law would appreciate. It is not for people with dentures in spite of those reassuring commercials -it is mean but certainly not nasty.
The five speed manual gearbox is fine -and as long as you know how to make the most of it you'll have a great time. We did, even in the pouring rain. The de-misters worked fine as did the wipers. Fuel consumption worked out at 23.7 miles per gallon which included some pretty hard driving. The price of the test car with the optional moon roof and destination charge came to 42670 dollars. I am sure there is already a thriving black market. If not, there soon will be.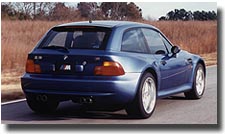 If all this seems like a road test after an expensive lunch paid for by BMW I am sorry to disappoint you-it isn't. Regular readers know I don't mince words when I get behind the wheels of lesser automobiles. In this instance it would be childish to criticize just for the sake of doing so. If you are looking for a no-compromise, fast two seater which will get you and yours to places more quickly and in more comfort than almost anything else the M Coupe is for you. If you are concerned about the Mom in Law, the kids and the dogs- look somewhere else.