New Motorcycle Review
Milanese Monster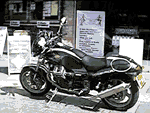 Moto Guzzi Centauro V10
Nicholas Frankl
European Correspondent
These Italians are clever chaps. Design a big, loveably high torque and quick V-twin engine and put three different bodies and two different bikes on it. The 1100 Sport and Corsa are great bikes (although I haven't actually tried either yet). But what to do with the 4-valve engine in a market that loves to pose and cruise? Create a cruiser! The V10 Centauro, - no it doesn't have a Dodge Viper engine and no I don't understand why it's called a V10 either (apart from sounding cool) which is reason enough for most things, - is the meanest "naked" sports bike around town. I use the word town as that's where most people who ride these things tend to live. With a sit-up and nearly relax position and suspension, brakes and bits borrowed from the 1100 sport, the Centauro is right up there in performance with the best 750's.
Available in standard (in the nude), GT (dual seat, adjustable bars, bag rack on the back) and Sport (as tested here with a sexy white-strip paint job, belly pan, headlamp visor and adjustable bars) the V10 is a great ride. Great, only if one subscribes to the Guzzi ethos of long on throw, short on feel gearbox, that just loves to pop into neutral instead of 2nd, steering that isn't aided by the low rear set-up and an engine that does it's damnedest to tip you over whilst you carefully avoid wing mirrors at 5mph through traffic jams.
| | |
| --- | --- |
| Having said all that, I personally like the characteristics of the engine, the exhaust note and throaty torque that can pull you out of trouble in almost any gear and any revs. The fact that the bike isn't a Japanese appliance is rather appealing and far more "men on the street" respected it and enquired about the Italian monster than the rest of the Jap crowd I was with. Of course, it won't do wheelies, stoppies or anything like that, but with a surprisingly good chassis and ground clearance, the Guzzi can really hustle itself around the B roads at great speed, if not quite total finesse. | |
The rather pathetic screen does little to prevent the wind onslaught on motorways, but as the bike makes such a huge hole in the air anyway the wind blast seems to go around you, more than hit you. One criticism is the side stand, that also acts as a engine cut out both in-gear AND neutral. I find this bloody annoying quite frankly as I always try to warm up the engine while I fit my gloves and helmet etc. Do these Italian free-willed engineers ride without such precautions? However, after a bit of nosing around I found the lead that needed snipping - no ER surgery required - just a quick cut.
Apart from that and the rather fiddly rear cover, that takes all manner of allan keys and nail breaking manoeuvring to detach and reattach, the Moto Guzzi is a blast of fresh air that shouts it's presence at any opportunity.
Don't buy one till you try it- as if you would - and surprise yourself.



Centauro Sport

Price           £8,250
Engine          992
Power           93.7 @ 8200rpm
Weight          224kg
Pwr/weight      0.42bhp/kg