New Motorcycle Review
Italian Heavyweight Cruiser
Nicholas Frankl
European Correspondent
California. Now, I don't know about you, but when I think of the World's 8th wealthiest territory - two things come to mind. Hollywood starlets and Harley Davidson's. Funny, therefore, that one of Europe's most famous marques - Moto Guzzi, (and Harley's arch rival), should have chosen to name their GT bike after this particularly large Americana State. More embarrassing still, is the fact that in view of my past couple of weeks riding, when I had the opportunity to test, over various roads and conditions, both the 98' Road King and the latest 1100 California EV. That I found myself in 8/10 occasions reaching for the Guzzi's keys. Why? Well for starters although the Guzzi's lines could hardly be described as classic - unlike "The King" with its glorious triple headlamp cluster, double gas tank and angular sweeping side bags. The EV's purposeful lines, chromed to the hilt and bristling with adornments, provide you with huge street impact and all the cruising theme you could wish for.
| | |
| --- | --- |
| With a excellent ground clearance (embarrassingly so compared to the low slung unidirectional RK) the rider can view the horizon clearly - never underestimate how much faster and easier you can ride when you can actually see beyond the next two cars. And when asked, throw the Guzzi around at angles befitting a bike half it's size and weight. The power delivery is smooth, if a little peculiar to the uninitiated - as the bullet proof 75bhp V-twin combined with the shaft drive - tries to unseat the rider on slow, traffic threading, runs. Once you get the hang of it, and it doesn't take long, the bike is as stable as a steam train, and despite having similar aerodynamics feels as if it will run forever in 5th. Getting into top gear is a little more tricky however, as the gearbox is slow and very long on throw. I lost count of how many times I found neutral instead of second - but hey, this is the what Italian heritage and charisma are all about. | |
Two up and "touring" around the old streets of London, Alexis and I (he was on the Hog with pillion) enjoyed one of the loviest journeys. Under clear skies and with little traffic (it was past midnight) the two of us wending along the embankment and over the truly awesome floodlit Tower Bridge, we found both bikes to be ideally suited to relaxed comfortable riding - though truth be told - he found it a lot tougher round the tight corners. With enough torque to pull a caravan the EV lollops along with ease, the adjustable windshield providing excellent defence against natures nasties, the fully adjustable rear suspension allowing comfortable two-up riding, good feel and manoeuvrability.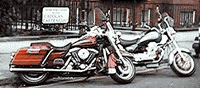 Braking systems on tourers are even more important than sports bikes. As more often than not, you'll be with the one you love, plus all "the loved ones" luggage too. Considering that most of us enjoy a bit of twisty stuff in the mountains, bringing the EV and HD to a stop is not what you want to be thinking about as you dive into hairpins on the way down Pikes Peak or the Route Napoleon. Here the California is streets ahead of the Hog, which doesn't have bad brakes itself, just huge twin Brembo discs with 4-pot calipers and integral rear system that can wipe off the speed in a flash. You won't be thinking it's a Laverda 750S (which I have right now), but all the same not a single bike of any kind left me for dust during ten days of real riding in London and the country, which is really what counts- isn't it? The best bit was watch the rucksack gang trying to hang on to there laptops as I strolled past, spare helmet, shoes, and briefcase all safely packed up in the standard 35 litre hard panniers.
| | |
| --- | --- |
| What we have here is a bike of great competence in need of an improved brand image. Moto Guzzi have finally got there quality and finish standards up to the Japanese, mechanically the engine, gearbox and ancillary components are sound and the factory are now offering a world wide three year mechanical warranty. | |
Do your self-a favour and try one before you regret it.
CALIFORNIA EV
ENGINE 90 deg V-twin air cooled
BHP 73.5@ 6400
TORQUE 69.4ft-lb @ 5000
FUEL 19 Litres
WEIGHT 251Kg
MAX SPEED 122 Mph

PRICE £7,950