New Car Review
1998 MERCEDES-BENZ ML320 - The New Class in the SUV Market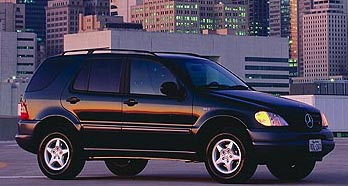 SEE ALSO: Mercedes Buyer's Guide
By Marc J. Rauch, Exec. Vice President/Co-Founder
Let me cut right to the chase: if you're in the market for a premium sports utility vehicle, RUN, don't walk to your nearest Mercedes-Benz dealer and get yourself the new ML320.
While you're getting dressed and looking for your checkbook let me tell you why. On August 27th and 28th, I had the opportunity to travel to Portland, Oregon, to see and test drive Mercedes' initial SUV offering. Two major points circled in my mind: Why was Mercedes-Benz introducing a sport utility vehicle, especially at such a seemingly late period in the current SUV fad cycle? And how could MB introduce a premium SUV at the relatively low price of $33,900?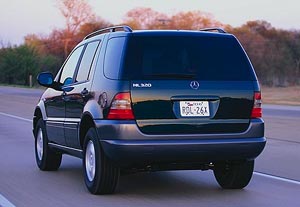 My own preconceived answers were that every car manufacturer is entitled to at least one 'Edsel' (and maybe it was time for MB to discover some small bit of mortality), and that obviously the vehicle was going to be too small and under-nourished. I mention my preconceived feeling about the vehicle's size because after looking at photos of the ML320, I thought it would be similar to a Honda CRV or Kia Sportage.
The drive-day's activities began with a press conference that started to answer the questions. In fact, these points must have been foremost on the minds of the three dozen or so journalists in attendance, because it was precisely the points addressed by Mercedes' representatives. Steve Rossi, MB's Corporate Communications honcho, spoke about the Light Truck/SUV marketplace, its continuing strength, and how this segment includes four of the top five selling "passenger vehicles".
Interestingly, in the days leading up to my trip to Portland, I had several occasions to consider the future of the SUV market. Firstly, I attended a Cadillac conference, at which John Smith, Cadillac's new General Manager, responded to questions about the possibility of a Cadillac SUV, by saying that they believed it was way too late in the cycle for Cadillac to be introducing such a vehicle. Secondly, I read an article in the Wall Street Journal that predicted the decline of interest in SUVs, because, according to their research, many long-time SUV aficionados were becoming tired of the "sport utility ride". Supposedly, they've found that the comfort of full sized and luxury cars are now more to their liking. In addition, I received an email letter here at The Auto Channel from an automotive writer who was looking for "evidence" that SUV owners were experiencing far too many parking and maneuverability problems - thereby turning away from the desire of owning such large vehicles.
So, flying in the face of these negative contentions, Rossi and the other MB factory reps described how they believed that this might actually be the most perfect time to launch the ML320. Using charts, graphs and statistics, they presented a good case. It left me thinking, "the proof would be in the pudding". They spent several minutes talking about their new factory in Alabama (Mercedes' first assembly plant outside Germany) - it was built especially to make the ML320 - and about how their SUV was designed using a "clean sheet of paper" approach. They talked about how other manufacturers were saddled with the need to use outdated technology and preexisting parts built for previous vehicles. For example, the rear suspension on the Ford Explorer is a direct descendant of the suspension built by Henry Ford for the Model T. By comparison, the ML320 uses independent double wishbone front and rear suspension, which would supposedly provide superior handling, stability, and ride comfort.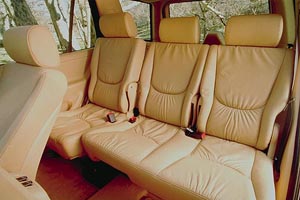 The next issue addressed in the Press Conference was the size of the ML320. As I mentioned, from looking at photos over the last couple of months, I thought the vehicle would be a runt, which would account for such relatively low "Mercedes-Benz" pricing. When Fran O'Hagan, Mercedes' Light Trucks Product Manager, described how large the ML320 actually was, the assemblage listened in cynical disbelief. We were told that the ML320 had a longer wheelbase than the Jeep Grand Cherokee, and was wider than the Ford Explorer or the Grand Cherokee. We were also told that the ML320 had more cargo space than either of these vehicles. Then we were also asked to believe that the ML320's new V6 engine was comparable in performance to many of the V8 power plants in other manufacturers' SUVs.
With that said, we headed off to meet our fleet of ML320s. A dozen and a half tightly packed vehicles greeted us in the hotel's underground parking lot. I must say that the sardine-like arrangement of the SUVs only heightened the small looking size of the ML320 - so much for having a longer wheelbase than the Explorer. But the MB reps were tenacious in their attempts to assuage our/my impressions. We did a walk around, opened doors, lifted the tailgate, peered in, around, and under. Unquestionably, the ML320 looked beautiful, but still it seemed small. One of the factory folks said that it was an optical illusion caused by the largeness of the doors, aerodynamically curved exterior edges, and smaller engine compartment - the newly designed ML320 V6 engine requires less space.
We mounted up, two to a vehicle. I shared my ride with a friendly chap from Ohio - who only very recently purchased a 1997 Jeep Grand Cherokee, his second in 4 years. He immediately took a look around the interior and declared that the ML320 did seem at least as roomy as his Grand Cherokee. I drove first, he navigated. It was then that we realized that the selection of the hotel garage as the day's starting point might have been a strategic decision on the part of MB. Getting 18 SUVs out of a cramped, heavily pillared garage requires nimble maneuverability and a tight turning radius. Suffice it to say every lead-footed journalist made his/her way safely out of the garage. Score one point for the ML320's agility.
Convoying down the streets of Portland, the first leg enroute to an off-road trail near Mt. Hood, the ML320 earned additional points. Although driving a Mercedes Benz in the 'command position' of an SUV felt a little strange, the smoothness and luxury of the ride was unmistakably Mercedes. Even the seats had the hard, firm familiarity of a Mercedes-Benz - although the seats did seem to be a little more padded then the usual E class car.
Moving from surface street to freeway, the ML320 accelerated powerfully and quietly. At highway speed there was no discernable road or wind noise. Hey, this is a Mercedes with big tires. Opening the sunroof was just as pleasant an experience. There was still very little road noise or incoming wind. Hooray for a properly designed sunroof!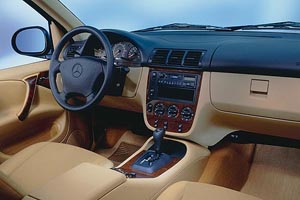 The remaining freeway miles passed quickly as my partner and I acquainted ourselves with the features of the vehicle. With every discovery, he affirmatively compared it to his Grand Cherokee. The ML320 is loaded with features. At present, there are only three options available: one is the Bose sound system, another gives you leather seats and wood trimmed dashboard, and the other will give you a rear mounted spare tire and exterior side runners. We had the Bose option, so we had a lot of things to look at and play with. The only feature missing from the ML320, at least for now, is an automatic climate control on the air conditioning/heating system. Imagine, you have to actually turn the knobs manually - oh, the indignity! But then, it is a sport utility vehicle, so I guess some sort of roughing-it is required.
Exiting the freeway, we now drove on a twisty, turny mountain road that afforded us fabulous scenic peeks through the fog and rain covered skies (remember, we were in Portland). Relinquishing the captain's position, I became the navigator. This allowed me to now do some comparison checking on my own.
I came prepared. I was armed with comparison information for several other SUVs: Grand Cherokee, Explorer, Expedition, Toyota Land Cruiser, 4 Runner, Lincoln Navigator, etc. By the way, all this information was downloaded directly from The Auto Channel website. This kind of data is available to all our visitors without any cost or obligation. And I can tell you, that not only was my driving mate very impressed with the information, but later, during lunch, a number of the other journalists borrowed the material to use as a resource for their own stories. But enough with the commercial announcement for The Auto Channel, back to the review.
Well there it was, in black and white, the ML320 does compare favorably against the Grand Cherokee and Explorer, its two primary competitors; at least as identified by the MB Marketing Department. The ML320 has a wheelbase of 111.0 inches and a width of 72.2 inches. The Explorer and Grand Cherokee's respective measurements are 111.5/70.2 and 105.9/70.9. The ML320 provides front and rear legroom of 40.3 inches and 38.0 inches, respectively. The Explorer and Grand Cherokee provide 42.4/37.7 inches and 40.9/35.7 inches, respectively. Turning my attention to engine specifications, the ML320's newly designed 3.2 liter lightweight V6 delivers 215 horsepower with projected EPA fuel economy of 17 mpg city and 21 mpg highway. Comparatively, the Grand Cherokee V6 only outputs 185 horsepower with EPA city/highway fuel economy of 15/20, respectively. If you upgrade to the Grand Cherokee's V8, horsepower is just 220 and fuel economy falls to 14/17, respectively. Regarding the Ford Explorer, its V6 delivers just 160 horses and EPA city/highway fuel economy of 15/19. Additional comparisons with other capacities and dimensions, and against the 4 Runner, Navigator, Expedition, and Land Cruiser proved equally impressive. Although the Expedition and Land Cruiser have significantly larger dimensions than the ML320, they are really in a different market segment and can easily cost $10 - $15,000 more.
So, Steve Rossi and his minions were correct: the ML320 not only measures up to the market segment's leaders, in many instances it surpasses them.
About this time, we arrived at the 11 mile off-road course. We each drove about half the distance. This allowed us the opportunity to activate the transmission's low range and experience the ML320's full- time four-wheel-drive electronic traction system (4ETS). The 4ETS does not lock its axles to maintain traction on slippery or loose surfaces. Instead, it senses wheel slip electronically and brakes the slipping wheels, which then delivers the necessary torque to those tires with the most grip. Even if 3 wheels are spinning, one wheel can pull/push the vehicle out of trouble.
Let's face it, driving off-road on rock strewn, pot-holed terrain can never be called comfortable. But the ML320 handled the "authentic rough terrain" as well as any four-wheel drive vehicle I've ever driven. Arriving back on freeway pavement after lunch, my driving partner decided to test the fuel economy and upper limits of the vehicle's speedometer - remember when I mentioned earlier about automotive journalists being lead-footed. Without wanting to incriminate us for breaking Oregon's speed limits, let's just say that the final 56 miles of the journey passed in something less than 30 minutes. The result, you ask? The ML320 performed as advertised: smooth, fuel efficient, and safely.
As with all Mercedes-Benz vehicles, there's many more features and options to talk about: a Flexible Service System that doesn't require "scheduled" oil changes, front and door-mounted side airbags, a four-year/50,000 mile warranty, etc., etc. But if you're interested in a MB you already know all these things, so there's no need to re-state the obvious. The ML320 is a Mercedes Benz. It looks great, drives great, and feels great. And at about $34,000, it is probably the best deal you'll ever get on a new Mercedes-Benz vehicle. In fact, as compared to purchasing a so-called Baby-Benz, which sorta-kinda has the stigma of owning a "cheap" MB, the ML320 has no higher priced sibling. Therefore, it is, by default, the top of the line Mercedes SUV. Imagine, the best Mercedes-Benz you can buy, and it'll only cost you around $34,000!
Even if the boo-birds are right, and consumer interest in SUVs has peaked, the Mercedes-Benz ML320 is single-handedly capable of reviving and re-energizing the market segment. The ML320 could do for the sport utility vehicle market what Saturday Night Fever did for disco music - make it bigger and more important than ever!
Is there a negative to all of this? Unfortunately yes! The negative is availability. The first year's production may only supply about 30,000 vehicles. From everything I've heard, it sounds like dealers already have up to 100,000 bona-fide offers to purchase the vehicles. Therefore, trying to buy an ML320 off the showroom floor or at MSRP may be like trying to buy a brand new Harley-Davidson motorcycle. Even if you find one in stock, or a dealer is brave enough to order one for you, chances are the dealer will try to pack an additional few thousand dollars onto the retail price.