New Car/Review
1998 Audi A4 Avant
SEE ALSO: Audi Buyer's Guide
by Larkin Hill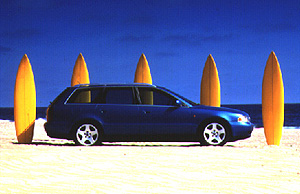 I would have never thought I'd bring myself to say that a station wagon could actually be…sexy! I must admit, I'd always associated "those types" of cars to be driven by parents, and only parents. Minivans and station wagons have always been the sensible, responsible automobiles to drive if you had to haul a bunch of screaming kids or other stuff. As an energetic and not-so-ready-to-settle-down twenty something year old, the entire thought of a station wagon brought chills to my spine.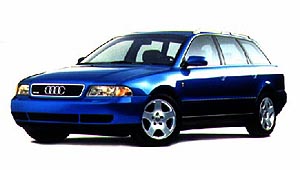 That was, until I laid eyes on the Avant. It is sprightly, alive, and just plain cute! This is the only wagon I would ever fathom purchasing at my impractical and dreamy age. Of course, I vowed that I would never own a minivan or station wagon, I'm young and I want something fun and good-looking, even with kids. Yet, Voila! There appears the perfect car for the young at heart that just need a little extra room, whether it's for kids or surfboards, it attractively accommodates both.
The Avant is a sporty looking wagon that packs an impressive punch. The A4 Avant contains the same engine as its sibling the A4 Sedan. The Avant has packed a 2.8-liter V6 powerplant with 190 horsepower that features five-valve technology, variable intake valve timing, twin dual overhead cams, and a variable geometry composite intake manifold. It has more power than previous versions without a loss of fuel economy. It can go from 0 to 60 in 8.4 seconds, which sheds any association you may have about your mother's wagon. To satisfy those who want the ultimate in handling and control Audi's legendary feature is available, the Quattro.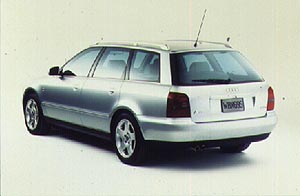 Customers can also enjoy the luxury of the Tiptronic System, which combines automatic convenience with manual power.
Overall: I just have to smile, the entire package is delightful. The little antenna in the back tops it off. This car broke all the rules, it has a sporty body design, bright yellow, red, and blue exterior colors. All of which give it the youthful and fun attitude. Not only could it be the family wagon, but also your little surfer brother would beg to use it. It has everything: roof racks, perky antenna, luxurious interior, powerful engine, and all the amenities of a superior automobile including headlight wipers. As Audi claims the A4 Avant truly is a "sports sedan with a fanny pack."