Subaru Forester: What a Lovely Surprise!
Andrew Frankl
European Bureau Chief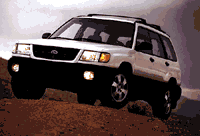 SEE ALSO: Subaru Buyer's Guide
I must make a confession. Until it arrived outside the front door I did not even know there was such a thing as a Subaru Forester. To make matters worse I haven't even driven a Subaru anywhere, ever. Maybe I lived in a vacuum, but I have never even met anyone who owned a Subaru! Yes, of course I've seen lots of rally footeage with the 555 sponsored blue cars winning all over the World, but somehow we've never met until now.
The red Forester did not look particularly beautiful but somehow it seemed very purposeful it looked like a car which meant business, a car which was designed with ruggedness rather than cosmetics in mind.
| | |
| --- | --- |
| Inside it was as fully equipped as any car or truck I've ever come across. Airbags, side-impact door-impact door beams, rear seat head-rests, a/c, a very modest radio/cassette player with some truly silly buttons, excellent over-sized rearview mirrors, cruise control, rear window wash and wipe, and a removable washable cargo tray-an excellent idea indeed! | |
Under the bonnet/hood there is a 2.5 litre horizontally opposed 4 cylinder DOHC engine driving all four wheels at all times via a 4 speed automatic transmission. Add to this package front and rear stabilizer bars, 215/60 all-season radial tires and you've got yourself a pretty mean package, at least on paper.
How about it on the road-in January, in snow and ice? Well, whilst cars and trucks were busy stopping for chains before reaching Truckee on I-80 the Forester sailed majestically past without a moments hesitation. Once we reached our destination near Tahoe City the car was used for short, local trips. That is when I had the "automotive" shock of my life-the car park at Safeways was full of Subarus! Whilst there were no Foresters there must have been at least 30-40 Legacys.
Then it dawned on me. Over the years I have not seen too many Subarus because I've been living in cities and not on a farm or at any rate not in the country. At around 22 thousand dollars it is a good 10 thousand dollars cheaper than the 4 wheel drive trucks offered by Chrysler, Ford and GM. It also has the advantage of being a car with normal doors thereby eliminating the need to climb up into the front seat which might be great fun for young people but it is not exactly a picnic for older folks.
The fuel consumption was an outstanding 28 miles per gallon and bearing in mind the roofrack and the skiis the car was remarkably quiet.
Dislikes? Well, there weren't many. I've already mentioned the radio which should be thrown into the nearest dustbin and replaced by something more worthy of this excellent car. Maybe it was me but the Yokohama tyres did not fill me with a great deal of confidence. The driving conditions were truly atrocious and whilst negotiating the bends between Truckee and Auburn in the puring rain I was missing the vice-like grip of the Dunlops which were fitted to the Mercedes 320 in which I drove the same route under the same conditions just one week earlier. My passengers-owners of a BMW 525 and a Honda Accord respectively simply loved the car and had nothing but praise for it.
So if you are considering spending in the region of 22 thousand dollars-could be less by the time you read this in view of the strength of the dollar- and are looking for a dependable, solid automobile take the Subaru for a drive. I think you will be very pleasantly surprised.