Mercedes Benz SLK - a truly excellent sportscar
Andrew Frankl
European Bureau Chief
SEE ALSO: Mercedes Buyer's Guide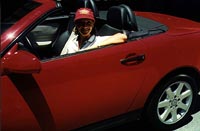 "I love it " said my wife within minutes of getting into the car .
"Hey, that's cute" said two pretty girls as I drove down Union Street in San Francisco one Saturday morning .
"I've got one on order but will my golf clubs fit in the trunk " -said the windswept gentleman from the Olympic Club who was taking a walk whilst there was a rain delay at the Congressional .
"Ah so " said the Japanese tourists admiring the roof opening mechanism "just like on television ".
I 've driven an awful lot of cars over the past 30 years but I cannot recall another one which attracted as much interest as the latest offering from Stuttgart. Yes, there were oddballs such as the Plymouth Prowler but that was a different sort of interest. Everybody looks at oddities but this was the real thing. A car people could relate to because of the name and the price.
Maybe not everywhere but in San Francisco 40 thousand dollars for a Mercedes sportscar is regarded by many as a bargain. Having spent a week in it I can see their point. Only last year I was in Fiorano driving the 550, a masterpiece at over 200 thousand dollars. Much as I love Ferraris the fun per dollar value would tilt heavily towards the German car.
It is, at its most relaxed an ideal car for shopping. Easy to drive, easy to park, with the top up there is plenty of room for the weekly shopping with room left over for a blast in the sale at Brooks Brothers. With the top down -a totally automatic operation rated by some as the 8th wonder of the world which takes all of 25 seconds- it is a wind in the hair sportscar capable of speeds in excess of 140 miles per hour.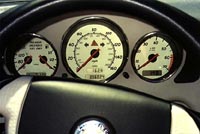 Mercedes designer Michael Mauer did a superb job on the styling. I love the sloping hood and the retro bulges, a reminder of the amazing 300SL from the '50s. My wife adored the retro instruments and the brilliant sound system, possibly the best ever in a sportscar. The car we drove, the 230SLK comes with a kompressor-supercharger to you and I. This unit made by Eaton enables the 2.3 litre engine to develop 191 ponies at 3000rpm. Mind you, under 2500rpm without the supercharger it is positively sluggish and sounds pretty ordinary as well.The engine management declutches the blower which improves the consumption but you really have to put yout foot down if you need to get out of a tight spot in a hurry. 7.4 seconds for 0-60mph is pretty good by any standards but the most amazing thing about the car is the handling. It is made for hard and fast driving and would be very much in its element on mountain passes, especially in Switzerland with its myriad of tight hairpins. There is traction control as standard which applies the brakes and cuts the power to prevent sudden oversteer. Even at the daunting Sears Point Race track it was difficult to break the vice like grip of the Michelin Pilot tyres and it certainly was not for lack of trying.
You must be wondering by now when my next cheque is due from Mercedes Benz after this eulogy but fear not -there were things I did not like as well! There is no solid footrest for one's left foot which is dangling in the air during cornering, a strange omission as the test drivers must have missed it as well. I am sure there's an engineering change on its way, it is an easy thing to rectify.
The headroom is OK as long as you not more than 6 feet tall. If you play for the Chicago Bulls you might as well get used to it with the top down. Even at 6 feet beware of cobblestones as the chances are you will hit your head on the roof. In Europe there is a manual version and many purists feel that a sportscar is not a sportscar if it has an automatic transmission. Well, Ferrari have launched one recently and found some buyers for the 456 auto, I would suggest that they made it because of demand. One could of course always argue that the type of Ferrari drivers who demand automatic transmission should drive something else but this is an argument I am not going to enter.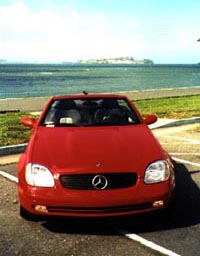 Coming back to the SLK I am told that the automatic transmission will remain as the only option in the United States,a situation that may change if enough people demand it. Right now with a waiting list stretching well into 1998 I don't think the men of Stuttgart have too much to worry about on that score. One thing I found particularly silly was what the engineers named draughtstop. This is made of fine-mesh synthetic fabric and by attaching it to the roll-bars it provides virtually draught-free motoring. It also blocks rear vision making driving dangerous..what nonsense! Either you buy a sportscar to enjoy fresh air and have fun or stick with saloons. What is wrong with a cap or a scarf?
Finally I must pay tribute to whoever invented the Vario roof . What happens if the mechanism breaks down with the roof half up and half down? Well, some clever person thought of that as well. A hexagonal key is provided in the tool kit. I cannot quite see an Alicia Silverstone look-alike doing it in the middle of Rodeo Drive but apparently you lower the side windows and disconnect the hydraulic system. I won't bore you with all the details but once you have turned a screw three revolutions anti-clockwise,operated various cables,swivelled the roof and did various other things which would be nightmarish in the dark and in the rain you could finally close it.To be fair at least they did think about it and anything as amazing as a hard top up or down in 25 seconds has to have some pretty serious engineering built into it.
All in all a great little car. Not quite as agile as the Porsche Boxster but overall probably a more attractive package for all but the untimate purists.