Forget the Mini - I want a Ka!
Nicholas Frankl, London.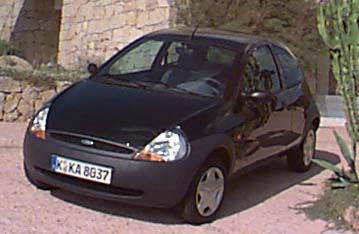 SEE ALSO: Ford Buyer's Guide
Good news! Ford's "bold styling statements" are finally beginning to communicate their intended message. That the company, which produced that original black car, has moved on, not just in terms of mass market "World Car" appeal and the Ford 2000 ideology is a tremendous boost to the consumer who hopefully will no longer have to suffer duff design. The desire to be different in a mass market that, thanks to all those CAD/CAM computers and identical industry wide requirements, has manufactured over the last ten years a plethora of faceless models with all the character of lawnmowers.
The world no2 is now on a charge to transform it's dowdy image - you know the one - take the new Fiesta and Mondeo/Contour/Mystic which are actually quite good cars, but their image - unless your company paid for it - was never quite what one aspired to, there seemed to be a lack of street credibility, of kudos if you will. But times they are a changing, OK, The revamped Scorpio was not "A bold Styling statement" simply a bold styling mistake, which, in light of the new facelifted Mondeo looks even more the ugly duckling it always was. But, no one said leading edge design was easy.
Now with the launch of the new baby Ka - and isn't that name going to cause some fun - Ford has found a new direction that one must assume will flow from the bottom all the way through the ranks and lines of the various forthcoming machinery.
Having just returned from the Sardinia press launch, and very professional and pleasant it was too, I must admit that the Ka is great. NO, it doesn't go like a GTI and YES, it should and probably will have a larger engine in a year or so's time. But that is really a detail, and more fool Ford for launching the Ka in a hilly region that laid as much emphasis on the oomph factor, than the rest of the package. The 1.3 Endura E may well be proven, light and reliable, but surely the 1.25 Zetec would have been far more appropriate and most certainly more eager 60bhp versus 75bhp. The result is a 0-60 time of 14 seconds and no real mid-range effort at all, in fact to pass a truck - as I nearly found out to my peril- you must take a long run-up preferably downhill. Fortunately this little bambino - though don't be surprised, as it is not a small car in the FIAT 500 sense, is not about combustion and all things oily and unpleasant, but about cosmopolitan lifestyle, irrelevant hairdo-s and colour co-ordinated mobile phones ( a Ka option by the way).
What Claude Montana did for fashion the Ka does for the brat pack. This first in "New Edge Design" is the result of well conceived and received concept car, draped over the Motor Show catwalks about three years ago. The executive decision, very much like the ones that produced the Dodge Viper, Vauxhall Tigra and Renault Twingo was GO. The end result is nothing short of brilliant. The "happy" car is what city driving should be about. Namely having a ball, going shopping, cruising the high street and picking up the kids..in style.
I'm told that there is no demographic of the typical Ka customer, that anyone from 17 to 70 could be expected to buy the car. Normally I'd disregard this as PR truffle, but on this occasion I could see both young guys and gals (with well to do parents) and funky 40's generation flunky-s taking up the keys and having a seriously good time with this type of vehicle. I refer to it as a type, as I'm told that this segment (which previously had been ignored... poor thing) is on a bit of a boom, much like we saw, or were told, that the MPV segment was three years ago. Was being the operative word. It is in a bit of nose-dive in Europe right now.
Currently accounting for 32% or 3.85 million vehicles a year in Europe, the forecast for 2000 is 35% or 4.5 million vehicles a year an increase of over 600,000 hungry buyers with money in their trousers (Versace, darling) and glints in their eye (well, behind the Ray Bans anyway). Most surprising of all is that these fashion wanna-bees will actually be buying a rather competent car in all respects. The handling, sure footed enough not to upset Gran on her way to bowling (ooopps what am I saying? I mean Karate rollerblading practice) but lively enough to provide for good fun and nippyness in- and-around town, plus civilised open road driving and dare I say it the odd motorway blast..etc.
The interior is a standard multi-colour affair assured to neither offend nor appeal, the instrumentation however is spot on, with ingenious air vents and the best "glove box" (that incorporates a revolving CD/sunglasses/document holder) I've seen, period. The much championed clock is a nice touch although it reflects off the wind screen, the neatest bit about it being that the knob that adjusts the hands is also a fibre optic cell that blinks red to signal the activated immobiliser. Power assisted steering, passenger air bag and the CD system are optional, as are alloy wheels and a sunroof that's in the pipe line, but this depends upon which Ka you choose. Ka or Ka2. The main difference is the standard power steering that also gives you a longer final gear ratio, plus slightly wider tyres and central locking. Space in a small car is what the whole equation rests on, and here we have what one might describe as a small problem. Because although promoted and described as a full four seater, the rear room is only really big enough if the driver and front passenger are feeling very short indeed or if the passenger goes by the name of baby. 2+2 would be a better description, with mummies and little ones the main occupants.
Realistically, I doubt that the rear room will present a problem, especially over the short distances 5that this car will predominately be driven and besides I've always found half the fun is cramming five mates into a space designed for four.
Will it sell? I think so, but as Ford have yet to announce prices it's difficult to say. The talk is of under œ7500 and maybe even under œ7000 ($10,500)for the basic Ka, with suitable insurance ratings too. Similarly no figures have been given as to the amount that Ford are planning to shift in the first year, but I would have thought it must be around 100,000 units in the UK, with Germany, France and Italy taking similar quantities. Sorry to say that despite the Ka having passed all the latest crash tests, there are no plans to introduce it to the US market, whether this policy will change is anyone's guess, my advise is to lobby Dearborn, as I know of no other car previously available or on sale today that combines such a wide range of desirable qualities at the price and with so much generation X factor.