SEE ALSO: Infiniti Buyer's Guide
New Car/Review
1997 Infiniti I30 road impressions
by Andrew Frankl European Bureau Chief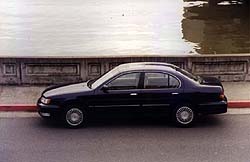 After the dramas with the Nissan Pathfinder (she could not get in and nearly fell out) finally a car from this well-known company my Mother in Law actually likes! Wielding a hand-bag -only marginally smaller than Liz Taylor's legendary suitcases which accompanied the actress on the QE2- she pronounced herself comfortable in the rear seat. Hallelujah! We were on our way to see a film about some pretty unsuccessful car-thieves when not only did she remark favourably about the amount of room in the car but also about the lack of noise.
She was right on both counts. Cruising the hills of Highway 101 towards and beyond San Rafael the gutsy 190 horsepower V6 propelled us towards the cinema in total peace in quiet. The suspension was a little bit too soft for my European tastes but not disastrously so. It was the lane-changing that I disliked more than anything else, the steering was a very far cry from a BMW's precision and did call for a great deal of concentration, especially in exposed places such as the Golden Gate Bridge in San Francisco.
The fuel economy was excellent, we were getting 25 miles per gallon which is pretty impressive after gas-guzzlers such as the recently tested Ford SHO. The 18.5 gallon fuel tank is good for well over 400 miles which is reassuring. After driving a number of cars which omit a squeek to acknowledge that the doors are locked it was nice to see a much better system, flashing lights. Just as effective and they don't wake up the neighbours.
Not surpisingly we did not test the top speed of 127 miles per hour, after all we were not the baddies stealing the car. They were on the screen. The BOSE sound system was greeted like an old friend, I am delighted to see it in more and more cars.
It is a competent car, a nice car but not an exciting car. If I worked in Silicone Valley as a middle manager for one of the local companies and wanted a nice comfortable car without attracting too much attention the I30 would fit the bill perfectly. I cannot see the neighbours green with envy, it is not that sort of an automobile.
It costs about 30 thousand dollars, depending on the number of extras. Rivals include the German made Cadillac Catera, the Volvo GLT and the venerable Saab 900SE. All three are instantly recognisable, whereas the I30 certainly is not. Whether this is a blessing or otherwise is for you to decide.