1997 Infiniti QX4 Andrew Frankl Review
SEE ALSO: Infiniti Buyer's Guide
New Car/Review
1997 Infiniti QX4 - stick to the Pathfinder!
by Andrew Frankl European Bureau Chief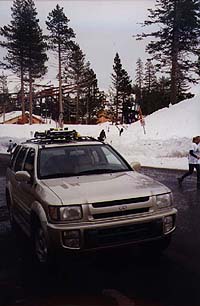 Yet again, Infiniti's advertising agency produced a great commercial. The QX4 was summoned in what looked like an English ancestral home by the Master and the butler duly delivered the vehicle up the staircase. Reminiscent of Upstairs-Downstairs, the award-winning British TV series. So far so good but what is the reality? Not quite so glamorous I am afraid. The QX4 is seriously overpriced and underpowered. I don't blame the company for trying to cash in on a craze started by Range Rover, the problem is they are not doing it very well.
Let me be more specific. Nissan/Infiniti produces an excellent 4.5 litre 278 horsepower engine which propells the Q45 saloon in total silence. So why oh why do they insist on sticking into a 4000lb SUV a gutless 168 horsepower 3.3 litre V6? A mystery.
The QX4 is-for lack of a better word-a tarted up Pathfinder for people who have more money than sense. There is no point in having a BOSE CD system, going up into the Sierras all one can hear is a struggling engine. Yes, it did get four people plus luggage and skiis to Kirkwood but instead of smooth, silent trip it was a bit of a chore. Mind you, not as much as paying 18 dollars for four small pieces of plastic to Thule, the roof rack people. The profit margin must be huge and to my mind pretty outrageous. Still, at least the skiis did not fall off. The light fitting in the room did but that is another story.
The 21.1 gallon fuel tank was very much needed, the QX4 was as thirsty as the Green Bay fans after the Superbowl. Especially going up the hill where we were lucky if we got 14 to a gallon. It was a lot better on the way back to Marin County.
Don't get me wrong, there are lots of good things about the QX4 but most of them are available for a lot less money in the Nissan Pathfinder. The engine might be underpowered and it might sound agricultural but it gets you there. The four-wheel drive sounds as though it has a serious throat infection but it keeps going. The heating system is a bit fiddly but again, it works. The driving position is good and the seats are comfortable. The suspension is a bit soft but nobody got sea-sick. There is surprisingly little room for luggage and four passengers, for long journeys with lots to carry a roof rack would be a necessity rather than a luxury.
All in all a perfectly competent -with reservations- SUV which is hugely overpriced and should be avoided in favour of its less expensive relative, the Pathfinder.