New Car/Review
SEE ALSO: Ford Buyer's Guide

1997 Ford Taurus SHO :
every detective's dream !

by Andrew Frankl--European Bureau Chief
Thanks to television we are all familiar with under-cover cops. Normally wearing a designer stubble and a seen better days raincoat our hero is at his best when having identified the baddie jumps into his un-marked car. The chase is on. Grabbing the obligatory flashing light from underneath the seat and sticking it on to the roof he sets off in hot pursuit only to lose the bandit as they hit the highway. No more!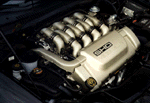 Having driven Ford's latest offering, the V8 powered Taurus SHO bandits beware! This is one mean machine. Look at the engine specs. The 32 valve DOHC V-8 engine churning out 235 ponies will propel this thing to 143 miles per hour which should be sufficient to catch just about every thief on the run. Assuming, and this is a big assumption, that our hero has been to Ford's School of Advanced Driving. This car is no pussycat. Having driven it in pouring rain my advice is-watch it! A slight indiscretion and you are in the ditch!
Fine-tuned by three times world champion race driver Jackie Stewart the SHO is terrific in the right hands and hands don't come much better than the wee Scot's when it comes to driving cars quickly. The problem is most of us have not been world champion drivers, we may have graduated to the SHO from something mundane like an Escort. That is when the problem could start. Hopefully, for your sake, it won't. Just treat it with care and you'll have loads of fun. Having said that this car is a strange contradiction. All the TLC seems to be invisible. It is under the bonnet(hood),under the car and on the wheels.(discs all round)Inside it is positively modest. How an autowriter from one of the better known monthlies could have compared it to the Mercedes E420 is beyond my comprehension. The Merc is a class act, the Taurus certainly is not. At least not when you are inside it. Either they found some very strange cows(Britain?) for the seats or they've managed to destroy the quality of the leather because it feels like plastic.(Maybe it is?!)The instruments in that bizarre Ford idiom are in that funny egg-shaped console which is an acquired taste. The whole interior is tacky. A great shame because the engine/transmission package is brilliant. It is crying out for a touch of class. Ford apparently are comparing it to Acuras and BMWs. Fine, as long as they talk about performance. Interiors, well, that is a different matter.
I have a great friend, a young, single successful attorney whom I always ask for his opinion. Would his girlfriends be impressed, is this the sort of car he would like to buy next to replace his Honda. Definitely not, was his emphatic answer. At least not until they spend some money on the interior. Like me, he loved the way the SHO drove, the acceleration, the free-revving engine, the glorious sounds it made, the way it stopped on the proverbial sixpence. All of which is fine but it does not impress girls too much unless they are complete car-fanatics with a degree in mechanical engineering. Then they could drool over the direct cooling to the V-8 and the rack and pinion steering built by ZF which has a dual-rate torsion bar and a hydraulic feedback loop designed to enhance the on-centre feel-which is certainly does by the way.
So if you are thinking of spending between 25 and 30 thousand dollars on a car which will surprise an awful lot of people as it rockets past them in total anonymity the SHO could be your choice. If on the other hand you would like something with a bit of visible class-think again.