New Car/Review
Lotus V8 -twin turbo
NICHOLAS FRANKL
European correspondent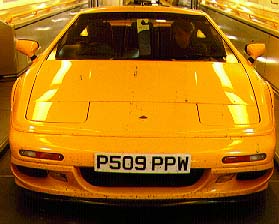 I don't know about you, but when I get the chance to go seriously quick (and let's face it with these increasingly politically correct times the opportunities are getting fewer and fewer) I like to make the most of it. Therefore operation Monaco '97 heralded the chance to get behind the driving equipment of one of the most legendary names in motoring. With an increasingly hectic life and much time spent abroad there are now less "holy" events in my calendar, but the Grand Prix around the narrow twisty streets of one of the most charismatic Countries in the world is one that I would dearly miss.
So even in November, I was playing with the rather pleasant idea of what to take for the 3000-mile return trip to the south of France. Now a V8 in any vehicle - apart from a truck - is bound to stimulate parts lesser cylinders cannot reach, but an eight in a new Lotus Espirt deserves a special night before buzz. Buzz? Yes buzz...but Buzz Lightyear... err no. Not for any car trouble mind, but because as the Lotus arrived outside TACH European HQ in London, I finally returned from an 18 hour day straight off the plane back from Malaysia. And despite feeling somewhat ghastly I still picked up the black n' yellow key fob and went for a quick blast to the petrol station for some milk, despite my sister insisting we had plenty. Now there's TACH devotion for you. Though I must add a point of information here: forget all those medicines and sun lamps for post flying remedies. For real jet-lag relief -just go a spin in a bright yellow 350 bhp Norfolk rocket- we're talking instant wide awake here.
6 am Friday. It was time to pack. Considering the engine bay of the F355 (i.e. rather full up of prancing horses), it truly amazing how little a space the in house designed V8 takes up, leaving enough for 2 large hanging bags and extra's like shoes and the like stuffed into various holes, but not for all the ancillaries mind, which ended up in a black bin liner squeezed into the front between the new Kelsey-Hayes three channel ABS braking system and the AC unit. Oh yes what a face the Beach Plaza doorman pulled! So off to Paris we went via the Shuttle - which for those of you in some of the further away of 75 countries that read us is the tunnel under the English Channel which connects the coasts of Great Britain and France - providing by far the easiest means of crossing, if not necessarily the cheapest -£170 economy or $250 near enough. Why Paris? Well, I must come clean and editor Fulmer will like this bit - no it wasn't to collect Cindy C, but not far off. For this being a car for two it seemed rather a waste to use only half of the rather fine black Connolly leather chairs with yellow pipping. And professionally speaking one cannot make a journey like this without equilibrium of weight distribution.
Come in M3. Yup there it went, roof down, off for a weekend skiing in the Alps I discovered as we both refueled, even though I didn't actually need to. You know how it is when you travel a hundred miles with another car doing very reasonable speeds, anything up to 155mph here (the beemer being electronically limited to such a velocity-more's the pity as the Lotus hardly broke sweat). I wouldn't call it bonding, although I cannot think of a more suitable word, as two complete strangers hurl along an endless motorway one forging the path through the trucks and slower traffic, the other "wing man" guarding the rear keeping safe distance - both constantly watching for the common enemy. The V8 Espirt is a very formidable companion. Not only is it faster than the F355 Ferrari, it is to my mind far more intimidating to view, particularly if you happen to be fortunate enough to have one come flying up behind you like some ground based patriot missile.
As Lotus only make around 400 V8's world wide it is also somewhat rarer - Ferrari will produce some 3500 V8's /V12's from their stables this year. The power is derived from a twin turbo charged 3.5-litre unit - basically the same they use for the GT racecar, which happily boasts anything up to 550bhp. Mortals have to be contented with a mere 350, but with a curb weight of only 1380kg as opposed to the 355's nearer 1600kg the power-weight ratio is right up there, with maximum torque of 295 lb.ft @ a lowly 4250 rpm. Handling, - something Lotus has always been incredibly good at and upon which Colin Chapman based his entire company (and life) ethos upon- is just outstanding. There was always the risk that once the nimble, light, but rather outdated 4-cylinder block was replaced the car might have to compromise poise for power. Not here. If there is a faster car to hustle around the Southern Alps in bright sunshine, with the roof off and the engine loosening up with every mile, then I certainly haven't found one. Yes there are cars that are faster per say, Diablo, 550 Marenello, XJ220 to name but a few, handle better (I don't know) and have more grip, Porsche Turbo? But as a complete sports car package - I can't think of any.
Interestingly it was the very same Route napoleon that I tackled with the Honda NSX last year and the very same series of hairpins, which proved too much for the brakes. Not this time. I for one have never been a great advocate for ABS on sports cars feeling that a good driver should know what to do and doesn't need the pedal to go gooey at the critical point to add to the trouble. That was until the Espirt. I realize that most of the worlds super cars have good brakes and already I have mentioned the Porsche, but this cars ability to haul in the scenery and dive into corners at 9/10th's consistently all the while talking, no shouting, back at the driver telling the story at each of the four corners is a simply fabulous feeling. 0-60 mph takes 4.1 seconds, 100 miles an hour to zero takes just a little longer- 4.5 secís in fact.Rubber comes in the shape of Michelin Pilot's 235/40ZR 17ins at the front, 285/35ZR 18ins pushing the rear providing tenacious grip in the dry, although wet Monaco streets should be treated with extreme caution, (as Nigel Mansell once proved to his and his F1 Lotus' cost) unless you really want trouble or have loads of run off. Play? Of course I did, but with a rock face on the left and a drop off nearly touching my right shoulder, there was more fun to be had in second at 7,000 revs coming into the hairpins.
The first day was spent getting lost around the periferique - the ring road that circles Paris and was designed especially only for native Parisians to navigate, and making up lost time on the blitz to Lyon some 500 kilometres south. Cruising at 140mph is no problem, noise levels are concerto quiet by sports car levels- the V8 was developed to pass all noise regulations for the next 15 years and so delivers rather a disappointing rumble at low revs and not a very stimulating one at the top end - although your local dealer will be very happy to fit you a race exhaust. That's the down side - grand touring without earplugs are the positive - just ask a 328, 348 or 355 owner. The tyres are quiet-ish; wind noise is moderate and the chairs comfortable. The real astonishment was the fuel consumption, 20 miles to the gallon and more, with no oil at all with an engine that had only done 1500 miles when it arrived. Topped out - the road not the car - I saw 175mph regularly with more to come, Agustina (she's from Argentina) commented with total disbelief when I explained we were doing near on 300kph.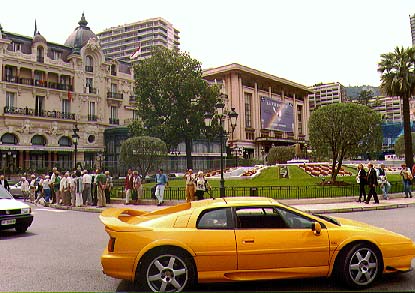 So that's it, the best sports car in the world. We'll not quite, for if you've read write-ups previous to this one you will know there is one black area on this all too white cloth. The gearbox. It is not the words finest, not by a long way, the shift is quick once mastered but indecisive, imprecise and worst of all noisy; The box on my car rattled from start to finish- creating a bloody racquet under acceleration and whilst up shifting - you do get used to it - but you shouldn't have to. Lotus are fully aware, they fairly blame the outdated Renault unit, and with the new twin plated clutch it is better - but a new box is what we need and what I understand will get in the near future.
In traffic the car remained composed, the engine never threatening to boil an egg, the visibility, aided by the large 3/4 rear windows, not a problem. The clutch however needs gentle care to avoid unpleasant burning smells wafting into the cabin. The most interesting comment I had came from an F50 owner. I took him for quick blast -, as you feel obliged to do with fellow enthusiasts. The engine note disappointed, but the power and more importantly application thereof impressed no end, up hill I flawed it in second to pass a slower group, he simply sat there, mouth open, and commented that if he had tried it in second gear in the Ferrari he would have ended up backwards in the ditch!
Iíve asked this question of every car I've ever driven and sometimes surprised my self with the outcomes.Would I buy it? Well, 15 days and 3000 miles plus, I was beginning to get used to the car, the quirky starter motor, the humming turbo's, the less said the better gearbox and most importantly the fabulous performance. Not once did I wish to be in anything else during the trip, and if you've ever visited Monaco during the GP you'll know what automotive temptation really is. No it is not as beautiful as the 355 - it's arch rival-, lacking the stance and overall aesthetics, the Lotus butch and masculine with bonded on wheel arch extensions, the car from Maranello sculpted from a single piece.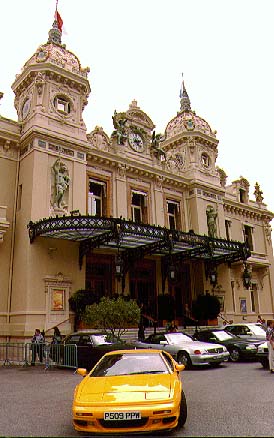 The cabin is less 21st century more 1980's hip, with a very low roof and muddled ergonomics - which incidentally still work very well. But then the price is not 21st century either. £59,000 as opposed to £95,000. Second hand the V8 becomes almost ridiculously good value. My most endearing memory of the trip was chasing an ambulance down the promenade running along the water front of Nice, the crew had been most helpful when we asked for directions and so realising that we were in a serious hurry they turned on the lights plus siren and off we went to the station, double quick time zapping in and out of the snaking traffic jam. The fun enhanced all the more by the need to stay just off the chaps bumper and by the fact that his brake lights seemed to work on an intermittent basis.But sure enough 10 minutes later we were at La Gare.Now you certainly don't get that in a Ford and it saved me much more than just money.
And there is your answer.
Esprit V8
1308 kg
0-60 4.8s
0-100 10.54s
50-70 2.4s
Max (Nardo tested) 175mph+
Urban 14.12
Extra Urban 30.34
Combined 21.24
£58,750.
next to test THE GT3........