2001 Saleen S7 Introduction

View the video introduction (29:01)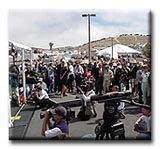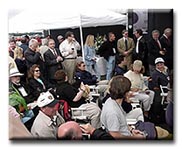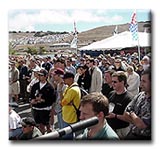 The day was over cast and breezy, a large variety of classic cars were warming up their tires on the famous Laguna Seca International Raceway road course, and an impressive crowd was gathering outside the Saleen display. A black nylon sheet cleverly covered the newest addition to Saleen Inc.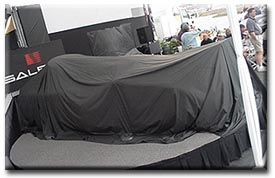 A joint effort between Steve Saleen, founder and president of Saleen Inc, and S.A. "Tony" Johnson, President and CEO of Hidden Creek Industries, they introduced the first Saleen badged vehicle that was not based on another vehicle's platform. Merging their company's strengths, Saleen and Johnson formed a partnership that brings a unique sports car to the market and establishes them as serious contenders in the automobile manufacturing industry.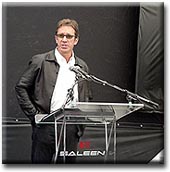 IRVINE, Calif. — Saleen, Inc., a specialty vehicle manufacturer for 17 years, has created the first true American supercar with the launch of the Saleen S7. The S7 is designed to compete with the fastest, quickest, best handling, most luxurious grand touring cars in the world, while providing a distinctly American driving experience for the fortunate few who will own one.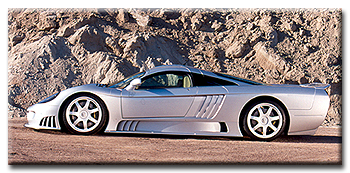 A true supercar, the Saleen is S7 is capable of over 200 miles per hour. Zero-to-60 time is under four seconds. With its extreme ground effects engineering, at 160 mph the car could be driven upside down and still stay attached to the road.
Designed, engineered, certified, manufactured and marketed by Saleen, the S7 was conceived to combine the performance of a track-only racecar with the driving pleasure of a road car. Working with some of the world's most respected and technologically advanced automotive suppliers, the Saleen S7 will have gone from concept to first customer deliveries in just 18 months.
In the asymmetrical cockpit, the driver's seat is subtly moved toward the center of the cabin, enough to increase the driver's position and visibility. This enhanced seat position contributes to an improved center of gravity and better weight distribution. Weight distribution is also a factor in the storage compartments. With a mid-chassis engine location, the S7 features a trunk in the front and rear of the vehicle. The S7 comes equipped with custom-fit luggage for use on long trips.
When designing the S7, Saleen put drivability on a wide variety of road conditions high on the list of objectives. And, while the S7 would be at home on any racetrack, it is also a car that can be driven with pleasure on highways, autobahns and back roads.
The Saleen S7 architecture begins with a space frame chassis to which honeycomb composite reinforcing is grafted. Suspension is fully independent unequal length "A" arms. The S7 chassis and suspension are the result of Saleen's years of racing, racecar building and high performance road car manufacturing experience. Famed British racing house Ray Mallock, Ltd. (RML) was enlisted to assist with the design and building of the chassis and packaging of the S7's advanced suspension system.
The ever-popular Mustang celebrated its 35th anniversary last March with freshened styling, and is largely unchanged with the exception of the introduction of the limited-production, high-performance Cobra R. Like previous models of the same name, it's designed for racers.
The S7 engine and drive train are Saleen designed and incorporate modern racing motor technology and engineering. Saleen/Allen Speedlab race team engine builder, Bill Tally, is the engine's designer. Based on a Ford-cast all aluminum block re-engineered by Saleen, the cam-in-block 7-liter motor generates 550 horsepower at 6400 rpm. Redline is 7000 rpm. The motor delivers 520 foot-pounds of torque at 4000 rpm. Space age materials and engineering are used throughout: magnesium throttle body and intake manifolds, carbon fiber induction system, stainless steel values, titanium retainers, beryllium exhaust valve seats, ceramic coated stainless steel exhaust system, and race-derived all-aluminum CNC machined Saleen designed heads.
An exclusive Saleen-designed Front Engine Accessory Drive (FEAD) system results in an extremely compact motor, allowing for better packaging and overall weight distribution. The motor incorporates a unique Saleen-designed side mounted water pump, extremely accurate belt-driven camshaft drive, and a Saleen-engineered dry sump oil delivery system.
The Saleen S7's 7-liter engine is a technical tour de force, producing 550 horsepower at 6400 rpm. Based on a Ford form factor, the Saleen-massaged all-aluminum V-8 follows traditional American cam-in-block design to produce significant horsepower and torque with high reliability. The engine generates 520 foot-pounds of torque at 4000 rpm, transferred to the rear wheels through a new generation six-speed transaxle. Although the casting is based on a traditional Ford design, it was completely re-engineered by Saleen to be eight inches shorter than the block on which it was based. This Front Engine Accessory Drive (FEAD) system permits the use of a Saleen-designed, side-mounted water pump to help improve weight distribution and packaging..
The engine's mid-chassis placement optimizes weight distribution and center of gravity, making room for an unusually tall engine that allows for a very efficient plenum arrangement. With true "downdraft" induction, fuel is fed through matched trumpets in a straight shot to the ports.
A Saleen PowerFlash control system computer handles engine management. The ignition system is integrated coil-on-plug.
A new generation longitudinally mounted six-speed transaxle, with unique Saleen bell housing, transfers power to the wheels. The clutch is a metallic 5.5 inch, four plate unit with hydraulic actuation.
The S7's shape was "designed" by the wind. Optimal aerodynamics and no compromise top speed performance objectives were achieved with extensive wind tunnel work. Targets were high co-efficient of drag, optimum drag-to-lift ratio, and extreme down force. The S7 has "full tray" body sculpting underneath.
With the performance targets met, longtime Saleen design consultant Phil Frank then personalized and refined the aesthetics of the S7 with the addition of signature Saleen elements. The gill-like ducting is, of course, fully functional. The autoclave carbon fiber body panels beautifully incorporate the advanced aerodynamics and include: integrated split-channel air flow throughout the car, full underside air management, advanced front tray and side skirt designs, and integrated full body wing.
As much care has been given to the creature comforts of the Saleen S7 as to its performance. Great attention was given to seating position. The car features asymmetrical seating, with the driver position moved slightly more to the center than the passenger. This improves the driver's ergonomics, improves the weight distribution, and allows the passenger side to have a narrower threshold. The S7 is unusually accommodating of tall drivers.
Upholstery is covered with Connolly leathers and suedes. Accents are brushed aluminum and painted body-color highlights. Air conditioning, power windows, adjustable pedals, and a 6-disc CD player are all standard. The Saleen S7 has two unique interior features. The first is a live video rear view "mirror" – there is a small video camera inconspicuously mounted in the rear of the car – and the second is a steering wheel that can be removed if wished to ease ingress and egress.
The mid-engine Saleen S7 has front and rear trunks and comes with fitted luggage. In true supercar style, the doors open up and away from the body.
"The car, when seen in person, has an amazing presence," says Steve Saleen, founder and president of Saleen, Inc. "It is quite long and wide, and only 41 inches high, which adds to its exotic appearance. We wanted a 'form-follows-function' look, but also one that was beautiful. I'd say we succeeded!"
Phil Frank, a long-time design consultant with Saleen, penned the S7's body, using computer-aided drawing techniques. Saleen, Inc. and famed British racing house Ray Mallock, Ltd. used extensive work in a wind tunnel to add superior aerodynamics to the finished skin. The S7's shape says "supercar" but the overall design is distinctive and not derivative of any other car. The drag to lift ratio, center of gravity, co-efficient of drag and the downforce generated by the S7's body were all considered as part of the refinements produced in the wind tunnel. Full underside aerodynamics help reduce turbulence below the body and improve overall stability at high speed. Traditional Saleen design signatures – like functional gills and fascia openings –provide cooling and are integrated to also provide superior airflow around, through and under the car. The Saleen S7's shape provides arguably the best overall aerodynamics of any production car ever built.
While the S7 is an American supercar, the vehicle itself reflects a "best-in-practice" philosophy, where Saleen has incorporated superior components from around the globe in order to manufacture the best vehicle possible. For example, the 2001 Saleen S7 utilizes Brembo brakes from Italy as well as numerous high technology pieces from companies located in the Midlands area of the United Kingdom, a region that is to motorsports what the Silicon Valley is to computers. The S7 was wind tunnel tested at the University of Glasgow in Scotland.
The Saleen S7 is certified for sale in both the United States and United Kingdom. Designed and built at Saleen's Irvine, California manufacturing facility, the S7 is sold in the U.S. through select Saleen Certified Ford dealers and other newly added Saleen Certified dealers specializing in exotic automobiles. Vehicles for Europe and the Middle East will be produced at a satellite facility in conjunction with RML located in England. Worldwide volume is projected to be 300-400 cars over the estimated four-year production run. Work has begun on a less-expensive, higher volume model that will help achieve sales goals.
The Saleen S7 went on sale at its introduction at the famed Monterey Historic Races on August 19, 2000. First vehicles will be delivered to customers in the second quarter of 2001. The Manufacturer's Suggested Retail Price (MSRP) is $375,000.
The 2001 Saleen S7 is a proof of concept for what Saleen, Inc. has been building for 17 years. As a federally certified specialty vehicle manufacturer, Saleen has produced over 7000 vehicles – using and perfecting the efficient Niche Manufacturing process, which is now being studied and adopted by the world's major automakers as they strive to quickly and economically bring small volume products to market.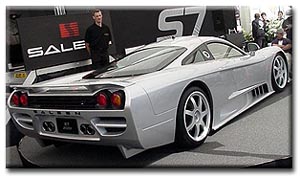 Saleen, Inc. facilities include total research, design, engineering, and manufacturing capabilities. The company's line also includes the Saleen S281 Mustang, Saleen XP8 Explorer, the SR Widebody, Saleen Performance Parts, and Saleen Engineering and Certification Service.
SPECIFICATIONS
GENERAL
Curb Weight: 2,750 pounds (1250kg)
Weight Distribution, F/R: 40% / 60%
Fuel Capacity: 19 US Gal (72 Liters)
Wheelbase: 106.25 in (2700mm)
Track, F/R: 68.75in (1748mm) / 67.25 in (1710mm)
Width: 78.3 inches (1990mm)
Front overhang: 40.6 in (1031mm)
Rear overhang: 41.1 in (1045mm)
Length: 188 inches (4774mm)
Height: 41 inches (1041mm)
Ground clearance: 4 inches (100 mm)
Trunk Space, F/R: 2.65 cu ft (6253.3cc) / 2.82 cu ft (6654.4cc)

CHASSIS
Space frame 4130 lightweight steel with honeycomb composite panels

ENGINE
Type: All-Aluminum V-8 2V cam-in-block
Displacement: 427 c.i.d. (7.0 liter)
Bore and Stroke: 4 1/8" x 4.0" (104.8 x 101.6 mm)
Pistons: Forged
Connecting Rods: EN40B billet steel
Crankshaft: 4340 forged billet steel
Induction system: Roof intake feeding twin 80mm mass air meters feeding carbon fiber plenum. Magnesium oval bore throttle body (longitudinally mounted). Intake manifold: magnesium w/ 8 individual runners.
Heads: CNC machined all-aluminum Saleen high flow
Valves: Stainless steel with titanium retainers. Intake: 2.125" (54.0mm). Exhaust: 1.625 " (41.3mm). Beryllium exhaust seats.
Valve train: Hydraulic roller lifter/roller rocker
Exhaust System: Stainless steel high flow with merge collector incorporating dual catalysts per cylinder bank and EGR system
Required fuel: 92 octane
Alternator: 140 Amps
Battery: 12 V
Front Engine Accessory Drive (FEAD): Compact drive system w/side-mounted water pump
Emission Control System: OBD-II compliant, dual heated oxygen sensor per bank, high-volume EVAP system
Fly-wheel: 5.5" (139.7mm) steel 4-plate
Fuel System: High capacity returnless with 42 lb./hr. injectors
Oil system: High vacuum dry sump configuration. Capacity: 12.6 qt. (12l). Aluminum oil tank.
Horsepower: 550 hp @ 6400 rpm
Torque: 525 ft.-lbs. @ 4000 RPM
Redline: 7000 rpm

COOLING SYSTEM
Carbon fiber front intake feeding twin front-mounted
aluminum water radiators w/ ECU controlled electric
cooling fans. Twin side-mounted oil-air coolers.

ELECTRONICS
Saleen PowerFlash control system computer. Integrated
coil-on-plug ignition system.

DRIVETRAIN
Transmission: Longitudinal, 6-speed all synchro-mesh transaxle
Transmission Ratios 1st 2.46 2nd 2.06 3rd 1.47 4th 1.18 5th 0.958 6th 0.74
Final drive ratio 3.22
Limited slip differential
Light-weight inboard and outboard tri-pod joints
High torque capacity steel halfshafts
Clutch : metallic 5.5" dia., 4-plate, hydraulic actuation

SUSPENSION
Front suspension system: Unequal length, double wishbones, light-weight aluminum dampers, w/ coilover springs. Front anti-roll bar.
CNC machined billet aluminum flow-through uprights.
Rear suspension system: Unequal length, double wishbones, light-weight aluminum dampers, with coilover springs.
CNC machined billet aluminum flow-through uprights.

BRAKES
Saleen engineered/Brembo supplied lightweight aluminum, six-piston calipers front/rear: 15 in. Ventilated Disc (Front) 14 in. Ventilated Disc (Rear)
Light-weight aluminum disc mounting bells

WHEELS AND TIRES
Saleen forged alloy wheels.
Center locking wheel nuts with automatic safety locks: 19 in. x 9.5 in. Front wheels 19 in. x 13 in. Rear wheels
High Performance Pirelli P-Zero Rossa Tires Front 275/30-19 Rear 355/25-19

SAFETY FEATURES
Integrated roll protection
Aluminum honeycomb impact absorbing panels
3-point seat belts with automatic seat belt pre-tensioners
Carbon fiber rocker panels and doors
Aluminum honeycomb front crush structure, integrated rear crumple zones
Center position fuel tank/passenger-side filler

INTERIOR FEATURES
Connolly leathers Aluminum and body-color accents
Performance sport seating
Custom fitted driver seating position
Leather-wrapped steering wheel & shift knob
Rear-view video camera w/ interior LCD display
Quick-release steering wheel
240 mph speedometer
Central-mounted tachometer

COMFORT AND CONVENIENCE
High volume flow-through ventilation system
Air conditioning
Fully adjustable tilt & telescoping steering column
Power windows
Power door locks with central locking system
Variable intermittent windshield wipers
Electric heated front windshield
Custom-made fitted luggage
Remote trunk/hatch/fuel-filler door releases
AM/FM remote six-disc CD changer audio system

SECURITY
Theft-deterrent security system
Electronic immobilizer system

EXTERIOR FEATURES
Dual power-operated door mirrors
Projector beam headlights
Heat-rejecting tinted glass
Power antenna
Autoclave carbon fiber body panels
Advanced wind tunnel developed aerodynamics, including: Integrated split-channel air flow throughout car; full underside aerodynamics; advanced design front tray & side skirts; integrated full body wing. All specifications are preliminary and subject to change without notice. © 2000 Saleen, Inc. All Rights Reserved