---
1999 Domestic Vehicles

Anaheim,CA - The California International Auto Show, the first major Auto Show for the 1999-model year, was held October 14, 1998 through October 18, 1998. Thirty-five manufacturers displayed over 500 new vehicles-including almost 20 newly-introduced models, providing visitors with the best selection of 1999 cars, trucks and sport-utilities available.

In this years's lineup, attendees witnessed the effects the sport-utility vehicle enthusiasm on the product planning sectors of the auto industry. Most apparent are the new models created by domestic manufacturers who have either diversified their product lines, or attempted to set their products apart from the many sport-utility vehicles by upgrading and refining precious models. This new trend in the automotive industry is evident in the following rundown of new product launches and revamp models from U.S. manufacturer.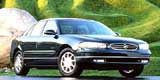 Buick - The Century and Regal both have significant improvements 1999. The Century, Buick's affordable luxury car, receives more standard safety features, including an all -new traction control system, and ride handling improvements. The Regal Buick's official car of the supercharged family, will feature increased power suspension refinements in its LS model.

Cadillac - Introduced this year is the Escalade, a truck-based sport-utility vehicle (SUV) with a 5.7-liter pushrod V8 and Autotrac all -wheel-drive system, similar to the Yukon and other SUVs. What sets the Escalade apart from the rest is the lush interior and the standard OnStar In-Vehicle Communications Service which combines cellular communication, Global Positioning System technology and 24-hour emergency service.
Chevrolet - The newest member of the Chevy sport-utility family has been revealed-the all-new Chevrolet Tracker. The Tracker is a blend of agile handling and sport-utility durability and is available in both four-door and convertible models. This year, Chevrolet will also launch the 1999 Silverado full-size pickup. The Silverado will be available in three trim levels-Base, LS and LT-with a family of three new Vortec V8 engines. Also new to the Silverado are the two/haul mode automatic transmissions and the Autotrac four-wheel-drive system. In addition, Chevrolet just added a new Corvette to their collection, the 1999 hard top-a Corvette lover's dream car. Highlights include the six-speed manual transmission, 3.42:1 rear axle, Z51 suspension and the improved Magnasteer II System.
Chrysler - Upgrades and minor changes have been made across the board at Chrysler. Some of the highlights include the 1999 LHS featuring a 3.5-liter V6 engine with 253 horsepower and 255-lb-ft torque. In addition, the LHS has an all-new, stiffer body structure, Sentry Key Theft (trademark symbol goes next the theft)-Deterrent System and new hybrid driver and front passenger air bags. The Cirrus LXi has revised suspension tuning to increase ride and comfort, standard four-wheel disk brakes and enhanced interior and a 3.8-liter V6 engine with 180 horsepower and 240-lb-ft interior, the upgraded exterior and a 3.8-liter V6 engine with 180 horsepower and 240-lb-ft torque.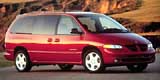 Dodge - The 1999 lineup at dodge has many face-lifts, upgrades and additions, Some highlights are the new Grand Caravan ES model with added performance features and a new 3.9-liter V6 engine available on the Durango. The RAM pickup now has standard four-wheel anti-lock brakes on all 3500 models and an upgraded sport appearance. Lastly, the Ram van and wagon has compressed natural gas 5.2 and 5.9-liter V8engines available, in addition to other minor interior and exterior changes.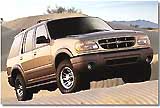 Ford - Ford has made some noteworthy additions to their 1999 lineup. There is a new Ford Explorer XSL services, which upgrades the XL specification with a color-keyed grille, step bar, wheel lip moldings, unique seating and a roof rack. The Ford F-Series Supercab models now have a standard fourth door, a new front-end design and a more powerful 5.4-liter V8 engine. Future plans include an all-new Mustang, which should be unveiled later in the season.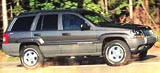 Jeep - Virtually every system and piece of sheet metal has been replaced on the new 1999 Jeep Grand Cherokee. The most technologically advanced Jeep vehicle ever, it is sure to win more accolades than the former model, which just received Automobile Magazine's All-Star Award. The Wrangler received some upgrades as well, including air conditioning compressor redesign and new exterior color options.
Lincoln - Some significant improvements have been made to the new Lincoln LS including an all-new five-speed SelectShift transmission option, a 24-valve dual cam V6 engine and an all-new brake system. Other Lincoln models have received minor upgrades as well. the Navigator received a more powerful engine, the Continental a face=lift and the Town car added standard side air bags.
Mercury - The 1999 Mercury Mountaineer has a more refined interior, providing greater comfort and improved appearance. Also offered is the new rear-loading leveling option which prevents the back of the vehicle from sagging during towing. The 1999 Villager also has some upgrades including a new exterior design, more power, fourth door and a roomier interior. Other 1999 models will be carry-overs with exterior and interior improvements.
Oldsmobile - The newest addition to the line is the Alero which features and overhead cam, four-cylinder, 3.1-liter V6 engine. It is available in both two-and four-door models. The Silhouette has introduced a premier edition with a factory-installed video player, color monitor and CD player with headphones-ideal for entertaining passengers on long drives. The exclusive feature is not yet offered in any other minivan in the industry. Lastly, a new DOHC V6 engine has been fitted to the wood-and leather-trimmed Intrigue GLS. The new V6 has four valves per cylinder, which are run off dual head cams. The new V6 is smoother with a more refined exhaust note.

Plymouth - Several upgrades and enhancements have been made to the 1999 lineup at Plymouth. Among the highlights are a new, high-output 3.5-liter, SOHC, 24-valve, SMPI V6 engine on the Prowler, and revised suspension tuning on the Breeze. Changes were also made to the Voyager, including standard, intermediate and rear seat head restraints on all models, a child safety seat available with quad seating and next-generation air bags which are less forceful.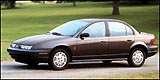 Saturn - Saturn's lineup includes face-lifts to the three sedan models - the SL, Sl1 and SL2. All models, will have new exterior color options, and interior features include more comfortable seatbelts. Numerous alterations have been made in both the SOHC and DOHC engine in order to reduce engine noise and increase fuel economy.

---
Back To Event Page