HillMan
Motor Cars
Hillman in the Movies
---
Hillman cars don't make too many movie or television appearances, but when they do, Hillman fans worldwide take note.

Here's the start of a list that we hope will grow as Hillman Fans report movie sightings.
---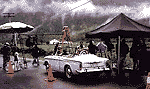 Nike TV commercial
Featuring Seattle Mariner baseball star, Ken Griffey Jr. and a lovely light blue Series 3 Hillman Minx convertible. (Spring '97)
---
"Remains of the Day"
A lovely dark coloured Mark Minx is spotted several times throughout this British classic, including the opening credits.
---
"Lipstick on Your Collar"
A very handsome Mk VII Hillman Californian is featured in this odd-ball British comedy that takes place in 1956.

---
more to come . . .
---
Email: Craig Burlingame and the Mighty Minx Twins
[Clubs]
[Marques]
[Museums]
[Classifieds]
[Events]
[Chat]
[Features]
---