EXCLUSIVE TACH COVERAGE
1997 Japan Grand Prix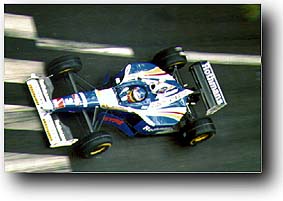 Andrew Frankl Report 10-11-97 3p PDT
---
Reflections on the Japanese Grand Prix
Andrew Frankl
European Bureau Chief

In 30 years of covering Grand Prix racing I have never anything like the one at the Suzuka track. Who would have thought that Jacques Villeneuve would make such a stupid mistake at a time when it really mattered? The championship was his for the taking, the Renault engine in his Williams car was as sweet and reliable as ever and he needed just a couple of points as he had a nine point lead. That yellow flag incident on Saturday afternoon could cost him a lot of money-that is the least of his problems- and the title which of course he wanted very much indeed.
Will he get away with a simple fine or will the FIA take his two points from Sunday's race as well? We will know fairly soon. The odds are on both, as the International Automobile Federation have never changed their minds on an appeal. Especially with Villeneuve who is an outspoken critic of next year's rules and who was already summoned to Paris once for a dressing down just before the Canadian race. I don't think mercy will be foremost in the FIA's mind.
Still, the tables have turned but it is now up to him to deliver the goods. Even if he is one point behind as long as he keeps out of harm's way and finishes two places ahead of Schumacher he is champion. Whether he can keep out of harm's way is a different matter, drivers have long memories and he did call Irvine an irresponsible idiot way back in Australia. All Eddie has to do is to repay the compliment by" accidentally "colliding with Jacques. Would I blame him? Could I understand him? Up to a point yes but I would much prefer a clean fight with Schumacher coming out on top. Why? Simple. Michael won all his races fair and square, there was nothing lucky about Spa or Monaco whereas Villeneuve inherited several of his victories. He also drove in the rain like an old lady. Not badly, just slowly.
As for Eddie Irvine-what can one say? I have never ever seen him drive like he did on Sunday-it was a revelation and I would be astonished if they sacked him after this performance. The way he drove round the leaders, the way he disappeared into the distance was just amazing. When-as he said- the call came he slowed down, let Michael pass and started to hold up Villeneuve brilliantly. It was sheer magic, I have never seen teamwork like this before in my life!
So now we wait for the grand finale and TACH will, as always be there to bring you the news first. It promises to be quite an afternoon.
---
Villeneuve's Title?
Andrew Frankl
European.Bureau.Chief

I am sure there are a lot of people in Italy who are just as puzzled as I am concerning Ferrari's recent lack of form. Whatever the reasons the consequences have been horrendous. It all boils down to lack of power.
At Monza after qualifying 9th Michael was lucky to crawl in 6th and the same goes for Austria. Had he started nearer to the front he would not be trailing Villeenuve by 9 points with just two races to go. Germany of course was the ultimate disaster. To be taken out by your own beloved brother in front of 120,000 fanatical supporters must have been very hard to take.
In the meantime Villeneuve's luck has been just phenomenal. To pick up 10 points in Hungary was a fluke, to do it again in Austria ditto, as for the most recent race when he could not even see the two McLarens dominating the race only to blow their engines in spectacular fashion leaving the French-Canadian an empty track on which to cruise home, well, that is mega lucky. Still, you have to be in the right place at the right time and this he did do on all these occaisons. Anyway, unless he crashes out on the first corner and Michael goes on to win Jerez on October 26 will just be a formality.
As the track favours the Williams cars Michael's task in nothing if not formidable. To add to his problems the McLarens might just stay in one piece and run away with the race whilst one cannot discount Eddie Jordan's wild boys either. There is fresh wind blowing at Benetton as well, the top man-Flavio Briatore has just left and his place has been taken by Dave Richards, an exceptionally competent person.
It would be foolish to discount Gerhard Berger who might just be hanging up his helmet at the end of the season and someone who really, really likes the Suzuka track.
The track is 5864 metres long, the race will start at 13.00 hours local time over 53 laps.
---