EXCLUSIVE TACH COVERAGE
1997 Italian Grand Prix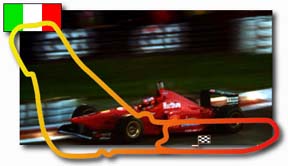 Andrew Frankl Report 9-7-97 12p PDT
---
Italian Grand Prix Preview
Alesi starts from pole!
Andrew Frankl
European Bureau Chief

For only the second time in his life Sicilian born Frenchman Jean Alesi will start the Italian Grand Prix ahead of Frentzen, Fisichella, Villeneuve and the rest. The last and only time he was on pole dates back to 1994 when he did it, interestingly enough here at Monza, scene of so many great races over the years.

Jean is a tiger in a car and the gentlest, kindest, most softly spoken person outside it. He is just about the only driver I know who will actually say hello before I have a chance to do it. In the car, well, that is a different matter.

Many years ago, when he was driving for Ken Tyrrell everyone saw in him the next world champion but somehow something always went wrong. The 33 year old driver with over 130 Grands Prix starts to his credit only managed to win once. That was in Canada, in a Ferrari way back in 1995. His problem is that he is not very good at testing, cannot really explain to the engineers what is right or wrong with the car. If it hangs together he will be as quick as anyone unless he gets involved in silly crashes owing to his impetuosity. Still, right now, with no contract for 1998 he certainly made a huge effort to impress the doubting team managers. He even offered to drive for 1 million dollars for year-a fraction of what Schumacher and Hill are earning.

The Ferrari driver is very much hoping that Alesi will win because his own chances are pretty remote and that was he could maintain his lead in the championship. Yes, the red Ferrari with No 5 written on its nose finished only 9th today with all sorts of problems affecting its performance. I am afraid his whole race might be rather short unless he can somehow avoid the almost inevitable crash on the first corner. 9th is no place to be at that point, that's for sure.

Damon Hill looks like moving to Prost after all, from what I can gather they managed to reach a financial agreement which at one point looked like ruining the deal. At one point they were 3 million dollars apart.. maybe car giant Peugeot helped to bridge the gap as the 1996 champion will have one of their engines propelling him next year if the deal is concluded shortly as expected by most of us.

Benetton boss Flavio Briatore will be leaving his team at the end of this season. There are rumours that the whole team might be sold to Proton, the Malaysian automakers.

Heinz-Harald Frentzen will be starting alongside Alesi with fast rising Giancarlo Fisichella behind them in third place.

Jacques Villeneuve managed fourth but will be hoping for a lot better during the race.

The Italian track is very fast indeed, the lap record from last year belongs to Michael Schumacher. He averaged an astonishing 149.664 miles per hour which is 241.226 km/h. Consequently the race will be very short, a mere 1 hour 17 minutes unless there is rain or a re-start owing to a first-corner accident.

Monza is one of motor racing's traditional great tracks and it will be surrounded by tens of thousands of fanatical Ferrari supporters hoping aganist hope that Schumacher can still win from his lowly stating position. Somehow, I doubt it.

The race starts at 2 p.m. local time and TACH will have a live report at noon California time.