EXCLUSIVE TACH COVERAGE
1997 Austrian Grand Prix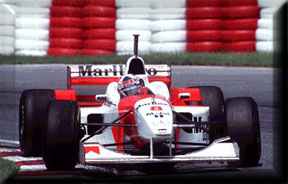 Nicholas Frankl Report 9-21-97 12p PDT
---
Reflections on the Austrian Grand Prix
Andrew Frankl
European Bureau Chief

It was, by any standards, a small mistake. There was a lot of dust flying around, it was hard to see the marshalls waving yellow flags. Yet, when we look back on the 1997 Formula One season it might well be remembered as the moment when the fate of the championship was decided.
Michael Schumacher in his reliable but slow Ferrari was desperate to get past Frentzen and when he saw his chance he took it. Unfortunately for him it was at the very corner where the yellow flags-under which overtaking is forbidden-were being waved. The penalty- a 10 second stop-go was enough to relegate the double champion into 8th place. He managed to force Barrichello into a silly mistake which moved him up into 7th and then with just one lap remaining he squeezed past Damon Hill to salvage one, solitary point. Michael reckons that without the penalty he could have been second but it is now all academic.
We have three races to go and the pendulum seems to have swung firmly in favour of the French-Canadian. Last year he beat Schumacher at the Nurburgring-next week's venue and the ultra fast Japanese track in Suzuka also favours the Williams driver.
On top of that his team mate Heintz Harald Frentzen has finally got going, it was he who managed to hold up Schumacher lap after lap whereas Eddie Irvine, Michael's No 2 was way back and could offer no assistance whatsoever. David Coulthard justified once more Ron Dennis' decision to keep him with a brilliant second place but one has to feel sorry for Mika Hakkinen whose luck is truly appalling. He had Villeneuve's measure, led from the start only to have his engine expire after a few miles. He may yet end up as Chris Amon some 25 years ago. The New Zealander led lots of races, started from pole yet never ever managed to win a Grand Prix. I just hope for Mika's sake that he will not suffer a similar fate.
Whilst Villeneuve won the race let us not forget rookie Trulli who drove like champion in his Prost and led for over 20 laps. It was very sad to see his engine and that of team mate Nakano expire within seconds of each other. Must be somewhat disconcerting for Eddie Jordan and his 98 drivers Ralf Schumacher and Damon Hill-this is the engine they will be getting next year in place of the Peugeot which will be exclusive to Prost.
Finally one must spare a thought for Jackie Stewart and his long-suffering team. After a brilliant practice session both cars ran like trains. Had Rubens not made a silly mistake he would have ended up in the points. It certainly looked as though the Ford engine which gave the team so much trouble to date is finally beginning to come good. Not a minute too soon .
Now,with just one point between the two protagonists it promises to be a nail-biting finish. I am not a betting man but must admit that right now Villeneuve has to be the odds-on favourite.
---
Hakkinen's turn!
Andrew Frankl
European Bureau Chief

After a 10 year interval the Formula One circus returns to Austria this week-end. The beautiful circuit is not what it used to be, following Senna's death the organisers re-designed it so that it is now a lot slower and less spectacular. Still, it is a beautiful location probably on par with Spa .
Practice started a day earlier as the circuit was new for everyone. Even on Thusday, day one, it was already obvious that the Stewart team did something special since the last race. Either they managed to get the engine to work properly or they improved the chassis, one thing is for sure-when it mattered-Saturday between one and two they finished 4th and fifth! An amazing achievement for this new team. Team owner Jackie Stewart was over the Moon and rightly so.
Michael Schumacher had another nightmarish day, he will start from 9th position, a long way behind Villeneuve who is stating from pole. With only 10 points between them at the moment it looks as though it might all evaporate and that they may well go into the next race level-pegging.
Unless, unless my dream will come true and long suffering Mika Hakkinen will finally win a race, something he richly deserves. Jarno Trulli did himself little harm by finishing third fastest, it should help him to secure his place with Team Prost for next year. Damon Hill was seventh, no doubt relaxed in the knowledge that Jordan have agreed to sign him for 1998 after a lot of encouragement from Ecclestone and the cigarette giant Benson & Hedges. The race will be 71 laps long which is equivalent to 308 kilometres.