A Greeting From Terry Callahan
I have had a passion for racing since I was a very small child. My parents began taking me to The Indianapolis Motor Speedway when I was just six years old. I was hooked from the very first time I saw and heard those magnificent racing machines.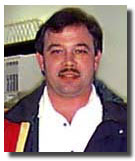 Terry Callahan
I also have a passion for computer graphics. My passion for motorsports and computer graphics seemed to be a good mix for the internet. I created a personal web site dedicated to racing. I filled the site with racing artwork. I was minding my own business one day when the president of The Auto Channel (Bob Gordon) contacted me. He had come across my personal web site on the internet. He called me and asked if I would be interested in helping The Auto Channel with their Indy 500 coverage. Needless to say, I jumped at the chance. With the help of The Auto Channel, my 27th Indy 500 was the most memorable ever.
Parnelli Jones, 1967 Turbine
My relationship with The Auto Channel has been a race fanatic's dream come true. It has provided me with a means to display my artwork and write about a sport I truly love. After writing technical documents for the past several years, it is nice to "loosen up" and write about the exciting topic of motorsports.
I hope you enjoy reading my articles and viewing the corresponding artwork. You can view all the art at Visions Of Speed: An Art Gallery, here at The Auto Channel.
Thank You,