Watch out for speedbumps!
By Larkin Hill
Being the youngest member of TACH's staff of journalists occasionally has its rewards. In addition to living in the "prime of my life," at an age that most of the staff refers to as the "good 'ol" days, I'm usually the one nominated for press events that call for a little "roughing it". While the prospect of being sent to a quaint town on the Baja peninsula hardly fits the qualifications of being inconvenient, being "chief navigator" and "co-driver" on a 250 mile high-speed off-road trek leaves a few of my coworkers gingerly rubbing their lower backs. As I'm up for anything, I cheerily volunteer. Warm weather, white beaches, interrupted only by short run in the desert in a Kia Sportage: Not a problem!
My adventure began with an eight-hour drive from Ontario, California, to the small beach village of San Felipe Mexico. Barrie Thompson, the manliest kind of man and chief mechanic for team Kia, is whom I am to share the ride. Fully aware of the stigma that comes with being a young, "delicate" female about to take part in one of the most testosterone-filled motorsports in existence, I decide to play down my femininity, and direct all conversation in his direction. For the majority of the beautiful drive south, hours fill with outrageous stories of semi-trucks burning to the ground, engine blocks being dropped, and details of past Kia co-drivers hurling in their helmets and peeing in their suits. Up until that moment, my thoughts had focused only on how bumpy the ride would be. The lack of restrooms (non-existent) and potential carsickness had failed to register. While I knew my stomach's strength wouldn't let me down, the inability to relieve myself while driving for some 5-7 hours over rugged terrain was something I'd never tested, or even thought about it. I began to worry.
Finally arriving in San Felipe at around 8pm, I meet the rest of the five-person crew I'm to work with. Darren Skilton's the dashing driver, Tommy Caldwell is the self-proclaimed "desert rat" co-mechanic, Derek provides additional mechanic hands, and Cindy is his beautiful wife and #1 team supporter. They're a friendly bunch, who appeared to be more worried about my ride than I am, causing me to question my initial enthusiasm for the assignment.
Friday was a day filled with preparation for the big race. Because of my pin-sized head I was awarded a new helmet, which smelled nice and fresh. Once outfitted in the proper fireproof clothing, I'm placed in the small, contoured seat for a seatbelt fitting and instruction. Five straps come together by little metal attachments; all straps have to be tight and the little metal pieces must be in one specific order: Not easy to do wearing a heavy suit, bulky helmet, and too-large gloves, but I manage. I'm also instructed what to do in the event of a flat tire (a common thing in desert racing). I'm in charge of the T-bar and the jacking-up of the car, along with the getting rid of the flat tire and taking off the nuts. And, as if those responsibilities aren't already a little overwhelming for someone who was initially "just along for the ride", my biggest job entails monitoring the gauges and maintaining contact with the "chasers." Shouting "Kia 300, mile XX" seems easy, but reading the gauges while tackling four-foot "speed-bumps" at 30 miles an hour may prove to be a challenge. Yet, I must master my duties, since they determine how Darren drives the car.
By Mid-morning Darren, Derek and I are off in a 1976 Ram Charger to do "a little" pre-running. Darren and Tommy had covered most of the first leg of the race the previous day, so today we're to survey most of the second leg.
After being thoroughly strapped in, we're off. Only then, do I become fully aware of the "fun" I'm about to enjoy. No roller coaster or bumper car could have prepared me for the tumultuous tour we embark upon, but I enjoy every minute of it. While my male counterparts utilize the outdoor facilities twice during our five-hour run, I find myself without the need. As Darren evaluates the course, I assess my bladder's strength…so far so good. Somewhere along the way I learn that most women wear Depends…now they tell me!
Race day! Our start time is 8:30. I wake at 5 and I drift in and out of sleep for another two hours obsessing over my responsibilities. Four things: flat tires, engine gauges, communicating with "home base", and bladder control. Barrie and Darren, howevrt, continue to worry more about my ability than I. Darren instructs me to always talk to him, so he knows I'm okay, and Barrie keeps reminding me that I can become a spectator at any point. It's almost as though my mother has magically attached herself to everyone I contact; enough already, I'm fine. The more the guys worry about me the more determined I become, regardless of how many hours it takes, my bladder and I will conquer every last millimeter of track!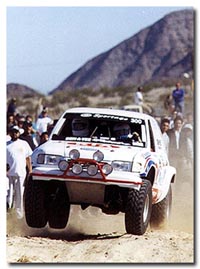 8:30, we're the first in our class to go. Hundreds of spectators line each side of the track, scattering as Darren charges down the sidelines searching for the smoothest route. Passing fellow racers of various classes, allocates us more cheers: Mile 4, 12, and 26 fly by. My eyes are glued to the gauges while my hand automatically waves to the crowds, as if I'm a member of royalty.
Mile 27 we merge with the Azufre wash. For the next fifty or so miles I concentrate on the transmission temperature. Sand causes conditions to be laborious on the engine, and we're not to exceed a temperature above 210. Forging ahead, we pass VW Bugs left and right, along with an occasional truck who cops an attitude. Around mile 30 something we blow the left rear tire. Time for my first test of strength. It's hot, and I'm in charge of jacking the car up. Covered from head to toe, kneeling on the sand, pumping as hard as I can, I'm determined to prove my worthiness. Two Bugs and the disgruntled truck zoom past, spitting sand and gravel at our helmeted heads. I'm breathing hard and burning up. Darren has it down, I do what he orders and before long, we're on our way. I radio Barrie, instructing him to meet us at mile 72 for tire replacement. Re-passing the same vehicles, our "trannie" is doing fine. However, because we've used the spare tire and don't want to risk being stranded, Darren drives somewhat conservatively for the next 40 or so miles.
Mile 71.5 offers us a very steep hill with lots of people, which gives Darren the opportunity to flaunt some Kia attitude. Peddle to the metal we zoom up, catch mucho air, and earn ourselves plenteous whoops and hollers. The mighty Kia practically sprouts wings. The 72 mile pitstop can hardly be called a stop, we're immediately surrounded by crew: Barrie checks the engine, Derek changes the tire, and Cindy feeds us water (no, thank you). We're off. More dust, dirt, and faceplants into the earth. At checkpoint twoDarren feels something's wrong with the car. The BF Goodrich pit is ahead and we're traveling on a "smooth" country road, so Darren diagnoses the problem as I radio Tommy, who's to meet us at the 102 mile pit point.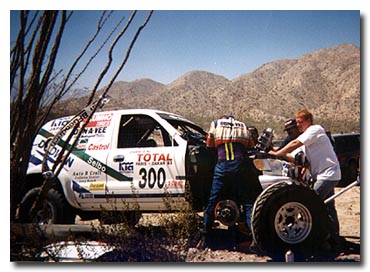 Bad news, the fuel injectors are clogged. We stop and Darren begins to immediately disassemble the engine. As in taking it apart, piece by piece. Not knowing how long the procedure will take; I stay in the car and radio Barrie to tell him where we are.
During our time of handicap, I witness a level of camaraderie completely unexpected. Even Isuzu's ground crew (Kia's primary competitor), who has been improving their car significantly since the last race, gives aid. In fact, people appear from nowhere to offer tools and/or manual help. Isuzu even updates us on the progress of their car, which has engine troubles of its own: fuel pump failure.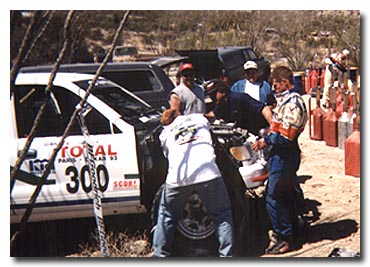 As large pieces of the engine are pulled out, I realize the procedure will take longer than I thought, so I get out and stretch. One man from Isuzu is kind enough to babble about flowing streams and cool showers, all the while abundantly gulping his icy water and chuckling. He sweetly offers a bottle to me, but I was neither impressed nor wooed by his "generosity." I don't want water and I'm not going to pee "thank you very much!" At this point I stop obsessing about the bathroom situation. After about an hour we're on our way, Isuzu hasn't caught up but they're on our tail so we must hustle.
The next leg's familiar to me, we had run it the day before in the Charger. I discover that my seatbelt's too loose and the bumps take a toll on both my neck and back. Nonetheless, because there's really nothing to be done without stopping, I opt to stick it out and suck it up. I'd rather feel a bit sore than catch flack from the boys.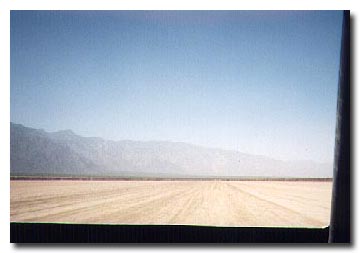 Fortunately, Lake Diablo's dry bed provides a smooth recess before we embark on endless miles of cross-grain, commonly referred to as "whoop-de-do's". While the name connotes something enjoyable, they're anything but. Imagine large speedbumps lined up one right after the other, to be tackled at high speeds. The "whoops' produce obscene body jerking at their best, with face-planting, and dirt-spraying experiences occurring more often than not. My kidney belt is too high and seatbelt is still too loose, but my bladder is fine, and I'm not about to complain. However, admittedly, I instead emit girlish "whoo-hoo's", "yehaws", and "woah's." I came to regret my bursts of enthusiasm thanks to Barrie, Tommie, Derek, and Darren, all of whom do a fantastic job of mimicking my expressions.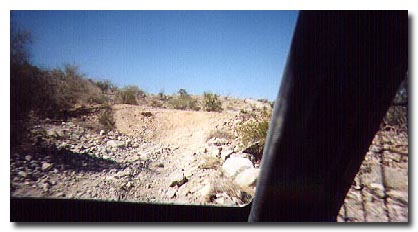 The next 40-or-so miles consist of checkpoint 3, big rocks, checkpoint 4, another big wash, and more "whoops". More Bugs are passed and Isuzu hasn't caught up, we're doing well. I continue to shout out the miles to Barrie and watch the gauges, all are fine. We take a shortcut and cross two major roads…still no flat tire, things are good.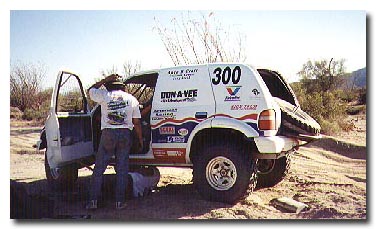 Somewhere between mile 186 and 190 we lose our exhaust. Darren must turn off his intercom because the outside noise is too loud. While it's deafening, we continue driving. At about the 196 marker we pogo over our exhaust pipe and tear our transmission wires. Left only with third gear, just short of mile 198, we stop the car to take a look. Barrie and Darren worry about both the Isuzu and Blazer. We must hurry. After a seemingly endless 10 minutes Barrie's with us. While Barrie, Darren, and Derek rig a new shifter from the transmission wires, I adjust my kidney belt and dare to take a sip of water. Still no bathroom craving.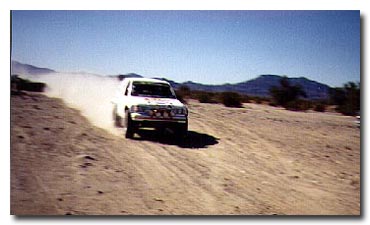 We're soon on our way, only 32 miles to go. Tommy reports seeing the Isuzu being towed down highway 5, we're nearly home free. While Darren charges onward with his modified shifting system, I disappointedly discover my radio capabilities with Barrie are cut off. I turn all my attention to the gauges. Alarminly fast, the transmission needle suddenly leaps to the far left, however, Darren informs me that it's just running cool because we're without an exhaust pipe. After an enjoyable run down "Powerline Road" we floor it to the finish line.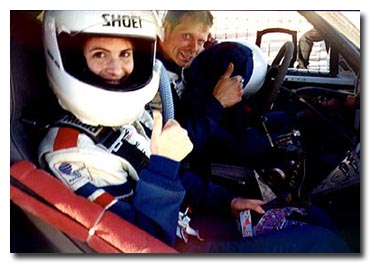 4:30pm, eight hours after leaving the San Felipe Arches, we glide in victorious. Exhausted, dirty, and almost ready to use the facilities, we follow tradition by popping open some cool Tecate's and posing for pictures. The cute little Kia Sportage reigns superior and undefeated for the second time this year. I've fulfilled my duty and despite the various bets placed against me, conquered one of the "roughest treks" in Mexico; in dry pants.
The Guts and Glory
It's not your average Kia Sportage...but almost. The entire frame is stock, inherently strong, and is boxed on both sides. The chassis consists of a ladder frame, with an integrated tubular roll cage. Complementing the impressively sturdy structure, the Kia racer sports a 2.0-liter 4-cylinder16-valve DOHC stock engine with automatic transmission that delivers185 horsepower. Of course, certain racing modifications have been necessary: The transmission is altered to shift like a stick for more control, and the engine utilizes different pistons and fuel injectors for added power. Kia's rear end is typical race style, with full floater, large hubs and heavy-duty axles. Both the front "A-arm", and rear adjustable "four-link" suspension have coil-over "sway away" shocks and 12-inch wheel travel, necessary for traveling over endless bumps at high speeds. The Sportage sits on 5X17 American Racing Wheels and 33x10.50 / 15 BF Goodrich Baja T/A tires. Prepared by Baja Automotive Adventures, the Kia Sportage is touted as being very nimble, and one of the "most balanced vehicles" that Darren's ever driven. With low overhang on both ends, Kia's "beefy frame" has conquered miles of "whoop-de-doo's", countless "nose dives" into the earth, and numerous sky-bound catapults from high-grade jumps.
So, what do people think of the mighty Kia? Competing in the Class 3 category of short wheelbase four-wheel-drive sport-utility vehicles, and being of small frame and stature, Kia did not gain instant respect. Off-road racing is the roughest, toughest, most grueling of motorsports, and one of the manliest activities around. Initially, the Kia racecar was perceived as just a "cutie", which was not an ideal image for the all-male race team. However, once the team proved that the Sportage could successfully withstand the most challenging courses, the cuteness worked to its advantage and Kia's popularity grew. Fans could identify with it, and women adored it. First demonstrating its ability in 1993 by completing the Paris to Dakar race, Kia's gone on to win the 1995 Baja 1000, and since joining the SCORE International Desert Series in 1997, they've captured the Class 3 championship every year. Needless to say, for 1999, Kia hopes to once again earn the highly coveted first place title. Simply put: "People love the car!"