Snappy SLK
By Larkin Hill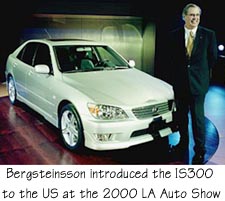 I read my "proposed schedule" for the next ten weeks. One car for each week, dates and cars are in consecutive order. Only three had additional comments -- the Subaru has to go back a day early and the Lincoln is a 5-speed. Now, the SLK, on the other hand, had two: "5-spd" and "Electric Green."

Tickled that the first car on the list is a Mercedes Benz SLK, I was happy to read it was a 5-speed, I paused ever so slightly at the words "Electric Green" and then got back to work. A few minutes later, I began to wonder, would it be Kermit shade or 80's neon?
Sitting in my windowless office, I impatiently awaited the delivery of my pint-sized pea-green princess. The bell rings, my phone beeps, and the receptionist announces that the car's here. I causally stroll to the front of the office where a big smile awaits me, I grin, and we go outside. Yowza!
It's about as subtle as Courtney Love at this year's Golden Globes and almost half the size of the car it's parked next to -- but what it lacks in girth it more than makes up in color. It's so cute, I just want to pick it up and put it in my pocket to eat later. It's the color of my favorite green apple: Pippin.
As I mentioned before, I like color. However, what I failed to say is that I like color in moderation and usually on other people's cars . I like subtly (a.k.a. Silver and Black). However, on the SLK, the metallic Spring Green look fit perfectly -- especially with a female driver.
Circling the car, I admired how the lively color enhanced the exterior styling. While it's less curvaceous than its competitors -the Z3 and Boxster- the SLK flaunts what it's got. The nostril-esque "power domes" on the hood balance perfectly with the smiling grille and large rectangular headlights. The trunk has a cute little lip that compliments "long hood/short deck" proportions. (Basically the front of the car is almost as long as the passenger compartment and trunk combined)
Unlike many roadsters, the SLK's trunk is large enough to put a latte cup on. In fact, the roof is even low and sturdy enough to do the same.
However, while it's tiny, getting in won't leave you wishing you'd taken up yoga. The seats and steering wheel easily adjust manually. The roof is low, but the entrance is large and unobstructed. Like most low-to-the-ground roadsters, I found getting in and out while wearing a skirt a bit complicated, but not entirely unmanageable.
Inside, the tone is retro. Polished chrome accents the knobs and gauges. Creamy ceramic colored faces, red pointers, and matte black symbols and numbers enhance the "old" feel. Scattered throughout the cockpit, faux carbon fiber adds to the sportyness of the SLK. It's positioned on the door handles, 5-speed shifter, dash, and various locations around the steering wheel. Mercedes even managed to make the cup holders stylish, housing them above the instruments -- one push of a discreet button pops them out. I give them extra points for being well engineered and appear simple enough to endure years of use. And a bonus point for housing a small pocket to store miscellaneous items. (coins, earrings, mints, etc)
I carefully examine the dash and note is how symmetrical it is. The driver and passenger temperature controls are nicely grouped. Intelligently placed below the temperature controls is the sound system, and nicely lined up at the bottom are the "Options" buttons. All are easily accessible by both the driver and passenger. In standard Mercedes fashion, the materials are high quality and well executed.
The 2.3-liter 185 horsepower Kompressor engine was enough to make the tiny SLK scoot. Kompressor in German translates to supercharger, which basically means mucho power. An intercooler cools the pressurized air to create a denser intake charge to increase the overall boost -- more power. The SLK's supercharged engine provides an immediate and smooth transition of power once the gas pedal is pressed. Unlike many turbo engines, supercharged engines have no delayed back-slamming surge of power (a.k.a.: turbo lag).
Mercedes-Benz has a long history with supercharger technology. By definition turbochargers are more efficient and easier on the engine, but Mercedes has balanced the scales by employing a magnetic clutch. By disengaging the supercharger while idling there's a reduction in both wear and fuel consumption -- always a good thing in my book.
The SLK uses the only intercooled, supercharged engine in its class that generates an impressive 200 pounds per feet of torque. The Dual Overhead Cam (DOHC) inline four produces a nice soothing Mercedes grumble that's always reassuring. And thanks to its lightweight and sturdy stance it provides a rather convincing six-cylinder attitude.
I drove it to San Francisco for some extensive testing -- endurance (~150 miles one way), clutch & transmission (think SF hills), and star power (it's bright green, remember). It passed all three.
Thanks to refined suspension, heated seats, and overall seat design the hours flew comfortably by. The blazing green color attracted attention, as the two Mercedes stars on the nose, Kompressor nomenclature on the trunk, and athletic stance commanded reverence. The hills, were daunting at first, but turned out to be a chinch. In fact, even waiting in line for the windy part of Lombard Street will remain a pleasant memory.
Of course, all of this comfort comes at a price. With an already substantial base price of $41,000.00, the 2000 SLK has five factory options: metallic paint, heated seats, automatic transmission, electronic upgrade package, and the Sport Package. The Designo (pronounced dis-in-yo) Edition costs extra, but doesn't technically classify as an option since it's a limited production Mercedes-Benz style statement that affects the colors and interior palate.
The three extra-cost features that pushed my test vehicle's final price to $50,550 (including $845 destination & handling) were the Designo Edition, Sport Package (both at $4,050 each), and heated seats ($605). The Designo Edition gave it the delectable hand-painted "Electric Green" exterior color, custom Napa leather "Charcoal" interior, and numerous "Designo" labels throughout the car.
The Sport Package enhanced the streamlined profile by providing lower profile tires (17" vs. 16") and AMG wheels to the already athletic standard Mercedes "staggered" wheel and tire setup. ("Staggered." meaning the rear tires are larger and lower profile than those in front) The Sport package also includes modified front and rear fascias, projector-beam fog lights, and what Mercedes describes as "rakishly-styled side sills."
Now, like all small things, the SLK does have its shortcomings -- literally. To name a few, there's less passenger volume than its two closest competitors (Z3 and Boxster). It's shorter in height and length, narrower, and has way less trunk space-3.6 cubic feet when the top's down versus 5 and 9.1 cu. ft respectively. And, it's the only one with a four-cylinder engine and consequently has less horsepower and torque.
The only gripe I have is not exclusive to the SLK and involves the CD player/changer (or lack there-of). Why, oh why, is one not standard? I could see a CD changer option package, but there's no excuse for a $50,000 not to come with an in-dash system in the US. Albeit, it's not at all uncommon for German manufacturers to regularly omit this feature -- BMW and Audi are similarly inclined. I only hope is that they come around with the CD as well as they did with the issue of cupholders. My fingers are crossed.
However, while the SLK is the runt, there are equal amounts of features that enhance its appeal. With gas prices unstable and expensive, the SLK far surpasses its competition in both around town and highway miles per gallon - 21 and 31 receptively compared to 20 and 28 for the Boxster, and 19 and 26 for the Z3.
Another plus is the convertible hardtop. With it up, the SLK is a safe and secure coupe with a quiet ride and lots of trunk space. On sunny days, the top effortlessly folds down to creating topless freedom. However, while the trunk is expansive with the top up (9.5 cu. ft.), it all but disappears with the top down (think, 28" roller suitcase w/out the convenient fold back lid). The good news is that you can guiltlessly drive topless to the mall, put the top up for safety, stay until its dark, and drive home in style. The bad news is, you can forget about a roadtrip. Even a weekend excursion is pushing it, unless you're (A) alone or (B) planning to wear the same clothes all weekend.
Overall
After spending a week in it, I didn't want to give it back -- I even fell in love with the color. The 2000 Mercedes is a chic luxury roadster, with a heavy emphasis on luxury. It is stylish, small, and fun to drive. It couples a solid stance with impressive maneuverability. It's petite yet classy and 100% Mercedes. The Designo Edition option package plus the performance package combination successfully whimsy with refinement and athleticism-- a complex task and especially difficult to do well.