2001 Volvo S60
A First Impression
By Larkin Hill
"A nice lady in a Volvo picked us up," stated the girl in the back seat. My ears rung and my head spun. "nice lady...in a Volvo..." The words echoed in my head. "Wait! No! That's not right" I wanted to shout...but it was true. I am nice. I can be a lady, and yes, I was indeed driving a Volvo.
(A spiffy 2001 red V70, to be exact) I'd picked the three girls up because their car had broken down in a remote area on the road to Lake Tahoe, California. It was the Fourth of July weekend, they were four years younger than I was (we'd covered that when I first stopped), and were running across the highway when I saw them. Their mobile phones didn't work, it was mid-morning, and I had an empty car. I was feeling extra-generous in the T5 wagon, so, I stopped. *
So, why am I telling you this? Because, these words would not have been uttered in the S60. Sure, similar terms probably would have been used. Naturally, the terms "Lady" and "Volvo" in the same sentence are reassuring to any mother who's hearing that her most precious commodity is in a stranger's car. However, my prediction is that the term "girl" would have replaced "lady" -- and that would have made all the difference.
"It's cute!"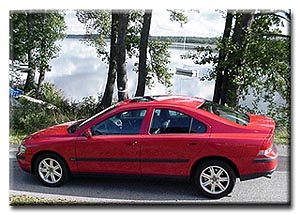 The words are simple and the meaning is plain. However, neither the words nor the meaning have ever really been most applicable when describing a Volvo. Other words such as "safe," "reliable," "sturdy," and most notably "boxy," are the usual terms that pop into mind when the mark Volvo is mentioned. All are strong and positive, but the angular reference is on it's last legs and Volvo is doing their best to add more "cool factor" to their cars.
Armed with the svelte C70 line, the curvy S80, the popular S/V70 series, and pint-size S/V40 couple, Volvo has received its fair share of head-turns and accolades within the last few years. However, while Volvo has successfully introduced numerous slinky vehicles, they've kept their staple S70 box. Looking very similar to it's larger the S80, the 2001 S60 is to replace the boxy staple S70 this November. Now with the "box" gone, will Volvo completely shed its right-angled reputation?
A square no more, Volvo's newest and most daringly styled sedan is sure to catch a few people off guard. In fact, it's guaranteed to receive it's fair share of "That's a Volvo?!"
With its distinctive curves and a supple interior, the S60 impressively couples unique styling and presence with the security of a Volvo. As Mark LeNeve, President and CEO, Volvo Cars of North America declared at the S60 introduction in Sweden this fall, Volvo's clearly "Putting passion in the promise!"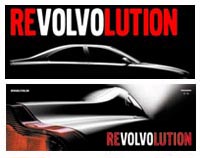 Already armed with a strong reputation for building high quality, safe, family cars, Volvo wants to add luxury, sportiness, and youth recognition to the brand. Now, with their largest selling sedan revamped, and without a boxy car in the line, Volvo plans to kick off the next millenium with a ReVolvolution campaign. The S60 is the curviest, sportiest, sexyiest car in the lineup and it's guaranteed to turn heads.
What's it like inside?
Inside, the layout is simple and classic. Ergonomically, the radio, air conditioning, and emergency controls are logical and easy-to-find. While technically, the air and radio controls are angled toward the driver, they're only slightly tilted, and are just as easily accessible to the front passenger.
However, for those not accustomed to Volvo's simplicity approach, the radio will take some getting used to. The knobs serve double duty, meaning a delicate twist or push can achieve very different results, depending on what you touch or turn. However, once understood, the system is impressively logical and easy to maneuver. Of course, this type of system can come in handy when transporting pesky passengers who are "search-happy" -- they'll probably become annoyed and you'll effortlessly move back to one of the 20 programmed radio stations.
Now, while the stereo controls are very basic and momma-Volvo-ish, the sound system is not. Sporting thirteen speakers, yes, that's right, 1-3! The S60's sound system is sure to please all -- whether blasting Sarah Brighman, Sting, The Styx or Storytime tapes; the sound is pure and clean from all seating positions.
Alleviating a pet peeve of mine, where the majority of the volume is produced in the rear, the S60 has 13 speakers that are well positioned throughout. Now, with balanced volume between the front and rear passengers, the people in the rear seats will no longer be drowned out of all conversations because the music's playing and they're housing most of the speakers.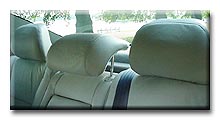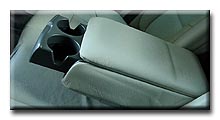 The interior materials are properly matched and of premium quality. According to Volvo engineers, the seats are therapeutically designed for optimal support and comfort. Supple yet firm, the leather seats felt as though they conformed to not only my body type, but also that of my significantly taller driving partner, without any adjustment.
Both front and rear headroom was impressive. Rear legroom was limited, but manageable, and still very comfortable for two full-size adults. The two most notable features in the rear were the dual adjustable air vents that were located near the legs and on the center ("B") pillar, and the fold-down center console. Within the padded console were two sturdy cupholders that slide outward for easy accessibility and a small storage pocket. For a fifth passenger, the console disappears in the seatback and an adjustable headrest and a three-point seatbelt are provided.
On all three models, Volvo has installed a pollen and dust filter system that purifies the air, thus often making the inside air cleaner than the outside. By simply replacing the clarifying cartridges, allergy suffers will continue to find relief within the S60 all year.
Automatic climate control is standard for the 2.4T and T5 models and a manual system is standard on the 2.4liter base model. Four reading lights are standard, and both the driver and front passenger have illuminated vanity mirrors.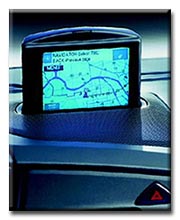 Available as an extra cost option on all vehicle models is a navigation system that's unlike any I've tested. Instead of competing with the stereo and air conditioning controls on the front of the dash, the LCD screen is discretely hidden within the dash. With a slight press of the steering wheel mounted controls, the screen pops up form the center of the dash -- automatically retracting when the key is taken out of the ignition. Since I was so used to visually programming directions, the fingertip controls initially felt awkward.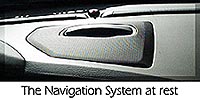 However, because the system was so impressively logical, I quickly found that programming, adjusting, and playing with it was less distracting and easier to do while driving than other's I've tried were. Of course, in a perfect world, the driver shouldn't be doing anything but driving, but in reality, that's seldom the case. And typically, the driver's got a mobile, kids, coffee, the radio, air conditioning, and a multitude of other things that require attention wheel driving, so the navigation system shouldn't be any more time consuming or frustrating than anything else -- and it isn't.
Of course, if any of the passengers want to program, there's a portable remote control that looks similar to a generic television remote. Again, the entire system is very user-friendly.
What's powering it?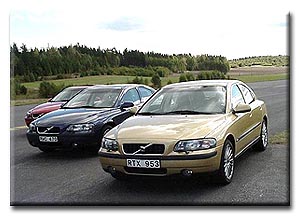 The S60 comes with three engine variations and three transmission choices. All engine choices provide enough power to easily zoom up an onramp, charge a steep hill, and enable a fully loaded S60 to pass other cars traveling at high speeds.
The standard, 2.4-liter naturally aspirated 5-cylinder engine comes with a five-speed manual transmission and pumps out 168 horsepower at 5,900 rpm and has 170 pounds per feet of torque at 4,500 rpm. I drove this first and for the longest amount of time. It was very comfortable at high speeds and still provided more than enough power to pass quickly. A five speed automatic transmission with winter mode is available as an option.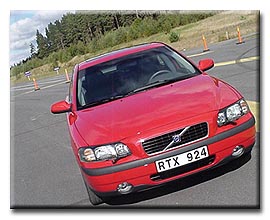 The second engine choice is the 5-cylinder, 2.4 turbo, with a 5-speed automatic transmission with winter mode as standard equipment. The Light Power Turbo (LPT) provides 197 horsepower at 6,000 rpm and 210 pounds per feet of torque at 1,800 rpm. This model is the only one that doesn't have a manual transmission option; however, the automatic transmission was so accurate that I didn't feel deprived of any power or control. Plus, the S60's clutch-less manual Geartronic system is one of the better one's I've driven. Powerful and efficient, with an automatic transmission and a very reasonable price tag, the 2.4T is truly impressive.
However, The third choice truly qualifies the S60 as a compact sports sedan. Pumping out an impressive 247 horsepower (at 5,200 rpm) and 243 pounds per feet of torque (at 2,400 rpm) the 5-cylinder High Pressure Turbo T5 comes standard with a 5-preed manual transmission. Now, this vehicle got the buzz. Fast, fun, and of course, safe, the T5 is unlike any four-seater Volvo I've ever driven.
How will it protect me?
As safety's always Volvo's priority, the S60 is loaded with standard features. All vehicles have a keyless remote two-step unlock/lock system that also releases the trunk. The system not only will unlock just the driver's door with one press, all doors with two presses, but it also turns on the interior lights and exterior lights. The "approach lighting" creates a pool of light around the car, thus providing a safer and more secure environment of entry. The key fob also has a panic button.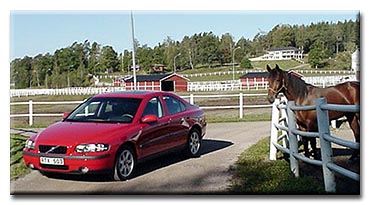 Additional comfort and convenience safety features include, auto-up and down front power windows, a rear window deactivation switch, and an anti-trap feature that will keep the kids in and insure that their fingers won't get caught when the window's rolled up. Follow-me-Home headlamps, an Immobilizer Theft Deterrent System, and a Security System are also standard on all models. ISO-FIX, Volvo's worldwide standard child/baby seat fixation system is an accessory item that is built into the frame of the car. Meaning, the system is potentially available in every vehicle, however, the buyer can decide whether they want to purchase the child seat and cradle that clip into the frame.
Of course, in the even of an accident, Volvo is loaded with features. Standard is a safety-cage passenger compartment, Side Impact Protection System (SIPS), front seat Whiplash Protection System (WHIPS) and five 3-point seatbelts with Pyrotechnic Pretensioners with rear ALR Child Seat Locking belts. All S60's have front seat side impact air bags, a front and rear Inflatable Curtains (IC), and dual-threshold driver and passenger's SRS airbags.
Overall
It's smart, sassy, fun, and fast -- the S60 blends a functional and unique design with a fiercely competitive price. The 2001 S60 has merged superior safety and sporty performance beautifully; the 2001 S60 is not your mother's Volvo.



*Note: The Auto Channel and I in no way endorse stopping on any road, intersection, or traffic area for strangers. It can be unsafe and hazardous for all parties, items, and situations involved.