It's a wrap!

Looking back a momentous year's motoring!

By Andrew Frankl
European Bureau Chief
I passed my driving test way back in 1959, but I think I've had more fun in the last year of this Century than in the previous 40. Yes, there were some great moments earlier as well, of course. Driving round the Grand Prix track at Silverstone in the pouring rain completely sideways in my MGB was certainly one of them. Taking the amazing Citroen SM to the French Grand Prix also remains pretty unforgettable. The fact that the race was held on a track near Dijon also helped somewhat, especially as the hotel was on the street called simply "rue des Grands Vins" --and great wine it had. If ever a street had the right to its name -- this was it.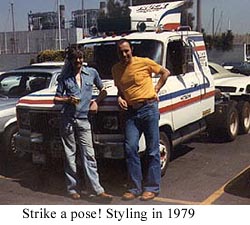 Auto shows also had their moments of magic. In Frankfurt I had the honor of meeting the great Juan Manual Fangio, the only driver to have won the World Championship five times. In Geneva it was Bob Lutz, that ultimate car guy who was the centre of attraction regardless of which automotive company he was working for at the time! The Swiss city was and is rightly famous for its excellent restaurants and its close proximity to the ski resorts -- a very far cry from Detroit.
I suppose the most entertaining moment of my motoring career had to be my arrest by the Hungarian police. I was driving a Rolls Royce at the time, on loan from the company. It was still Cold War time and some over-zealous cop decided that we were filming a jail 7 miles away (highly illegal). The fact that the crew from the local TV station had their camera firmly buried under the bonnet as they were taking engine shots did not seem to bother our "friend." To cut a long story short we were taken to the jail where all the inmates stood to attention assuming that we were from the Ministry of Interior (it was a big black car, about twice the size of the Russian made Lada the police were driving at the time). The man in charge of the jail immediately realized that the policeman was a fool and let us go with apologies but one condition attached. His son had to sit in the driver's seat and press the horn. Seemed a fair enough request under the circumstances.
I got stopped driving a Ferrari on the outskirts of Vienna by a policeman on an unmarked BMW motorcycle, wearing blue jeans and a windbreaker. I was so suspicious that I asked for HIS ID! To his credit he thought it was a perfectly sensible thing to do but of course he still hit me 500 Austrian shillings for speeding. (Actually I was doing 60 km/h instead of 50.) I also got a ticket driving to Watkins Glen, funnily enough once more in a Rolls. (Loan courtesy of Rolls-USA.) "Going to an aunt in Upstate New York," said I. "Oh, a man by the name of Stirling Moss said the very same thing just a few minutes ago," was the reply. Game, set and match…plus 35 dollars to the man in blue. (It was over 20 years ago, presumably the rates have changed since then.)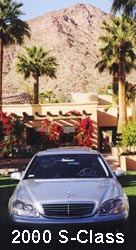 What was the most embarrassing moment of my motoring career? Well, we have to go back to1965 for that -- to a little British racetrack, which goes by the name of Brands Hatch. My cousin and I decided to try our hands at single seaters. A few laps went by and we were convinced that we were destined to be world champions. The instructor called me aside and asked me quietly: "Is there anything else you could do for a living?" "Yes!" said I. "Do it," said he. My entire racing career lasted exactly four laps from beginning to end...a total of maybe 10 minutes including getting in and out of the car. I will always be grateful to that man.
A Year in Summary
1999 was pretty spectacular by any standards. The launch of the new S class Mercedes in Arizona showed the way ahead for luxury cars in the new century. The new Jaguar S type was another great new car to cherish. The latest 911 Porsche proved superb. My 89-year-old mother-in-law simply loved it, as did my daughter, who immediately took it for a run in Santa Monica. What a way to travel from San Francisco to L.A. I suppose there would have only one better way -- by the new Ferrari 360 Modena. My son and I took it to the Belgian Grand Prix in Belgium last summer. Even the normally highly critical New York Times could find nothing but eulogies for this wonder from Maranello.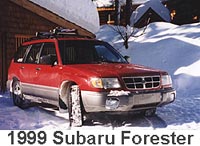 The surprise of the winter was Subaru's excellent Forester. No wonder GM just spent a fortune buying 20% of the company -- their 4-wheel drive know-how is second to none. BMW continues to make great cars, the only question is how much longer as an independent? I've driven several of their fine cars lately. Each and every one was perfectly screwed together, the only sounds coming from those amazing engines. I just hope they can stop Rover from losing tons of money. Just the other day new US CEO and old chum, Tom Purves assured me, that things are indeed getting better at Rover and that the new Mini will be sensational.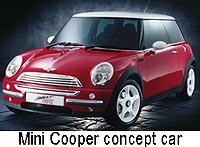 The plans are to have it on sale in the States by BMW and Range Rover dealers. Not all of them, just those who are prepared to setup separate satellite dealerships. Makes sense, with a 30 thousand dollar BMW and a 15 thousand dollar Mini side by side, which one would any guy on commission try to shift!? With petrol/gas prices still relatively low it remains to be seen whether the US public is ready for a small car or not. In the meantime courtesy of the economic cyber-boom the waiting list for the new and amazing Z8 stretches from Los Angeles to San Diego.
The Mercedes range keeps getting bigger and bigger, and their market share is rapidly zooming upwards. Understandably, really. Many years ago their mainstay was the venerable 300 diesel, whereas, these days they run the gamut. There's the SLK, CLK, C class (shortly to be re-launched in its latest guise), E class, S class, and of course the on road/off road M class. A SUV that's getting better all the time -- after a rocky start. Some Mercs are definitely aimed at small niches. One example is the CLK convertible; it's 4.3-liter engine, perfect finish and room for two, are perfect for light shopping on Rodeo Drive. Don't even bother trying to do the weekly shopping in it (unless you are on your own) -- we've tried it -- and four brown paper bags in the boot/trunk are the absolute limit! On the other hand it is THE car for posing on Sunset or South Beach on a sunny afternoon.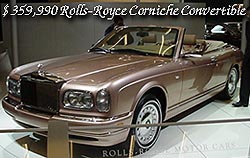 Of course if you are into really silly money there's the Rolls Royce territory. 400 thousand dollars for something (anything!) on four wheels just seems immoral to me. Plus, it's an open invitation to be mugged…still; it made the cover of the Robb Report. Let me share the following sentences with you from the publication, perhaps you can tell me if it was meant as written or very much tongue in cheek: "The 2000 Corniche is also a reflection of automotive dignity and today's drift toward inconspicuous consumption." Or as Rolls PR Supremo Richard Charlesworth put it, "people aren't spending any less. They are just showing it less."
Ford Motor Co continued to challenge GM for the coveted No1spot with their European designed and highly successful Focus. Winner of rallies, winner of awards all over the World Focus is becoming a huge triumph in the United States as well. The point I would like to make is that people recognize a good car when they see one. Focus sells, Forester sells, the S class Mercedes sells. BMWs sell.
Which brings me to GM, that monolith is showing signs of waking up. At the 2000 LA Auto Show they produced a couple of truly great prototypes, one for Oldsmobile and one for Saturn. The designers, Kate and Phil Zak, are a young, charming, engaging husband and wife team, the likes of which I have never ever seen within a country mile of any GM studio. If they are what "new" GM is about there is hope for that company yet!
I am somewhat puzzled by Cadillac's attempt at the legendary Le Mans 24 hour race last year. For a marque that sells only a handful of cars in Europe it makes no sense to me, especially as the race is not shown on any major US TV station. However, Caddy boss John Smith sounded very bullish about it and plans to enter this year as well. Maybe he knows something I don't.
As for the company buying all of Saab, well, that was inevitable. I know there is merit in a car being instantly recognizable but it tends not be a winning formula unless your name is VW Beetle. I am afraid to me Saabs seem very tired and dated.
I've driven several Nissans and Infinitis during 1999 and all of them worked perfectly well. As we all know they ran into very serious financial problems, which they are currently trying to overcome with the help of Renault and their "hatchet man" Carlos Ghosn. The French company is no stranger to economic woes; it is only recently that they've managed to start making decent money. Their people carriers are all the rage in Europe, from a minor importer they've become a leading brand in the UK as well! If they can put some of that flair into Nissan's otherwise perfectly good and dependable cars, we could be looking at a very major player in the years to come.
The Hondas I've driven lately have all been superb, no wonder GM will be buying engines from them in the near future. If only they had given the NSX to an Italian styling studio it would have given Ferrari and Porsche a run for their money (It is Honda in Europe -- only Acura in the States).
I have yet to drive a Toyota or a Lexus, their people are not very forthcoming and I don't really miss them, maybe because most truly badly driven cars in Marin seem to be Toyota Tercels…yuk!
Future
So, what will the new Century bring in terms of automotive? For a start, more and more emphasis on safety and creature comforts. Certainly, as a father of twins I would have welcomed screens built into the back of the front seats to keep the little buggers quiet on long journeys. Going to the Austrian Grand Prix with one of them screaming and the other being sick was certainly no picnic as I am sure millions of Mums and Dads would testify. I see that Ford Motor Co will be selling electric cars and bikes for gated communities, a very bright idea indeed. Mercedes already sells the SMART car in Europe with ever increasing success. As for real motoring? The good news is that Ferraris and Porsches will be with us for many years to come. So, whether you own, borrow or simply hitch a ride in one of these dream machines, a dedicated spin is a definite must. Only after will you know what serious driving is all about.
Have fun!