New Vehicle Review
British Auto Show
Andrew Frankl - European Bureau Chief
It is rather a sad indictment of the state of the British automotive industry that the show which alternates between London and Birmingham is now, regrettably very much second division. The ones that matter are Detroit, Geneva, Paris, Frankfurt and Tokyo. That is not to say that Birmingham was a complete waste of time, after all they did fill seven huge halls with cars and associated bits and pieces.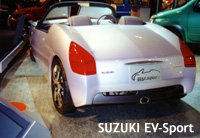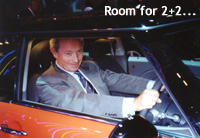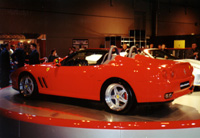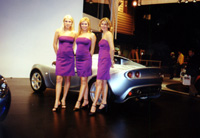 Even though the Mini was seen a few weeks earlier it was still a major attraction, after all it was quintessentially British and in a way remain so even though it is now owned by BMW and the engines comes from Brazil! At least it will be built near Oxford by British workers. I had a chance to talk to its designer-Frank Stephenson-who turned out to be a fascinating character speaking seven or so languages. Born just north of Casablanca in Morocco he lived in Turkey, Germany, England, the United States, you name it. Anyway, out of 15 designs his came out on top.
The car in its Cooper and Cooper S version will be sold in the States, BMW are hoping that it will become a cult car along the lines of the original Beetle. Whilst it is very comfortable even for a 6 footer such as yours sincerely I am not totally convinced that the great American public is ready for such a small car. The Mini may be full of airbags, the thought of being hit by an SUV whilst driving it still send shivers down my spine.. At the other end of the spectrum we did of course have Ferrari's awesome 550 Barchetta, the sort of car you can only afford if you have a great deal of cash and friends not a million miles away.
Apparently it does not really have a roof as such so if it rains you'd better hurry to your rich friends with a garage wait until the sun comes out again. Seems a bit silly for well over 200 thousand dollars although I am sure it goes like stink!
More relevant to the man on the street was Ford's new Mondeo, narrowly pipped for the European Car of the Year award by Alfa's new little car. I don't wish to be sued but the result did surprise me somewhat. The Mondeo is a major competitor in the biggest segment of the market whilst the Alfa strikes me very much as a fringe product. Volvo were proudly showing off their S60 range, according to my spies in the land of smorgasbord there will be exciting additions to the range shortly. A great company, firing on all cylinders with the help of some Ford cash.
Mercedes have finally decided to start importing their Smart car into the UK, this very little two seater had a slow start but has now become very popular , especially in city centers. The company also has its new C class on show, my driving impressions will be published shortly. In the meantime let me just say- don't buy a 3 series or an Audi 4 until you've driven the new C class.
Jaguar-unfortunately-decided against showing off their new and very exciting X type. They released pictures just days after the Show and it does look great. It will be built in Liverpool, a place made famous by the Beetles. Production is about to start, it will go on sale in Europe first with the US debut sometimes in 2002 or late 2001 with a bit of luck. Rover-whose factory-is literally five miles away from the Exhibition Centre decided NOT to be present. Their spokesman explained that shows were only visited by journalists and children! They then spent millions on ads in the newspapers explaining why they were not at the Show.
When it comes to stupidity Rover really take the biscuit! There are huge internal battles going on, the latest name is MG-Rover but on the gate it still says-a part of BMW. For whom the bell tolls I am afraid.
There were of course lots of terribly British cars such as Morgan and Marcos, made in tiny numbers. Lotus were also there, they are going strong at present thanks their latest owners-Proton of Malaysia. AC were trying to stage a revival for the umpteenth time, I hope they make it as AC Cobras were some of the most exciting cars ever .Especially in the dry.. Renault and Peugeot mean less and less in the United States, both French companies have retired hurt, bit like boxers hit by Tyson. To be fair Renault are spending a great deal of time and money revitalizing Nissan and if the prototypes I've seen ever make it into production then we can look forward to some very exciting new products. Who would have thought a few years ago that the Europeans would be coming to the rescue of the Japanese auto industry!? General Motors were also present although I think Cadillac will always remain a cuirosity rather than a car people would consider buying in London or Paris. The GM European subsidiary Opel is struggling somewhat, just like Ford's European outpost, right now VW seem to be making most of the running with their Golfs, Passats, Seats, Audis and Skodas. Fiat are also hanging in there although I personally do not rule out further mergers. BMW had their Z9 concept car on their stand, for the computer savvy it was a dream, for the rest of us more of a nightmare! One button, several hundred functions. Bit like setting the video-for children under the age of 12 only!
All in all an interesting show with lots of visitors but missing its former glory.
---