TACH wins Cannonball Classic!

By Andrew Frankl
European Bureau Chief
When I heard that Brock Yates was going to repeat his legendary Cannonball run, there was no doubt in my mind that as someone who was a participant in the last totally illegal one, I just had to take part in its reincarnation. However, there were two problems that initially came to mind.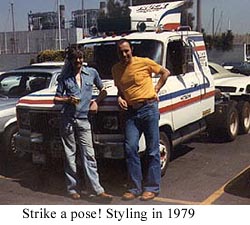 Firstly, the truck that I raced 20 years ago was already at the wreckers somewhere in England. Secondly as I am Grand Prix Editor of FORZA, the Ferrari magazine, it made a lot of sense for me to drive a car from Maranello. Fine, but how does one find a pre-1971 Ferrari, and furthermore an owner prepared to lend it?
Well, step forward Rick Clayton and his stepson Kevin Montero from Ottawa, Canada. A few days after running a small picture in FORZA of the 1979 truck I drove 20 years ago, with a caption asking for volunteers, I received the following e-mail: "If you are the Andrew Frankl looking for a pre-1971 Ferrari we might be able to help. Signed, Kevin." Well, several e-mails later we agreed to meet in New York for the start of the Cannonball Classic. We did not phone each other, we did not know what the other one looked like, we just assumed that all will be well...or not, as it nearly turned out to be.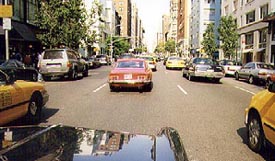 The adventure began upon arriving safely to the Big Apple courtesy of Delta. I was immediately offered a ride all the way back to the West Coast by an enterprising taxi driver - Jeff Cohen from Brooklyn.
The fare- a mere $8,567.50, and no, he wasn't kidding either (can't blame the guy for trying). Well, while the fare was mercifully easier on the pocketbook, all good humor dissipated upon arriving at the once-glorious hotel that we're to begin our Cannonball Classic run the next day. Dear, oh dear, talk about a joint living on its former fame and glory, the celebrated Plaza Hotel that once catered to the high-end of society is now tragically disappointing. I wish readers could have seen the face of the girl in reception who bid me the usual toothy "I am glad you had a wonderful stay Sir" (standard phrase 212) to which I simply replied-"Actually, as far as I'm concerned this place is a tear-down." And I meant it!
More to the point: The night before the run beings and there was no sign of Kevin or Rick. The plan was simple: they would drive the 1968 365GT2+2 from Ottawa, Canada and throughout the run we would swap around so that none of us would have to sit in the back too long. To complicate matters my son Nicholas - TACH"s British correspondent - flew from London to join in on the fun. However, at that moment we had two TACH people, no Rick or Kevin, and more importantly no car!
The send-off dinner party was a serious affair; a jacket and tie job that was brilliantly organized by Pam Yates, Brock's sensational wife. In my book there are two great automotive wives in the United States- Lady Pamela Yates and Mrs. Davis, whose husband, the legendary David E. just published a fantastic autobiography. Well, this function was truly meant to be a night to remember!
Just as we were about to sit down, a somewhat pale and sweaty young man appeared at the door. This, I said to myself, has to be Kevin. Sure enough, it was. "Sorry about the delay," he said, "the Ferrari would not start so I drove non-stop from Ottawa in a 1966 Pontiac Parisienne, as I did not want to let this side down." (I was speechless.) "Oh, by the way my Father is working on the Ferrari, if he can get it going, he will be here for the start tomorrow" he added.
Sure enough, with minutes to spare before the 2 o'clock start the following afternoon, an equally sweaty and tired Rick Clayton arrived outside the once great Plaza Hotel. The dedication, the sheer sportsmanship of these guys was, and will always remain, legendary as far as I'm concerned.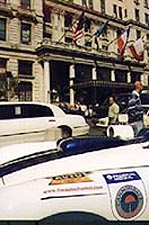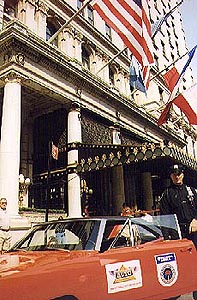 And so we were off on this great adventure across the United States. In these politically correct days, a mad non-stop dash was out of the question, so whilst every day was long-with some far too long - there were hotels and meals to be had in the evenings. First stop should have been Scranton but it turned out to be the middle of New York. Organizer Dan Radowicz's Chrysler threw a fan-belt, however, lucky for him the TACH team was there with a complete toolkit to get him on his way... we came to his rescue once more a few miles on but eventually we all made the hotel on time.
Monday was going to be a long, long day. Starting at 6a.m. we drove several hundred miles to Southfield, Michigan just outside Detroit in order to pay homage to one of the primary sponsors-Federal Mogul. This is a funny old company; they have a turnover of some 6 billion dollars a year but have little idea about product communications at all. I was amazed to discover that Champion Spark Plugs, for instance, is one of their brands, they've made a great job of hiding one of the industry's greatest brand names. While I appreciate their support, I fail to see how having stickers on the side of 25 cars was going to make them famous. Their products seldom reach the general consumer's awareness anyway. But, on the premise that one should not look a gift horse in the mouth-thank you FM.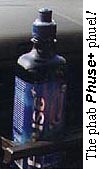 Another sponsor that was a lot more popular with the participants on an everyday basis was a drink called Phuse+. It's a new beverage that is offered in umpteen different flavors, one of which was called Activator- a popular choice that we all needed at our 6a.m.starts. Some people had problems pronouncing it, which led to a great deal of hilarity.
While the driving was exhausting, we found ourselves developing a great camaraderie throughout the trip. Two of the funniest, loveliest guys just had to be John Horton and Robert Brooks of San Francisco, who drove an immaculate 1969 Mercedes 280SE. They were a laugh a minute. Robert, by the way, works with the San Francisco Police Department, which came in very handy when they were doing 56 in a 55-mile zone. Like most of the West Coast cars, their Mercedes was shipped East by another great guy on the Cannonball Classic - Dick Selland, whose 1959 Lincoln Continental had all sorts of troubles on the way, including one very narrow escape in a rainstorm but they made it to the end. There were Jaguars, Saabs, Dodge Challengers, a 1966 911 Porsche, and an immaculate Ferrari 275 GTS driven by Sherman Wolf and his son Scott, who has the rather enviable job of making commercials for Ferrari in Italy!
Whilst Southfield was to be forgotten, Greencastle in Indiana was a definite treat. Not only did we get a truly excellent lunch at the Walden Inn, we also got a free get out of jail card from the Lady Mayoress! (Other cities please note)
Not that the day was without incident, in fact quite the contrary. Following two Japanese entries was a Japanese photographer and his driver in a standard rental sedan. There they were in Indiana, when the photographer's driver noticed another car approaching from behind with lots of lights flashing on top. With cries of banzai he decided to outrun the cops!!! Silly. Within minutes there were three police cars giving chase and it was, of course, no contest. I don't think the driver was too pleased to see three Colt 45s pointing at him for a minute or two…so I suppose the $570 dollar fine must have seemed like light relief after that.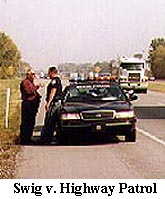 One of the organizers, Martin Swig got off more lightly but he too had several run-ins with the police on the way. I suppose open top Cunninghams aren't a regular sight on the nation's highways and he certainly was not hanging around.
St. Louis will remain memorable for the huge thunderstorm we encountered. At which point a bolt of lightening missed our Ferrari by just three yards.
The following day was a real treat for those of us who'd never seen Middle America. Let's face it- Lincoln, Nebraska is not the number one tourist spot in this country, although if people were looking for the friendliest place it would rank pretty close to the top. Great people and a great auto museum especially for auto engine enthusiasts and those who have a penchant for Yellow Cab memorabilia. However, I'd advise against the food at the local restaurant unless you are into buffalo meat.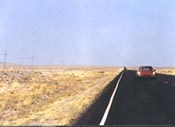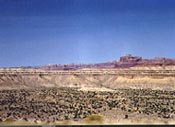 Thursday was unforgettable. The drive to Steamboat Springs, Colorado was truly spectacular.
Highway 34 was open and we were able to drive into Estes Park and through Milner Pass. Briefly stopping at the top for an impromptu snowball fight. It was sheer magic, as was the drive down to Granby. We followed a truly adorable couple in their 1963 E type Jaguar, a car they bought at the factory as new. Susan, the wife, is one of Canada's best bridge players whilst husband Jerry has the biggest repertoire of jokes ever. I was driving the Ferrari at this point and having the time of my life. Neither of us drove that quickly but we certainly weren't hanging around either. Blue sky, green forest, winding roads, two great cars making all the rights sounds, the occasional beep on the Fiamm airhorn to clear the way, it would have looked like a great TV commercial for Colorado from a helicopter.
Next day we were heading toward possibly the least attractive place in the United States this side of San Quentin jail- Eureka, Nevada. The drive was a good 100 miles longer than it should have been, over 700 miles in fact, the last 50 over road works in the dark. Very clever. All this to see this dump at night- we were all leaving at 5a.m. the following morning. In the meantime poor Kevin was ill. Very ill. So ill that we were seriously contemplating sending him home on a plane. Being a real trooper he insisted on staying all the way so we took turns in driving the big 400 horse power Pontiac whilst he was resting on the back seat. Interesting...after the razor sharp steering of the Ferrari turning the wheel 20 degrees before anything happened was, shall we say a novelty. Not that I would ever have a bad word to say about that old war horse, it ran like a dream and was exceedingly comfortable as well.
You don't have to be a brain surgeon to know that accidents tend to happen on the last day of a trip. If not always, certainly most of the time. When the British drive to the (European) Continent they either hit something within five minutes of being on the "wrong" side of the road or on the way back just outside Calais. The Cannonball Classic was no exception. The day prior we ran with a Canadian by the name of Jim van Gunten who had to slow down as his Mangusta was vibrating very badly. He knew it was one of his tires but I am afraid he did nothing about it, partly I suppose because Eureka, Nevada was not exactly full of Dunlop and Michelin dealers. To cut a long story short he was irresponsible. On tires that were clearly not functioning satisfactorily he was doing over 100 miles per hour when one of his rear tires exploded.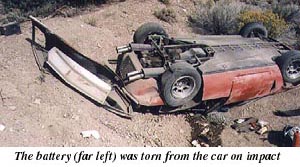 He spun, hit the bank, flew a good 15 yards in the air, and finally landed upside down wearing no safety belts. By the laws of physics it should have been curtains for Jim, and upon seeing the ambulance we certainly feared the worst. Well, as you can see from the photographs he crawled from under the car without a scratch. Most of his luck came from the fact that the battery was torn away from the car upon impact, thereby preventing a fire. Jim, a tough old boot made it to the legendary Portofino Inn in Redondo Beach, just South of Los Angeles.
For me it was a huge high to gun the Ferrari's 12 cylinders down that famous road to the gate, exactly as I did 20 years earlier in the Ford truck. It was exceedingly generous of Rick and Kevin to let me drive their car on the last stretch. To their credit and to ours we did 8000 miles in all, without putting a scratch on either the Ferrari or the Pontiac, both of which ran perfectly. Even if they did drink like the proverbial camel.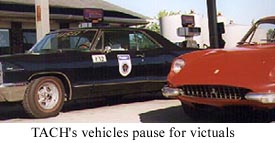 Whilst TACH received two trophies-one more than anyone else- I still have to admit that the dinner and the prize giving were not worthy of the event. Any event. Poor Momo watches-one of the sponsors had a small table with a candle on it to display their wares to a crowd of thirsty people looking for chairs in the dark. They were apoplectic and rightly so. We all sat at a very long line of tables, which killed the sort of camaraderie that built up amongst people after a six-day event. The actual prize giving was an even bigger embarrassment. The room was hard to find-several people gave up-but for those of us who made it, the plastic chairs arrived after us. Bravo. Because Yates and Swig have never worked together they were clearly out of sync, a small rehearsal before the event would not have gone amiss.
To sum up: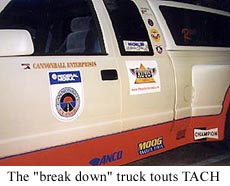 On the plus side we drove across America and saw a great deal. In Rick and Kevin we had tremendous traveling companions and became great friends. There were some other, equally nice people driving whom it would be a pleasure to see again. The "break-down" car driven by Yates Jr. and his colleague did a great job, and whilst we did not need them, they were there for those who did. They were both helpful and pleasant, even at the end of a very long trip.
On the minus side: Brock runs a highly successful One Lap of America for really tough guys and dolls. That is well-established, well run, and very successful. Swig hosts an equally well-organized California Mille, which is a somewhat less stressful 4 day event in beautiful Northern California. Unfortunately, they should stick to what they are good at. This event was neither real endurance like the last Cannonball, in which to come last we had to drive from Darien, Connecticut to Redondo Beach in 2 ˝ days, nor was it beautiful and scenic-with the exception of Colorado-as this year's Mille (in which I also participated).
It was a long drag with no fun. In fact, there was simply no time for fun. Stopping in Eureka instead of Las Vegas was a major mistake. A few friends could do it for a lot less money and enjoy it a lot more. I'd forget Detroit altogether and spend more time in Utah and Colorado. The entry fee was $5000 dollars per car, which included food and accommodation. However, Gas/petrol, drinks and snacks throughout were on us, which came to several hundred dollars on top.
Would I do it again? Certainly not. Am I very grateful to Rick and Kevin? Absolutely! Will it ever happen again? Who knows? Furthermore, we all know what Rhet Butler said to Scarlett O'Hara.