---
TACH Report from Europe
6 July 2000
Andrew Frankl
European Bureau Chief
THE AUTO CHANNEL
Well, the automotive industry may be over 100 years old but you would not know from all the action in Europe!
There are new cars, new deals and lots of excitement. With petrol/gas at about five dollars or so a gallon one would have thought that things would slow down, fewer and fewer people would buy cars, on the contrary. You cannot move in England unless you get up at 4a.m. Otherwise your journey is likely to be long, tiresome and expensive. In spite of all that people still stick with it, partly because public transport is appalling! I tried the underground the other day - I was lucky, millions HAVE to use it every day- and the delays not to mention the dirt was disgusting.
So, regardless of costs it is back to cars. This month all the British magazines seem to have the same car on the cover- a TVR Tuscan. This will mean very little to our American readers and it puzzles me as well as the daily production can be counted on very few hands indeed.
The Tuscan will do 0-60 in just over 4 seconds and at 40 thousand pounds ($60,000 US at the current rate of exchange) it is good value in a country where car prices are stupidly high but in all honesty I would never buy one because it is made in such small numbers that a breakdown in Italy could be a lengthy and complicated affair. Well done for staying in business for all these years as an independent, that's all I can say but as for putting it on my shopping list-no thank you.
The same cannot be said for the Jaguar XKR Silverstone edition. The car, on outrageous 20 inch BBS alloys and Pirelli P Zeros gives a somewhat harsher ride than the car I drove down to LA the other day but it looks the part and I am sure Jaguar won't have too many problems selling all 100 that they are making.
Diesels don't seem to be very popular in the States but over here the latest, most talked about one is BMW's 330d. The specifications are awesome:
2926cc dohc 24V straight six which will do 140 miles per hour and 0-60 in under 8 seconds. According to colleagues who have driven it the new car is simply the best diesel in the World. Mind you, a quick diesel is just as obvious to the police as a petrol engined car, just ask Williams Grand Prix driver Jenson Button who got a 750 dollar ticket in France for doing 143 miles per hour in the 330d. Former racer Gerhard Berger reckoned Jenson's ticket should have been paid by the company for the immense amount of publicity it received as a result of Button's misdemeanour.
At the end of 2000 there will be the usual rush of Car of the Year awards and I have no doubt that the new C class Mercedes will be near or at the top of the list. Great looks, lots of improvements and only a very small price increase on the previous one. There are some cars that are guaranteed to be winners, this is one of them.
It will come as a surprise to VW owners especially those who have spent years and years in evergreen Beetles that the company are busy building a brand new plant in Dresden for a Merc S class beater! I find that difficult to believe because the leap from making great small cars such as the Golf to big ones has been difficult in the past for several European manufacturers. Just ask Fiat or Renault.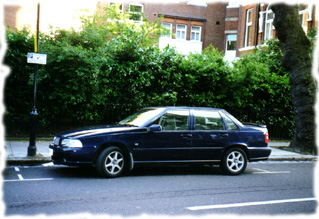 In the meantime yours sincerely has been busy navigating his Volvo S70 across Europe. I know I've said this before but you really cannot beat the Shuttle, that amazing train that takes you and your car under the Channel in 35 minutes. Normally things thought out by committees tend not to work, especially if it involves the French and the British! Well, this one is the notable exception. What I love is the total lack of fuss. Lots of lanes, lots of room and what is even more important it runs all the time regardless of the weather above! Those of us who have been seriously seasick over the years welcome it with open arms. For years the Brits used to go to Calais just to get duty free beer, cigarettes and wine. Now the same shops which used to sell the duty free stuff are still very much open and the prices are remarkably low. Not worth crossing the Channel for but do stop before you get on the Shuttle. This year there was only one problem. For logistic reasons we left for France on a Sunday, more specifically on the Sunday of the German Grand Prix. The train was due to leave at 13.58 with the start of the Grand Prix coming up only two minutes later. My great friend and fellow motor
racing enthusiast - Maurice Leggett - was giving me a running commentary on my mobile phone but just as the cars stopped on the grid for the start the train thundered into the tunnel. End of conversation.
Talking of Maurice I hope I will be forgiven for a not very politically correct story concerning him. MBL-as he is known to his friends was living in Bombay many years ago. He had a Morgan at the time and so did some of his chums. After a good lunch they would drive down to the harbour where they would re-arrange the signs. Suddenly there were lots of no entry signs and within minutes they would have an impromptu Grand Prix de Bombay! After the race the signs were restored ...all in all a very good time was had by all. With the exception of those I suppose who had urgent business in the vicinity. Imagine doing that today anywhere in the World!
Maurice and his adorable wife Sheila are the types of enthusiasts who would not think twice about getting into their Mini Cooper and driving down to Monaco non-stop. One year the car filled with water due to the horrendous weather en route and as they opened the door their camera floated out on to the pavement. I know this to be true as I opened the car door!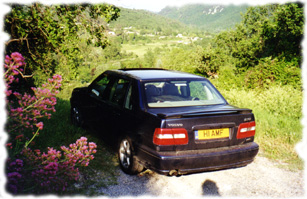 Oh well, back to reality. Well, reality means that if one drives a dark blue Volvo the chances of getting tickets in Europe is probably cut by half. Mercifully Volvo have developed an image over the years of building safe cars for mainly mature, responsible people so that when I went past the French cops at 100 miles per hour on a number of occasionsons. I am sure they thought that they were seeing some sort of an optical illusion! At any rate they did not stop me. Switzerland was a different kettle of fish, there everybody drives at 130 km/h as the limit is 120 and the fines are severe.
As for Italy,..oh dear. All I can say to American readers used to the discipline of say Highway 70 or 80- do be very careful! Italians don't take prisoners! They are not nasty like some other Europeans I could name but boy, are they quick! You really, really have to keep your eyes open, especially circumnavigating a big city such as Milan. There are myriads of exits, most of them blocked by huge trucks. Keep up with the traffic and you'll be fine, especially if you don't mind driving at 100, 110 miles per hour. Not obligatory of course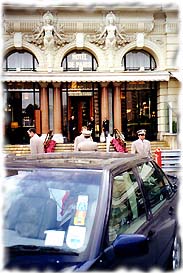 , the choice is following trucks at 45..Italy is an awfully big country at those speeds.
Getting into France along the autostrada is great apart from the tunnels. We must have driven through at least a hundred. It made me realise just how very difficult it must be for Grand Prix drivers to come out of the tunnel under one of the grand hotels in Monaco into blazing sunshine at 200 miles per hour. I don't think they earn their huge salaries everywhere but they certainly do so in the Principality!
Well, some of them do anyway. The way six of them managed to stuff their expensive machinery into the same piece of Armco barrier is beyond me. Surely after the first two the other must have known that the corner was greasy, full of dirt and oil, a place that had to be approached with great care. I really, really like Heinz Harald Frentzen, possibly the least pretentious driver in Formula One but how he- of all people- managed to crash at that point amazes me. Great shame as he is an excellent driver. Monaco itself was a bit of a mess, lots and lots of very rich young people totally devoid of upbringing behaving like pigs. I watched in amazement the pushing and shoving outside Jimmy'z, one of the World's most famous nightclubs where champagne is a mere 600 dollars a bottle. I suppose one should hurry whilst stocks last!
The most comical part was the parade of overheating cars outside, it was the most expensive traffic jam of all times with Lambos, Porsches, Ferraris, Rollers, Mercs, with the odd BMW thrown in for good measure. Young ladies in their Armanis and Valentinos were trying to get past the lady on the door whilst losing shoes, bags and whatever else they had on -not much to tell you the truth- but to no avail. It was a bit like the Studio 54 20 or so years ago-idiotic!
What I love is that half an hour after the end of the race the bus stops on the start/finish line. Let us not forget that during the Grand Prix the Casino is closed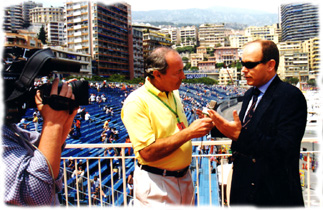 so the sooner they can get the punters through the door, the better. Not that any of the high rollers would ever be seen in a bus.. Anyway, it was time to say good-bye to the Principality but before I thanked the staff of the Meridien Beach Plaza for their usual kindness and hospitality. Those who have never been to Monaco for the Grand Prix cannot appreciate the problems of getting around during those hectic days. As it is a street circuit most of the roads are closed from dawn till dusk. Not a problem for the fortunate few who happen to stay at the Meridien! Speedboat builder extraordinaire, Messrs Sunseeker of Poole in the South of England, decided to do a bit of PR for their company by ferrying the drivers and team bosses across the bay straight into the paddock. As luck would have it there was always a little bit of extra rooms for people with credentials such as yours sincerely. It was fun to see how the rich live… these boats are selling for the sort of money that if you have to ask you cannot afford them.
The run to Paris was quick and uneventful, as most people were drifting along at around the 100 miles per hour mark it seemed silly not to follow them. Things
started to get interesting in the French capital owing to their somewhat bizarre priority from the right system and I am confess to being very proud of circumnavigating the Arc de Triomphe twice without getting hit!
Paris gave us an opportunity to catch up with Bob Gordon, TACH's CEO. Readers in French Canada, France, Belgium and Switzerland will be pleased to know that a French language version of The Auto Channel is just weeks away from reality!
The trip back to England was fine apart from one heart-stopping moment when my son spotted what looked like a broken down truck by the side of the road. "It's a radar trap", cried Nicholas and luckily I was able to hit the anchors before it was too late. Health warning: the French are a crafty lot, they will try and grab you just as you are within a few miles of Calais. There is no escape as the police vans and bikes are waiting just by the toll on the autoroute. Trust me- the last few miles are the ones where you have to be extra careful otherwise it could be a trip to the nearest bank (probably closed) or cash machine.(recently on strike.)
After our great escape it was time to go under the Channel courtesy of Le Shuttle and amazingly, after 3000 trouble free miles and without a scratch we were back in Blighty. The Volvo averaged just over 25 miles per imperial gallon, used no oil and ran like a dream. We cruised between 90-100 most of the time with bursts up to about 115. Negatives- well, the steering is not as razor sharp as that of a BMW and the alarm had a tendency to go off at times for no apparent reason. All in all a perfect unassuming fast cruiser for Europe. Roll on the Summer of 2001.