---
Superman Theme Race Cars Unveiled
20 April 1999
NEW YORK--(ENTERTAINMENT WIRE)--April 20, 1999--
- Nine Motorsports Champions Unveil Superman Race Cars -

For the first time in the history of motorsports, nine of the nation's most celebrated champion drivers from four racing series today unveiled spectacular Superman-themed race cars at New York City's landmark Central Park venue, Tavern on the Green. The Superman Racing theme, a celebration of the world's first and foremost superhero, is a year-long collaborative program created by Action Performance Companies, Inc. (Nasdaq NM: ACTN), DC Comics and Warner Bros. Consumer Products.
The world-renowned superhero was paired with the faster-than-a-speeding-bullet world of motorsports, as four Superman Racing cars were on-site for the ceremony. The cars' vibrant paint schemes featured the Superman shield and images of the Man of Steel flying fist-forward with a look of speed and determination. The drivers will debut their respective vehicles throughout the 1999 season.


                   Superman Racing drivers include:

          National Association Stock Car Auto Racing (NASCAR)
              Three-time Winston Cup champion Jeff Gordon
             1998 Busch Series champion Dale Earnhardt Jr.
         Two-time Craftsman Truck Series champion Ron Hornaday

                  National Hot Rod Association (NHRA)
               Eight-time Funny Car champion John Force
             Five-time Winston Top Fuel champion Joe Amato
              Four-time Pro Stock champion Warren Johnson
   Two-time Winston Drag Racing Pro Stock Bike champion Matt Hines
                                                                    
                 Championship Auto Racing Teams (CART)
        PPG Cup/FedEx Championship Series champion Jimmy Vasser

                           World of Outlaws
               15-time Sprint Car champion Steve Kinser

Said Fred W. Wagenhals, Action chairman, president and chief executive officer, "Superman is the perfect icon for these champion drivers because they are truly superheroes in the motorsports industry with as much strength, speed, energy and excitement as the Man of Steel himself. We are proud to continue our collaborative partnership with DC Comics and Warner Bros. Consumer Products in this exciting program that is sure to inspire race fans nationwide."
Said Joel Ehrlich, DC Comics/Warner Bros. Consumer Products senior vice president of advertising and promotion, "It is fantastic to have nine of the greatest drivers in motorsports come together as a tribute to Superman, who represents strength, speed and the ideals of Truth, Justice and the American Way. The tradition of auto racing and these champion drivers represent those same qualities. This program combines action with adventure, to create a powerful image that will thrill fans throughout the summer."
Jeff Gordon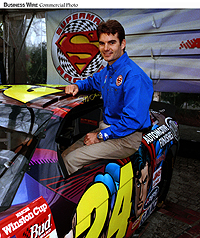 Jeff Gordon will be the first driver to debut his themed car on May 22 at The Winston at Lowe's Motor Speedway in Charlotte, N.C. To commemorate the drivers, their vehicles and the unique Superman-themed promotion, DC Comics created a custom comic book featuring all nine drivers as characters in an action adventure story with Superman. The limited-edition custom comic will be sold exclusively by Kmart in its mass retail stores. Action will design, market and distribute a variety of exclusively designed collectible die-cast replica cars, adult and children's apparel items and other merchandise to fans and collectors. Superman Racing memorabilia will be available trackside and through Action's established distribution channels. Related Hasbro Winner's Circle(R) products will be available through mass retail outlets.
Action Performance Companies, Inc., is the leader in the design, marketing, promotion and distribution of licensed motorsports merchandise. Its products include a broad range of motorsports-related die-cast car replica collectibles, apparel, souvenirs, and other memorabilia. The Company markets and distributes products through a variety of channels, including the 160,000-member Racing Collectables Club of America (RCCA), online through SpeedMall at goracing.com, trackside at racing events, mass retail department stores, and a worldwide network of wholesale distributors and specialty dealers.
DC Comics, a division of Warner Bros., has a 60-year history of innovative publishing and utilizing its characters to support the marketing of products. From its early alliance with Kellogg's on the classic Superman radio programs that debuted in 1939, to the first online service devoted to comics, DC Comics has demonstrated its heroes' abilities to leap from the printed page to conquer other media.
Warner Bros. Consumer Products, a time Warner Entertainment Company, L.P., is one of the leading and most diversified licensing and retail merchandising organizations which includes a vast library of intellectual properties and the Warner Bros. Studio Stores. With over 3,700 licensees, Warner Bros. Consumer Products licenses the rights to names, likenesses and logos for a variety of entertainment properties, categories, and Warner Bros. name icons that include Looney Tunes, Batman, Superman, Scooby-Doo, Wizard of Oz, and its many films and television series. Warner Bros. Consumer Products includes Warner Bros. Studio Stores, Warner Bros. Worldwide Licensing, Worldwide Publishing, Warner Bros. Interactive Entertainment, Kids' WB! Music and WB Toys.


Superman Racing debut schedule:
 
DRIVER             SERIES   DEBUT DATE               RACE
Jeff Gordon        NASCAR    May 22               The Winston
John Force          NHRA     July 8             Winston Showdown
Joe Amato           NHRA     July 8             Winston Showdown
Ron Hornaday       NASCAR    July 18            NAPA AutoCare 200
Jimmy Vasser        CART     July 25                 U.S. 500
Steve Kinser         WOO     Aug. 14        Amoco Knoxville Nationals
Warren Johnson      NHRA     Sept. 6              U.S. Nationals
Matt Hines          NHRA     Sept. 6              U.S. Nationals
Dale Earnhardt Jr. NASCAR    Nov. 6               Phoenix 200
 
     VENUE
Charlotte Motor Speedway
Bristol Dragway
Bristol Dragway
Nazareth Speedway
Michigan Speedway
Knoxville Raceway
Indianapolis Raceway Park
Indianapolis Raceway Park
Phoenix International Raceway