---
Mercedes-Benz CL Coupe Makes World Debut in Geneva
9 March 1999
Next-Generation Mercedes-Benz CL Coupe Makes World Debut in Geneva; New Flagship Coupe Features Revolutionary ABC Active Suspension
Mercedes-Benz has unveiled its new coupe, the CL500, at the Geneva Motor Show in Switzerland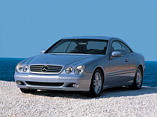 GENEVA, March 9 -- Mercedes-Benz has unveiled its next- generation CL Coupe during press activities preceding the Geneva Motor Show. Set to arrive on U.S. shores early next year, the new coupe will be offered exclusively in the U.S. market as the CL500 model, powered by a new-generation 302-horsepower 5.0-liter V8. A second CL model equipped with a new-generation V12 may be added in the following year. The limited-production CL500 is expected to be priced at or below the outgoing model, in line with Mercedes' ongoing value strategy.
The all-new premium luxury coupe bears such Mercedes design hallmarks as four distinctive oval headlights, with a unique interpretation that underscores the exclusive and fine design. Rounded fenders, a delicate yet dynamic roofline and a wrap-around rear window highlight the engineering elegance of this jewel of a coupe. Inside, the all-new CL from Mercedes-Benz will take luxury and convenience to a level befitting a 21st century flagship, with lavish appointments and integration of navigation and entertainment systems.
An interior view of the Mercedes-Benz CL500.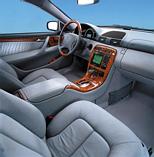 DaimlerChrysler AG board member in charge of Mercedes-Benz cars Professor Juergen Hubbert said, "Following in the footsteps of the all-new S-Class, the Mercedes-Benz CL coupe will deliver even more leading-edge technology, redefining the terms comfort and dynamism. This total command of technology is perfectly complemented by the elegant appearance and luxurious fittings of this flagship car."
ABC Spells Active Body Control
The new Mercedes-Benz CL coupe will feature revolutionary Active Body Control (ABC), a high-performance active suspension system that virtually eliminates body roll and pitch during cornering, braking and acceleration. For years, automotive engineers have dreamed of active suspension to counter- act body roll caused by cornering, but technical limitations have held them back, since viable active suspension depends on advanced electronic controls and very fast-acting hydraulic servos at each wheel.
ABC makes use of high-speed servos and sensors to give the system its split-second reaction time. The driver will experience the benefits of ABC not only in terms of superb, sporty handling, but in a new level of ride comfort as well.
Leaner and Lighter
Exceptional aerodynamics (a drag coefficient or CD of 0.28) and intelligent lightweight design contribute to superb driving performance. The new model is more than 500 pounds lighter than its predecessor, thanks to the use of a variety of materials such as aluminum, steel, plastics, and magnesium. The all-new Mercedes-Benz CL coupe is also three inches shorter and over two inches narrower than its predecessor, but without sacrificing occupant comfort.
Technology Abounds
In addition to standard-equipment ABC active suspension and ESP stability control, the new CL coupe will come with a number of new advanced-technology standard features, among them:
-- COMAND: (Cockpit Management and Data System) for controlling the standard satellite-based navigation system, Bose(R) premium audio system and optional telephone/CD changer.

-- Voice recognition: a new-generation system, which recognizes normal conversational commands for controlling the phone in hands-free operation. -- Curtain-type side airbags: provide occupants with high level of protection in side collisions (in conjunction with standard door-mounted side airbags).

-- TELE-AID: a standard automatic call system with precise vehicle location via Global Satellite Positioning (GPS), emergency response and other enhanced services.

-- Automatic climate control: includes sensors for humidity, air pollutants and sun strength.

-- DISTRONIC: Radar-controlled cruise control maintains a set distance from vehicles ahead.

-- Ventilated front seats: fans in front seats enhance driver and passenger comfort in both cold and warm weather.
Like Mercedes-Benz flagship coupes before it, the all-new CL will undoubtedly take its place among the most desirable cars in the world, combining timeless design and high performance with the Mercedes-Benz safety standard, advanced technology and, of course, unparalleled luxury.