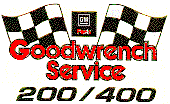 Bill Elliot - Twenty Years later returns to Rockingham
Rockingham, NC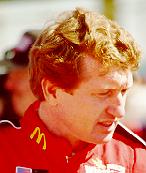 Bill Elliott -9- McDonald'S Thunderbird
Twenty years ago at Rockingham (Carolina 500, 2/29/76), Bill Elliott made his first NASCAR Winston Cup start before an estimated 45,500. He started 34th in a 36-car field and finished 33rd, completing 32 laps before burning up an oil pump, winning $640. Saturday morning, he reflected on that weekend and the changes in Winston Cup racing he's experienced over the last two decades:
"We had a `73 Torino that we'd updated for the `76 season. Daddy had bought it from Bobby Allison. Richie Panch had driven that car when he drove for rookie of the year in `72, and he traded it to Bobby and Daddy bought it from him, for only about $4- or $5,000, but that was a lot of money back then. Ernie did the engine. "I'd attempted to quality for a Busch race at Charlotte, but we blew up qualifying and didn't make it. After that we decided to go the Winston Cup route, because, shoot, there was nobody in it.
You've got to understand that back then there were a bunch of guys that were in it for a good time. There could be a second-and-a-half or even two seconds separating the field. But there was no money in it, either. There wasn't much of a fan following. We missed a race at Atlanta, so we went to Rockingham because we figured it was a race we could probably make and get experience.
"I'll never forget. They had just so many garage stalls and were out there in the sand working on our car. Rookies wouldn't describe us -- every one of us.
"What we brought up here was so bad, that old car was so grungy. I tried to clean it up, but there was only so much you do, because you had to run a stock car at that time. Man, it weighed 3,800 pounds, and it didn't have any lead in it for ballast. These things had manual steering, because power steering didn't come on until the early `80s. The motors probably didn't have 500 horsepower, because that was early in the era of the small block.
"We had a truck that we sold parts off of at the short tracks in North Georgia, and I think we brought our car behind that old truck on an open trailer. When I was growing up in the late `80s, Daddy started a speed shop business and we sold parts to local racers.
"You checked in a lot earlier, Wednesday or Thursday, and they had three rounds of qualifying. We didn't make it until the last round. They took six cars the last day and we were the quickest the last day. Cecil Gordon re-ran that last day, I remember that. We were so happy to make the race that we forgot to unblock the oil cooler before the race started.
"The night before the race, we had a bunch of guys come up to help us on race day, and I'll bet we slept 13 or 14 in the motel room. There were bodies laying everywhere. We worked hard and didn't know any better. There wasn't any money in it. But, shoot, it didn't cost you much to race. I used to buy tires from Benny Parsons after he got through with them. I got to know Jake Elder pretty well and he helped me out a lot. We'd buy tires from whoever for 20 bucks a piece after they had a few laps on them.
"Most of these places, you just got out there and did the best you could. There were no rookie meetings or anything. You can't even imagine doing anything like that today. If I came along that way now, I wouldn't make it. You'd have to do it a different way. First, you'd have to have somebody with a ton of money just to bring you in. See, I learned to run these race tracks at little or no expense. When I went to Pocono, they didn't have enough cars to fill the field, so it wasn't like you had to run half-a-second within the pole speed just to make the race. I was fortunate to come in at that time. We didn't have the money to do very much, but you could scratch your way in at that time. I can't remember the first new car we built. In 1977, we bought a bunch of Mercury stuff from Roger Penske, and that's what really put us in racing. I think Daddy went up there and worked out a deal with Penske. I think Roger looked at it like he didn't want anybody else to have his stuff. He figured he could sell it to us and we couldn't use it against him like a Bud Moore or Leonard Wood could at that time.
"They couldn't miss me when I came here the first time. I had a head of hair that stuck out all over the place, like I was in a rock group -- just because I hadn't had time to go get my hair cut.
"It was hand-lettered, with Dahlonega Ford Sales on the side. That was Daddy's dealership. We might sell three or four, maybe five cars a month in that dealership in those years. We weren't exactly high rollers.
HOW MUCH HAVE YOU CHANGED IN THOSE 20 YEARS?
"Oh, man-' I tell you what, we stayed at a Howard Johnson's in Pocono, Pa., that year, and the only reason we got the room was because Ricky Rudd had wrecked qualifying for the race and we took his rooms- I was driving Bill Champion's car, and I went to a restaurant in the hotel. My ex-wife Martha was with me and she ordered, and then I ordered and the waitress looked at her and said, `what did he say?' I'd go to the drive-in windows at McDonald's up north and they didn't understand anything I'd say. I felt like it was a major accomplishment for me when I could go up and order and they would understand what I was saying. I was never an out-going person. People take me one way, but I'm a very private person. I don't like to talk about what I have or anything, I'm not that kind of person. I wasn't brought up to be that way. Then you get into this stuff...
"We came here with one goal: to make the race. Lord, I was lucky to be here, and that's the way I looked at it. Jody Ridley talked about this when he came over for Casey's funeral, that today, people come out and go racing with their sights set on racing Winston Cup. Right now, there's only a very small percentage that's going to make it, and that percentage is getting smaller and smaller and smaller. He said, `It's great to have goals and set your sights, but there's a lot of other forms of racing where you can be successful.' The point he's making is you've got to make the steps. When I started racing, I was just looking at the next step. We got to where we could make races, and that was the first goal: just to be in the races. With what we had and the money we could spend, every race could have been my last. We took it a race at a time. We only went to 10 or 11 races that first year, and we couldn't afford to run for rookie of the year. Finally, we made it to the step where we could make races, and then we set a goal to run better than back of the pack, to get to the next pack of cars. We got to where we could race with Richard Childress and Cecil Gordon and James Hylton, because they ran pretty good back then. That wasn't the Pearson, Yarborough and Allison group, but it was second group. I realized I had to race with who I could race with.
`It's just a different' era , but there have been all kinds of different ways to come into this sport. When Alan Kulwicki came in, he sold everything he had up north and moved south and started his deal. And made a successful deal. He's kind of one of the miracles that made it, too. But one turn in his career could have turned him the other way"
AND ONE TURN COULD HAVE CHANGED YOUR LIFE, TOO?
"Oh, man, I've had more odds against me that in favor of me- people tell me, `Oh, you don't understand how it is today. Well, I do understand. The hard work and' dedication you have to have to do this is something I very much understand. Ernie and I were talking yesterday about the times when there were a lot of years' when we'd' work all week from early morning until late at night. I'd be there from 8 o'clock in the morning until midnight, and I wouldn't leave to eat. I'd have somebody bring me something to the shop to eat. I usually solely worked on the car the first years and I'd have somebody come in, several friends that would come in when they got off work and help me finish up at nights.
"Back then, you had to use all stock body parts. You couldn't do much to the bodies. They were just stock cars, stock fenders. You didn't have to flare them or anything like you do today. At that time, you used stock nose pieces, stock grills, stock headlight doors -- stock everything.
"Ernie and I did all the work on that first car. I did a lot of the work and Ernie usually did the welding. We wired them. I did a little engine work, some but not much. When I was in high school, I used to help. Wherever we were behind, that's where we'd work. I'd port cylinder heads, sanding the body, or whatever.
"Our first Winston Cup car had a `65 Ford Galaxie frame. They started working in tubular chassis at that time, but we didn't have it. That car was something. The difference between what we had and what, say, the Wood Brothers had, you're talking light years apart. Today, everybody has the same stuff, or you go home."