1998 Daytona Speedweeks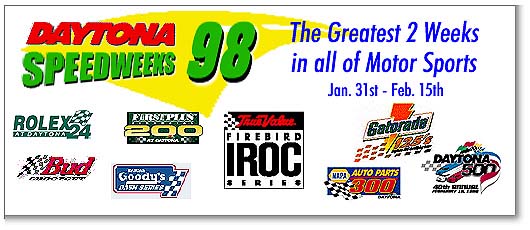 Daytona Speedweeks® is a registered trademark of International Speedway Corporation. The Auto Channel is not affiliated with International Speedway Corporation

Daytona Speedweeks consist of several races sanctioned by a variety of associations: NASCAR, ARCA,IROC, and the newly formed USRRC (United States Road Racing Championship). Speedweeks concludes with the annual Running of NASCAR's Daytona 500 on February 15th.
The Auto Channel's comprehensive coverage will include live and taped TV and radio reports, live video and audio interviews, text stories, live simulcasts of radio coverage provided by local radio stations, and extensive photographs.
Scroll Down for Headline News Daytona
Want more information? Search the web!
Search The Auto Channel!