1998 Daytona Speedweeks Interviews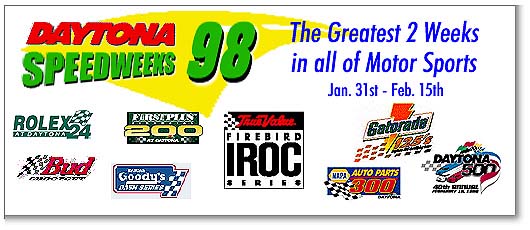 The Auto Channel hopes you enjoy these interviews direct from the track at Daytona.


Get the free Microsoft Media Player v5.2 Beta
On-Demand Cybercast Interviews

28.8 or 56k

Featuring:
Chris Economaki of National Speed Sport News

28.8 or 56k

Featuring:
Don Hutcherson of Hutcherson Pagan Enterprises Race Car Design, Building, Repair and Sales

28.8 or 56k

Featuring:
Ken Squire of CBS Sports, The Host for the TV presentation of this years Daytona 500

28.8 or 56k

Featuring:
Preston Miller of Ford

28.8 or 56k

Featuring:
Darrell Waltrip
Richard Childress (Owner)
Kyle Petty
Jeremy Mayfield
Buckshot Jones
Tim Fedewa
Patty Moise
Todd Bodine
Phil Parsons
Dale Earnhardt, Jr.
Hank Parker, Jr.
Bob Latford (Invented Winston Cup Scoring System)
Ernie Irvan
Matt Kenseth
Tony Stewart
Ron Barfield
Joe Nemechek
Randy LaJoie

Want more information? Search the web!
Search The Auto Channel!