---
The Callahan Report: After nine months of waiting, Jarrett finally finds victory lane
22 October 2000
By Terry Callahan
Motorsports Editor, The Auto Channel
Earnhardt fails to capitalize on Labonte's troubles
Dale Jarrett

ROCKINGHAM, NC:
Dale Jarrett began the 2000 NASCAR Winston Cup season right where he left off in 1999. The defending series champion won the first and biggest race of the season (the Daytona 500) in February. Early speculation was that Jarrett was going to dominate the series just as he had the previous year.
So much for speculation . . . Nine months passed before the second-generation driver could find his way to the winner's circle again. Dale Jarrett finally got his second win of the year in the Pop Secret 400 at Rockingham Sunday.
"I'm not sure it even feels like the same year we won at Daytona," said Jarrett, a six-time second place finisher at Rockingham. "Finally. No more bridesmaid here."
Jarrett had fears that he would be a runner-up again at North Carolina Speedway. When he looked in his mirrors while leading after the final round of pit stops, Jarrett saw three-time Winston Cup champion Jeff Gordon passing Ricky Rudd. Gordon began to fill up Jarrett's rear view mirror, just as he had done twice in the past at Rockingham.
"When I looked up and saw he had passed Ricky (Rudd) back there, I was thinking, `Uh, oh, what's going to happen this time.' But, we had made the right decisions. It was nice to be able to beat Jeff," Jarrett said smiling.
Jarrett went so far as to give some of the credit for his victory to Gordon, his long-time nemesis on the track.
Jeff Gordon

"I think in some of those times past we learned some things from Jeff Gordon and his team," said Jarrett. "They taught us a lesson that one day for sure, where we thought we were really home free and the last 30 laps they blew us away."
Jarrett desperately needed this second victory of the season. The powerful Robert Yates Racing Team has been struggling in the second half of the season. Jarrett was in the championship race until last month. The team began to see bad luck and poor finishes as point leader Bobby Labonte continued to perform without failure.
While Jarrett is out of the running for his second Winston Cup title, he showed Sunday that the 'never give up' attitude continues to prevail in the Robert Yates camp. Jarrett and company verified that the team is a threat to win at any track on the competitive Winston Cup circuit.
The championship point's race got closer Sunday, but only slightly. Point leader Bobby Labonte had tire trouble, causing him to fall a lap behind the field. It was a chance for Dale Earnhardt, second in the point standings, to gain ground in his bid for a record-setting eighth championship. Earnhardt failed to seize the moment.
Luck stayed on Bobby Labonte's side at Rockingham. Earnhardt looked to be a threat as he was running up front with the race leaders. He began dropping through the field with severe handling problems. Earnhardt fell as low as nineteenth place before regaining momentum. He recovered for a 17th place finish, cutting nine points from Labonte's lead.
Dale Earnhardt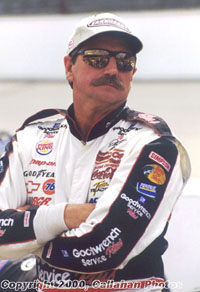 When Earnhardt fell through the field, so did his chances for another championship. With three races remaining in the 2000 Winston Cup season, Earnhardt trails Labonte by 201 points. He has a legitimate chance at winning the series title, but it will take a failure on Labonte's part to pull it off.
"I don't know if I had a bad set of tires or a mismatched set of tires there at the end," commented Earnhardt. "The car just went all to heck. It was pushing so hard I couldn't turn it. We gained a few (points) on him (Labonte), but nothing like we need to. The numbers will still work, though."
The longest running caution period of the day was a result of a pit fire instead of an on-track accident. A hot piece of debris fell off Matt Kenseth's car, igniting spilled fuel. Rick Machinski, Kenseth's gasman, suffered second-degree burns in the incident. Two firefighters were also injured. Machinski was flown to a nearby hospital for treatment. The two firefighters were treated and released at the track hospital.
There were ten different leaders in the Pop Secret 400. The race was slowed by 60 laps ran under caution. Jarrett's average speed for the distance was just over 110 mph.
Pole winner Jeremy Mayfield dominated much of the early going for a total of 169 laps. He fell six laps off the pace due to a battery failure.
"I don't know what else to do. Nobody could touch us all day long," said Mayfield. "We never ran out of the top two all day. Having good luck two days in a row is almost like impossible. We could take off anytime we wanted."
Ricky Rudd managed to stay just behind Gordon to finish in third place. Despite not winning yet in 2000, Rudd is still upbeat.
"I feel real good about it, especially since we came into this weekend and we weren't very good," said Rudd. "Dale had a winning car there at the end. At one stage of the race we kind of ran with him and then he got away from us. Certainly, we'd like to have won the race. The Yates effort was really good this weekend."
Jeff Burton, who led for a total of 116 laps, followed him across the finish line. Rusty Wallace, Steve Park, and Tony Stewart rounded out the top seven positions.
Editors Note: To view hundreds of hot racing photos and art, visit The Racing Photo Museum and the Visions of Speed Art Gallery.