---
The Callahan Report: Tony Stewart has no understanding of the term 'sophomore jinx'
1 October 2000
By Terry Callahan
Motorsports Editor, The Auto Channel
Tony Stewart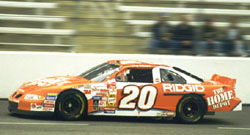 MARTINSVILLE, VA:
The term sophomore jinx means nothing to Tony Stewart. The second year driver from Rushville, Indiana won his fifth race of the 2000 NASCAR Winston Cup season Sunday at the NAPA Autocare 500 in Martinsville. Stewart started the race from the pole and beat racing legend Dale Earnhardt to the finish line by a half-second. If Stewart is having a sophomore jinx, he could win all the races on the 2001 schedule. He won three races in his rookie season last year.
Stewart, one of NASCAR's newest "bad boys", gave some of the credit for winning to the fans. He was not referring to cheers from the crowd, but the boos which greet so many of the successful drivers on the circuit.
"I want to thank those three guys at the back of the grandstand," Stewart said, who has gained notoriety from his off track antics with other drivers and the press. "The grandstands are right up against the fence. This guy might have been an Earnhardt fan - I don't know whose fan he was. He definitely was not my fan. But every time I saw that guy, and he was making gestures all day, and every time he did it I was more determined I was going to run good just to make him mad."
Dale Earnhardt, a seven-time NASCAR Winston Cup champion, did all he could to chase down the talented young driver. The crowd rose to its feet when the green flag waved for the final time on lap 490. The sat down quickly when it became apparent that Earnhardt was going to be no match for Stewart.
Dale Earnhardt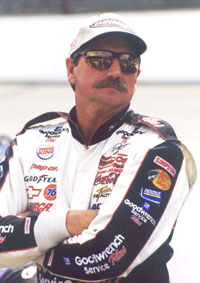 "I couldn't catch him," said Earnhardt with a simple response. "If I could have got to him, it would have been good, but I couldn't catch him."
No one was more relieved than Stewart. He knew his car was good, but he also realized the reputation of Earnhardt. Stewart was prepared for the battle of his life for the final eleven laps.
"Of all the people down here in this circuit - he didn't get the nickname 'The Intimidator' for nothing," Stewart said of Earnhardt. "He is as tough as they come and you know being at a place like Bristol or Martinsville he is going to be able to find something in his bag of tricks to be good at the end."
Stewart likes his wins in pairs. Sunday's win was the third time he won back-to-back races in his short eight-win career.
The points race remains tight, especially for second place. Earnhardt inched closer to the top spot by grabbing second place in the race. He remains in second place in the point standings. He gained 36 points on series point leader, Bobby Labonte. Earnhardt is 213 points behind.
"It's going to take a whole lot of gaining and a whole lot of him (Labonte) finishing back there," Earnhardt said. "I know we didn't gain a whole lot on him today, but we gained."
Jeff Burton gained a little ground in the points race when he crossed the line in third place. However, Burton left Martinsville a disappointed man. He led nearly half the race before a congested pit lane sent him back a few spots. He could never recover those lost racing positions.
Big names filled the top ten. Ricky Rudd finished in fourth place. Three-time Winston Cup champion Jeff Gordon was fifth. Defending Winston Cup champion Dale Jarrett finished in sixth place.
Winston Cup point leader Bobby Labonte was happy to escape Martinsville with a tenth place finish. He was bumped to two cars in the pits and was spun out on the track by Mike Skinner. He kept his car away from the wall, only losing one spot in the incident.
"It was a good day," said Labonte. "To come out of Martinsville 10th with everything that happened today - it could have been a lot worse."
"It was typical Martinsville," Labonte continued. "And if you don't get to see everything I don't think you get to fulfill your life here, and today we did. I missed a hot dog this time. I guess I should have had one."
Labonte may have missed eating his hot dog as part of his pre-race ritual. But he is proving to he a "hot-dog" on the track. With six races remaining in the 2000 Winston Cup season, Labonte will be hard to catch. Alan Kulwicki overcame a 200-point deficit in 1992 to win the championship. No one has done it since.
Editors Note: To view hundreds of hot racing photos and art, visit The Racing Photo Museum and the Visions of Speed Art Gallery.