---
The Callahan Report: Jeff Burton leads every lap at New Hampshire in 'restricted' win
17 September 2000
By Terry Callahan
Motorsports Editor, The Auto Channel
Jeff Burton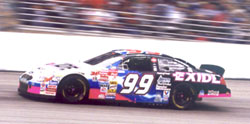 LOUDON, NH:
There was plenty of skepticism when NASCAR announced that restrictor plates would be used at New Hampshire International Speedway during the running of the Dura Lube 300. Most fans thought there would be no passing. As it turned out, there was an abundance of passing at the track known as the 'Magic Mile'. Jeff Burton did most of it. Burton led every lap en route to his third victory of the 2000 season.
The call for restrictor plates came after two drivers died in crashes at New Hampshire earlier this year. Kenny Irwin, driving for Team Sabco in NASCAR competition, died in a third turn crash during the first New Hampshire race this season. Adam Petty, grandson of seven-time Winston Cup champion Richard Petty, was killed during NASCAR's Busch Grand National visit to the speedway.
While restrictor plates reduced the speeds by about 10 miles per hour, they didn't restrict Burton's dominating performance. Burton was one of only two drivers who tested restrictor plates on a mile track this week. Burton and Steve Park tested on the one-mile oval at Milwaukee to see how the cars were going to perform. Restrictor plates are normally reserved for the superspeedways like Talladega and Daytona.
Jeff Burton hadn't even been on his first date the last time a driver led every lap in a Winston Cup event. He was eleven year old when Cale Yarborough accomplished the feat in 1978 at Nashville, Tennessee.
Even though Burton led the Dura Lube 300 the entire way, he didn't lead it by much. Bobby Labonte will be seeing Roush Racing logos in his sleep for weeks to come. Labonte was glued to Burton's rear bumper throughout the race.
"It just seemed like I followed the '99' (Burton) car a lot today." Labonte said. "I wasn't close enough a lot of times to catch him and other times I got beside him. I think I even nosed ahead a couple times, but just never at the start/finish line."
Labonte, who won the pole on Friday, challenged for the lead more than once. The last time came after a red flag stopped the race with less than 10 laps remaining. Labonte was able to pull beside Burton, but Burton wouldn't let the Winston Cup point leader by him. While Burton was racing for the win, Labonte was racing for the championship. Labonte realized it would be better to finish in second place that to chance a crash. Burton was thankful for Labonte's cool head.
"I pinched him off pretty bad, and he could have spun me and said, 'It's Burton's fault.' But he didn't and I appreciate that," Burton said after the race.
"The only thing that I could see was me spinning out more than him, just by the position we were in." Labonte said. "It wasn't like anybody pinched anybody off really any more than what the racetrack was giving you. You race hard, but you race clean, too."
Dale Earnhardt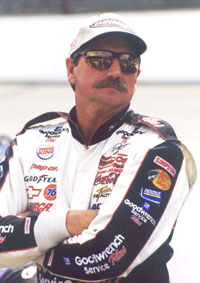 Burton also had a couple of huge challenges from seven-time champion Dale Earnhardt, who was trying to stay on the lead lap. Burton's multi-colored racer had some new black paint added to the scheme before the day was done. Burton and Earnhardt touched three times in a single lap before Burton's dominance prevailed.
Burton and Earnhardt battled again during a side-by-side restart after a caution period. Burton stayed ahead of Earnhardt even while driving with one hand. Burton, frustrated by Earnhardt's efforts, stuck his hand through the drivers net to give Earnhardt a "friendly" wave during the exchange.
"I don't want him to be on the outside of me," Burton said of the on track battle with Earnhardt. "I didn't want inside me, either."
No matter if is a short track or a super speedway; Jeff Burton is getting real good at this type or racing. He has won the last two restrictor plate races. Burton won the Pepsi 400 at Daytona in July.
NASCAR made a puzzling decision when they threw the red flag to stop the race on the 289th lap. Red flags are supposed to be used when there is a danger to the fans or drivers. The red flag Sunday was for a crash that left two cars sitting on the backstretch. Neither driver was injured in the incident. There were other crashes just as serious, but only the yellow flag waved for those incidents.
Jerry Nadeau and Dale Earnhardt, Jr. suffered the most damage in the red-flag crash. Nadeau was able to get service in the pits and continue in the race. Earnhardt, Jr. had a punctured radiator and was finished for the day. The incident started when John Andretti slowed on the backstretch. Nadeau slowed down to avoid hitting Andretti but Mark Martin, following close behind, did not. Marin spun Nadeau into the wall. Earnhardt Jr. was caught up trying to avoid the crash. Jeff Gordon, Ward Burton, and Johnny Benson also were involved but all were able to continue in the race.
NASCAR may have been trying to add spice to a race that was being dominated by Burton. Officials and promoters always want a race to finish under the green flag, but sometimes those plans backfire. Whether the red flag was for safety or for the sake of competition, the race still ended under the yellow flag. Sterling Marlin crashed with 3 laps to go, causing the final slow-down of the day.
There were less than ten laps to go when the race restarted after the red flag clean up. Under NASCAR rules, the cars line up in single file, instead of two abreast, on a restart with less than ten laps remaining. Ricky Rudd made a late race charge to finish third. He passed his teammate and defending champion Dale Jarrett with 4 laps to go, just before the Sterling Marlin crash, ending all passing for the day. Jarrett finished fourth.
Rusty Wallace finished in fifth. Jeff Gordon came home in sixth place, despite his late race spin.
Burton's determination landed him in second place in the Winston Cup Standings. He is 168 points behind leader Bobby Labonte. Dale Jarrett remained in third place, 174 points behind Labonte. Dale Earnhardt, who finished in 12th place, fell to fourth place in the standings, 201 points behind.
Editors Note: To view hundreds of hot racing photos and art, visit The Racing Photo Museum and the Visions of Speed Art Gallery.