---
The Callahan Report: Rusty Wallace's results beginning to match performance
21 August 2000
By Terry Callahan
Motorsports Editor, The Auto Channel
Rusty Wallace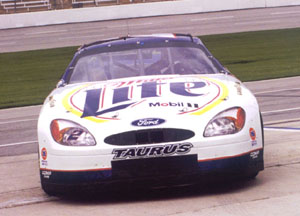 BROOKLYN, MI:
Rusty Wallace has been the top performer of the 2000 NASCAR Winston Cup racing season. The 1989 Champion had led more than 1200 laps heading into the late August racing action at Michigan Speedway. He also has seven pole positions. Despite Wallace's domination over the competition, he had only two wins to show for it all. Things began to change Sunday as Wallace made all the right moves to pull into victory lane at the Pepsi 400.
"We ran Martinsville and led all day and pitted when everyone stayed on the track and we lost," said Wallace of his lackluster racing results in 2000. "At Richmond, we pitted for four, they pitted for two, I lost track position and got beat there."
"At Pocono (the first Pocono race of this year) we led all day long, we put four on, they put two, and we lose there" continued Wallace. "I hope the fans enjoy that because, I tell you, I was really getting tired of people saying, 'When are you going to win another race?'"
Rusty Wallace answered the question with an exclamation point Sunday. Wallace beat a strong running Ricky Rudd by nearly three seconds. Wallace took the lead for the final time with 15 laps remaining.
A spinning Dale Earnhardt Jr. and Robby Gordon on lap 177 of the 200-lap race set up Wallace's final charge. Wallace and the rest of the leaders had already made their final pit stops a few laps earlier. Wallace had four fresh tires ready to make his charge to the end. Bobby Labonte was running in second place behind Rudd, both making a two-tire stop prior to the final caution.
"We short-stopped about eight laps early, in order to get eight laps on the field at high speed with four sticker tires, so we just started screaming around the race track," said Wallace. "We were running almost a second faster than the 28 (Rudd) and 18 (Labonte) at that point."
Although he is considered to be a long shot with the season nearly two-thirds finished, Wallace believes he can still challenge for his second Winston Cup title.
"I think we're one of the contenders. Some of those guys need to have some bad luck," admitted Wallace. "I had some bad luck over there at Watkins Glen and Tony Stewart passed me, he pulled up to fifth. He crashed down there in one and so we gain a lot of points today."
Stewart lost control of his car on lap 37. He was running a line low on the track completely different from the competition. Stewart was passing pole-sitter Dale Earnhardt Jr. when he lost control. Ironically, Stewart spun into Jeff Gordon, ruining both their chances for victory at Michigan.
Stewart and Gordon were the center of attention all week after a war of words last weekend in Watkins Glen.
"I just lost it down there," Stewart said. "We were just racing hard out there. It was my fault. I just got down into one and I don't know why I got loose. I hadn't been loose there all day."
Gordon was not bitter or critical of the incident.
"I'm sure a lot of people were wondering what was going to happen with the 20 and 24," Gordon said while waiting for his car to be repaired. "But it had nothing to do with this weekend at all. He was racing hard and it looked like he just got real loose."
Bobby Labonte continues to be on track for his first Winston Cup Championship. Labonte picked up more points on his closest competitor, Dale Jarrett, who finished in fourth place at Michigan Sunday. Johnny Benson finished in fifth, still elated at the news that he will be in a car sponsored and co-owned by Valvoline in 2001.
Three 'Earnhardts' were in the field Sunday. Dale Earnhardt Sr. took a provisional start to get into the field. He finished in sixth place. Dale Earnhardt Jr. started from the pole, but ended up 31st after his late spin. Kerry Earnhardt, in his Winston Cup debut, was the first driver out of the race after a crash on the fifth lap.
"I hated to see the all the kids have trouble," Dale Earnhardt said. "They all ran good at times. Kerry got in a wreck, I guess, or wrecked himself. I'm not sure what happened. I'll have to review the tape."
With new rivalries, emerging stars, and the old favorites still running strong, the remainder of the 2000 NASCAR Winston Cup season promises to be full of excitement.
Editors Note: To view hundreds of hot racing photos and art, visit The Racing Photo Museum and the Visions of Speed Art Gallery.