---
The Callahan Report: Patient Park finally sees victory in 'surprise-filled' race
13 August 2000
By Terry Callahan
Motorsports Editor, The Auto Channel
Steve Park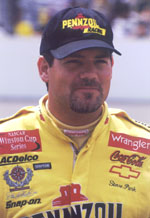 WATKINS GLEN, NY:
According to the Las Vegas odds makers, Steve Park was a 35-1 shot to win on the road course at Watkins Glen Sunday. Certainly, those poor odds were based on Park's past performance on road courses. His average finish on winding road-racing circuits, which NASCAR visits only twice a year, was 24th. Steve Park surprised the folks in Las Vegas when he pulled into victory lane at the conclusion of the Global Crossing at the Glen Sunday afternoon. It was his first win in NASCAR Winston Cup racing.
"We didn't win it on a fuel-mileage deal," a jubilant Park said after the race. "We had to race our guts out against a guy who's known for winning a lot of races."
Park beat road-racing veteran Mark Martin to the finish line. Martin was closing on Park in the final five laps of the race, but the young driver of a car owned by seven-time Winston Cup Champion Dale Earnhardt (and his wife Teresa) was flawless. He never missed a corner. He never lost his head. Most of all, he remained focused and patient.
Mark Martin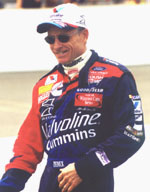 "We were catching up a little bit at a time, but we just didn't have enough," said Martin, who had finishes of 42nd and 43rd in the last two races on the circuit. "The last seven or eight laps we were a bit quicker than Steve but he was in front and that's the best place to be."
Steve Park has seen his share of ups and downs in NASCAR's top racing series. Mostly he has experienced the downside of this competitive sport where only a select few excel. Park's real advantage is his never-give-up attitude. That philosophy finally reaped big rewards for the thirty-three year old driver from the state of New York. Park credits his loyal fans for keeping him in the fight during some lean and frustrating years.
"Through all the tough times, they (the fans) sent me letters and came to my autograph sessions and kept telling me my first win would come soon," said Park.
Jeff Burton, teammate to Mark Martin, finished in third place. Burton gave Park some breathing room in the late stages of the racing action. He began to battle with Martin, allowing Park to expand his lead over the two Roush Racing drivers. The side-by-side battle between Martin and Burton nearly allowed part-time competitor Robby Gordon to pass them both. Gordon finished a very respectable fourth place, tying his best performance in the series.
Park led 54 of the 90 laps. He passed Martin on the track, instead of in the pits (as is the case many times in road racing) to earn the win.
Jeff Gordon, Tony Stewart fight on and off the track
Two of the favorites to win the Global Crossing at the Glen were Jeff Gordon and Tony Stewart. Gordon had won the past six road-races in a row on the NASCAR Winston Cup circuit. Stewart, in his second year, has proven that he is a good qualifier and racer on any circuit. Surprisingly, neither driver ever challenged for the lead. However, they did challenge...and threaten...each other.
The trouble began on the second lap. Gordon, who posted the fastest time in the final practice session before the race, was on a quick charge to the front.
The three-time Winston Cup Champ clearly had Stewart beat running through the esses (a series of S-Curves at Watkins Glen) but Stewart refused to let off the gas. Stewart took a poor line into one of the corners and slid sideways, knocking Gordon into the guardrail. Both cars had significant damage but were able to continue after lengthy repairs under caution periods. Gordon's car was damaged worse than Stewart's.
Gordon had 88 laps to cool down, but he couldn't. After the race, Gordon immediately confronted Stewart, who is becoming NASCAR's newest "bad boy".
"I'll slam you into the wall the first chance I get," Gordon promised Stewart after exiting his car at the conclusion of Sunday's race.
It is not a promise that is likely to be kept considering Gordon's typically cool head while behind the wheel of a racecar. Stewart, on the other hand, has already had more contact with his competitors than a recent Whitehouse intern had with our president.
Gordon finished in 23rd place after a long day at the back of the pack. Stewart, with a damaged racer, managed to finish in sixth place. He certainly would have been a contender to win if he had not made an error earlier in the race.
Labonte continues steadily towards first championship
Bobby Labonte, the Winston Cup Points leader, had another consistent run Sunday. The driver from Corpus Christi, Texas is not known as a road-racing expert. Labonte drove a patient and consistent race to finish in fifth place.
Labonte added to his lead over Dale Jarrett by 15 points. Jarrett finished in seventh place. Labonte gained five additional points for leading a lap. Jarrett never challenged for the lead at Watkins Glen.
Surprisingly, other notable road-racing veterans failed to do well at 'The Glen'. Dale Earnhardt crashed hard into the barriers on the second lap (a separate incident from Gordon and Stewart). He brought out the first caution of the race.
Rusty Wallace, who is undoubtedly one of the best road racing specialist in the series, had two off track excursions. Wallace finished in 34th place. He is tied with Jeff Gordon for most road course wins.
Editors Note: To view hundreds of hot racing photos and art, visit The Racing Photo Museum and the Visions of Speed Art Gallery.