---
The Callahan Report: Stewart wins in New Hampshire; Dedicates win to Irwin
9 July 2000
By Terry Callahan
Motorsports Editor, The Auto Channel
Tony Stewart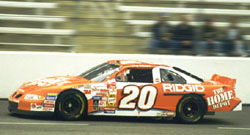 LOUDON, NH:
There were no victory lane celebrations for Tony Stewart after he won the rain-shortened Winston Cup race in New Hampshire Sunday. It was like Mother Nature gave the NASCAR family an easy way to exit a race weekend filled with tragedy and unspoken emotion. Instead of a checkered flag, there was an announcement that the race was over. Everyone just went home....his or her thoughts still with Kenny Irwin who died in a practice crash on Friday.
Tony Stewart was a fitting winner for this race. Of all the drivers competing in NASCAR Winston Cup, Stewart has raced with Kenny Irwin more than any of them. Stewart and Irwin battled three or four times a week while honing their racing skills in the United States Auto Club (USAC) series throughout the early 90s.
"We weren't always on the best of terms, but we always brought out the best in each other,'" Stewart said. "We always respected each other."
Kenny Irwin

No matter where the two drivers went early in their open wheel careers, they were expected to put on a show...a battle for the fans. The two traded victories like the Joe James-Pat O'Conner Sprint Car Race at Salem Indiana. Kenny Irwin won in 1994. Tony Stewart came back to win the same race in 1995. When Irwin died on Friday, those kinds of battles left a void in the sport for Stewart.
"I was late getting started this morning because I didn't want to miss all the tributes to Kenny on TV," Stewart said. "I still think I'm going to walk around the corner and find him there."
Most people can only remember the bitter times between the two drivers. Last year at Martinsville, Irwin had been racing Stewart close all day. Irwin eventually spun Stewart out with a tap from behind. The next lap, Stewart threw his heat shields at Irwin and was fined $5,000 for his actions. It was the kind of racing that placed both drivers at the top of their sport. They had been doing it to each other for years.
"I want to win this one for Kenny," Stewart said during the first rain delay Sunday. "I'm sure he's riding along with all of us this weekend."
Stewart did win the race but if it had gone the distance he would have surely lost. Mark Martin was not on the same pit sequence with Stewart. Martin had enough fuel to go the distance. Stewart would have had to stop if the race hadn't been stopped 27 laps from the scheduled finish.
"We started off wallowing in mediocrity and progressively made it better," said Martin. "The two guys in front of us (Stewart and Joe Nemechek) would have had to stop for gas. But it would have been robbery because the 20 car (Stewart) was the class of the field.''
The New Hampshire Speedway owed Stewart one. He had this race wrapped up a year ago when his crew made a bad fuel call. Stewart, upset with missing out on his first Winston Cup win, left the track without talking to anyone. He apologized to the fans later. Stewart went on to win three times on the way to winning the rookie of the year title for 1999. His old racing rival, Kenny Irwin, was the 1998 NASCAR Winston Cup rookie of the year.
The win Sunday marked the third time in 2000 that Stewart has won. He also won at Dover and another rain-shortened race at Michigan. Stewart became the winningest driver of the year with his victory at New Hampshire.
Bobby Labonte, Stewart's teammate, had another top-ten finish Sunday. He came in ninth place. Dale Earnhardt, who is second in the series points, was able to close the gap on Labonte with a sixth place finish. Earnhardt trails Labonte by 45 points in the championship race. Dale Jarrett is in third place, 68 points behind Labonte. Jarrett finished seventh in Sunday's race.
The somber weekend ended as the NASCAR haulers left the rain soaked grounds quietly and quickly. They won't remember it as the weekend that Tony Stewart dominated at New Hampshire. They will remember it as the weekend Kenny Irwin died.
God's speed Kenny.
Editors Note: To view hundreds of hot racing photos and art, visit The Racing Photo Museum and the Visions of Speed Art Gallery.