---
The Callahan Report: If it's a road-course, Jeff Gordon will be in the headline
26 June 2000
By Terry Callahan
Motorsports Editor, The Auto Channel
Jeff Gordon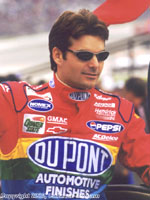 SONOMA, CA:
Aggressive smoothness. It is the only way to describe how Jeff Gordon attacks a road course. The three-time NASCAR Winston Cup Champion showed his road racing skills again at Sears Point Sunday. Gordon captured his second victory of the season in his error-free run in the California wine country.
The NASCAR series visits road-racing courses twice each season. For the past six races, Jeff Gordon has been at the top of the pack when the checkered flag fell. Others have tried to chill his dominance, but have failed.
Rusty Wallace is the "old master" of the twisting circuits. Gordon is quickly replacing Wallace as the best road-racer in the series. Wallace is the only active driver with six road-race wins. Gordon is twenty years younger than Wallace. When Gordon won Sunday, he tied Rusty Wallace, Bobby Allison, and Richard Petty for the most NASCAR road-racing wins.
Gordon was born in California, but moved to Indiana at a young age to pursue his racing career. He was elated to return home for another taste of victory.
"I tell you what, timing has worked out perfect for us," said Gordon. "(This is) where I call home and win out here in front of our fans and family.
"I just think today showed a lot about this race team and its character because everyone said if we didn't win at the road course there's something wrong. It was just a total team effort and if you don't have that these days in all different areas, you aren't going to win.
Ever since Gordon's long time crew chief, Ray Evernham, left the team to take on the Dodge NASCAR effort, Gordon has looked at victory lane from afar. His superior talent on race tracks such as Sears Point have provided him with the much-needed confidence that comes with victory in America's toughest racing series.
If Gordon's performance Sunday is an indication of what the competition is to expect on their next visit to a road course, mark up the victory for Gordon now. The young champion literally drove away from the competition. He won by nearly 5 seconds over a surprisingly strong Sterling Marlin.
Mark Martin is the only other NASCAR Winston Cup driver to win on a road-course since 1997. Martin drove well again on Sunday finishing in third place. Gordon has won three straight at Sears point and Watkins Glen, the only other road race on the 34-race schedule.
Gordon earned his 51st victory by winning the Save Mart/Kragen 350. The victories were plentiful in his championship years, but have been scarce of late by Gordon's standards. Gordon's only other victory this year was at the Talladega Super Speedway.
Another young star on the Winston Cup circuit appeared to be in position to give Gordon a run. Tony Stewart, the 1999 rookie of the year, was running in second place behind Gordon at the halfway point. Stewart became ill and had to be replaced by fellow Pontiac driver John Andretti who had crashed-out early in the race.
"It's hard. Nobody likes to get out of a car, especially one that they know can win the race," said Stewart. "I don't know what was wrong. I haven't really felt 100 percent all weekend, but I didn't feel bad enough like I needed to go to a doctor or anything. But I guess it caught up with me finally."
"I knew quite a bit before that I got out that I was," continued Stewart. "They (the team) were trying to talk to me and do everything they could to distract me from what was bothering me. I just started feeling bad early, and they got me some ice. That helped for a little while, but it couldn't fix it."
Andretti was in twenty-eighth place when he jumped in the car for Stewart. Andretti moved into the top ten at the finish.
With Stewart's departure, Gordon's only worry was fuel mileage. His crew had calculated his fuel very close. They thought Gordon would run out of gas as he crossed the start-finish line at the end of the last lap. Gordon used a light foot in the late stages. He was able to drive the winning car into victory lane.
Bobby Labonte, Dale Earnhardt, Dale Jarrett, Jerry Nadeau, Robby Gordon and John Andretti rounded out the top ten at Sears Point. Bobby Labonte widened his series point lead over Dale Earnhardt and Dale Jarrett.
Of course . . . if the remaining NASCAR Winston Cup races were to be contested on road courses, the championship points race would be over. Jeff Gordon would be the name on the trophy.
Editors Note: To view hundreds of hot racing photos and art, visit The Racing Photo Museum and the Visions of Speed Art Gallery.